Jason Bateman has been one of my favorite actors since I first saw him in 1986 on the TV Show (originally known as "Valerie") "The Hogan Family." Oh, yes… he played David Hogan, the oldest brother – and he was HILARIOUS. I've followed his career throughout the years and have just always been a big fan (I was obsessed with the show "Arrested Development") because he's such an unbelievable comedic actor. His comedic timing is impeccable. His delivery of a line is perfection. He's just a really fantastic comedic actor. So… as you can imagine, when I found out that we were going to be interviewing Jason Bateman during our Zootopia press junket, I was BEYOND EXCITED!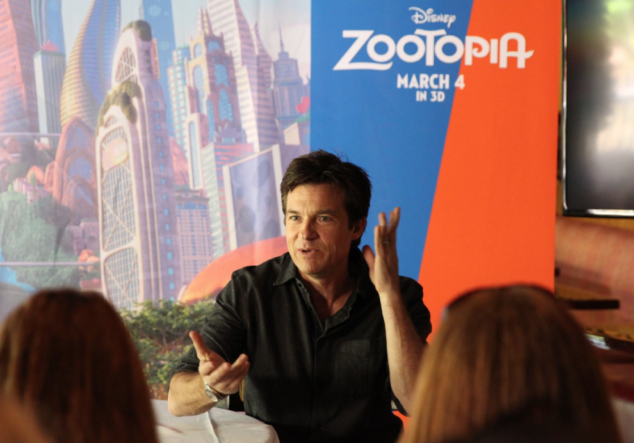 Photo by Louise Bishop
As Jason does so effortlessly, from the second he walked into the room for our Zootopia interview, he made us all laugh throughout the time we had together with him. Just the simple delivery of his answers and his super quick-wit – it kept us all entertained!

Photo by Louise Bishop
Jason Bateman voices the character of Nick Wilde in the movie Disney animated feature film, Zootopia.

Photo provided by Disney
Nick Wilde is a witty, smooth talking, charming, small-time, con artist fox with a big mouth and lots of opinions. Nick is the deuteragonist (Judy Hopps is the protagonist) in Zootopia. The character of Nick Wild was written in such a personal and smart way that you can't help but like him immediately. Not to mention, you can almost "see" Jason Bateman as Nick in the movie – in his movements, in his mannerisms and even (sometimes) in his face. As Jason told us, "They do put a little bit of everyone's face in there a bit, like a mini caricature."
Zootopia was Jason Bateman's first full animated film, so for him, it was definitely new territory. It was very interesting hearing him explain the process of working on Zootopia and working as an animated character, not someone that people can actually watch on the screen in the flesh.
"It's a really interesting process because you know, as an actor you can say your line and then you've got your face and your body language and everything to kind of contribute to the whole thing. With this, obviously you just have your voice to use and then you hope that the animators that you pass that line reading off to are going to make the character do something that either supports what you've done or offset it or juxtapose it. It's kind of a cocktail to make somebody laugh with something. You don't realize how many little components there are. I mean, I don't mean to sound like some kind of a comedy scientist but, I mean we all do it, you know? When you tell a joke or a story there's inflection and then there's facial gestures and it's a pretty strange thing to just hope that the rest of the recipe gets cooked in the right way."
It was VERY interesting to hear this because I've never thought how difficult it must be for actors AND the animators to truly mix the 2 pieces to make the whole. They need to be perfect. They need to mesh. They need to match like puzzle pieces.
"They record you reading through top to bottom and the director will read the other part. You've got to make sure you don't overlap because his voice would be on my track then. They record that a couple of times and then you go in and you record each line individually about 6 to 10 times a bunch of different ways. You do one kind of fast, one kind of slow, one kind of angry, one kind of happy, and just give them a bunch of choices because they don't know what the other actor is going to do that's reading the line that follows you. So, there's just an immense amount of work that they have to do to cobble it all together and blend that cocktail. It's a neat process, it really is."
It's a mixture of so many different parts to make that final product, so it was really interesting for me to have him share that us. I kind of just thought they went in together, read lines and then the animation was added to the voices. It's so much, much, much more than that! It really is the coming together of many moving parts. You could tell that Jason really enjoyed working on Zootopia and that he was proud to be part of the movie.
For me, what I love about interviewing celebrities is hearing them talk about their families. It makes them truly "real" to me. It really connects us at that level of parenthood and really being able to understand what goes into raising children in the world today. Jason has 2 daughters – 9 and 4 – so I was very curious to ask him how he goes into a role like this as a dad – since now, of course, he can bring his girls to this movie.
"Yeah, it's very, very cool to be leaving home to do a job that I can prove that I was actually doing. It didn't show that way with the other stuff. Knowing that they are going to see it, it's just yeah, it gives you pride."
Awe, I loved hearing him say that! But then the best and the funniest was when he said, "First of all, it's the only movies that I see now, that we all know, like a kid movie comes out, you have to take them and you just hope that it's good. And if it's not good, you are still buying a ticket to it. You still have to sit there. You just might catch a little nap, you know? But with this one there won't be any napping cause — this company is so good at braiding some stuff in there for us that whether it be thematic or just with the jokes, there's always that kind of parallel lane of satisfaction for the adults."
One of the reasons I'm excited to take my own 5 kids to Zootopia is because of the different themes and issues throughout the movie. The crafting and creation of Zootopia from beginning to end is amazing because it deals with tough topics, but it shows these topics in very digestible, teachable and easy ways to open dialogue with your child(ren).
As Jason pointed out, with his "Dad hat" on, "There are some really great issues and themes that you know, I don't know if my nine year old really picks up on some of the nuances and sophistication of the heady, highbrow issues in here yet, but when the coin finally does drop, maybe when she's another year older or something when we're watching it for the 20th time at home… it's a nice tool for me as a dad to talk about. In this film racism or xenophobia or fear mongering or bullying. When I have a character that I can pause, and I can say okay, you see how that hippopotamus kind of gave a look to the "X"… it kind of makes the medicine go down a little bit easier and it makes it a little less ominous to broach these subjects. It's a nice tool for me as a parent, you know, and I like that."
My favorite part of our interview was hearing Jason talk about his daughters. His 9 year old daughter got to see Zootopia with him at one of the premieres, and hearing him talk about her initial reaction was very cute and funny.
"I didn't really get a lot of specifics like oh dad, you were great when you did this, you did that… she was kind of focused on Shakira, and of course Judy Hopps, who is really the star of the movie."
And then hearing him talk about waiting for his 4 year daughter to see it with him, was priceless.
"The four year old, we were at a movie theater a few weeks ago and there was one of those cardboard stands, where they've got the fox and the bunny there and I walked her over to it and I squatted down next to her and I pointed out to the fox who is life size and I said see this guy? He's in a movie and this bunny, they're going to solve a mystery. They're on an adventure. And she said oh can we see that movie? I said, yeah, yeah and you know this fox talks, you know? It's a talking fox. And, and she said oh yeah. I said and when it talks it sounds like me and she said really? I said yes. I said and it's because I'm the voice of that fox. I recorded all of his lines. And so she was trying to understand like what [we were all laughing while he was telling this story] — she doesn't know what a microphone is. She certainly doesn't know the way movies are made. So, she just looked at the fox and she looked at me — I'm really excited to be sitting next to her in a movie theater and see how many minutes into the movie she's going to hear that familiar sound."
Spoken like a true Dad!
It was just a dream come true to sit and interview Jason Bateman. He was kind and open and funny and shared so much with us! He didn't rush us and really made us all feel very welcome and at ease. My ultimate favorite was seeing his dry sense of humor up close and personal. It's his trademark and I can tell you it's awesome!
Don't forget to head to the theaters on March 4th for ZOOTOPIA!
Facebook: https://www.facebook.com/DisneyZootopia
Twitter: https://twitter.com/DisneyZootopia (#Zootopia)
Instagram: https://www.instagram.com/disneyanimation/
Tumblr: http://disneyanimation.tumblr.com/
Disclosure: This was a Disney press trip. My travel was covered for this trip. All opinions are 100% my own.
Zootopia – Jason Bateman Interview (and why I adore him!)
was last modified:
June 6th, 2017
by