Easiest Chili Recipe Ever
Chili is one dish I love to make on the weekends and feast off of all week. With the weather being so cold, a delicious warm bowl of chili heats you right up. It's good for the soul kinda food. As you guys know, I'm not that great of a cook, but I try – I try REAL hard. I love being in the kitchen, so I'm really making this year the year of getting myself better at prepping and making yummy meals for my family. My husband is an incredible cook, so he's been helping me a ton, too… so this weekend we made the easiest chili recipe ever!
We found a FABULOUS recipe on Hunts.com from their Fire-Roasted Beef Chili. Here's the thing – I'm not a HUGE "heat lover," I prefer mild on EVERYTHING, so my husband and I tweaked the recipe a bit – but we've done it both ways… both are good, but if you prefer a little milder – here's a different variation of an outstanding recipe.
Ingredients:
1 1/2 pound of meat
1/2 cup of yellow onion (chopped)
3/4 cup of green peppers (chopped)
1/2 cup of carrots (chopped)
2 cans of Diced Tomatoes (I use Hunts)
1 can of beans in chili sauce (I go for the medium heat, but you can get a hot one, too!)
6 ounces of Tomato Paste (I use Hunts)
1 tablespoon of Chili Powder
1/2 teaspoon of Salt
1/2 teaspoon Ground Cumin
1/4 teaspoon Smoked Paprika
1 cup of Water
Steps:
1. Add the beef, onions, peppers and carrots together and brown the beef.
2. Once the beef is thoroughly cooked, add the rest of the ingredients.
3. Get it to a boil and then simmer for 15 minutes.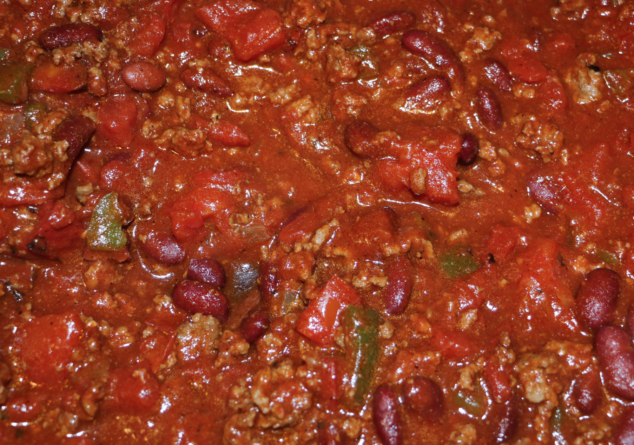 4. Bowl and add cheese (optional)
Easiest Chili Recipe Ever
was last modified:
April 29th, 2018
by