Tis the season to count your blessings and to spread some holiday cheer! If you have some family members on your shopping list that you still need to shop for, don't fret! Audrey and I created a list of our favorite finds so you don't have to worry about searching for this year's top picks! Enjoy!
For Kids:
Playmation Marvel Avengers Starter Pack Gamma Gear: Get your children running and jumping again!
Pie Face Game: A laugh out loud, messy adventure.
Cookie Cutter Set from Curious Chefs: Holidays and family baking go hand-in-hand. Involve your kids for even more fun in the kitchen! This 4-Piece Christmas Cookie Cutter Set lets the baking fun begin. It's the best because your kids can have a blast baking and helping you and everything is kid-safe!! Best ever!!!!
Hot Wheels Ultimate Garage Playset: Fun for all ages! If your child likes cars, this is the present of the YEAR.
Wild Pets Spider Habitat Playset: Lifelike and completely amazing. The children can't get enough of Wild Pets.
Wayfair Lily Dollhouse: Looking for unique details when it comes to your next dollhouse purchase? Wayfair has a wide variety of darling options.
American Girl – Girl of the Year Grace: She's the girl of the year! What more do you want to hear?
Kinetic Sand: A little messy… but isn't that all part of the fun?
Deluxe Doctor Set: This set will keep your children entertained for hours and days on end. Imagination play at its best!
Fisher-Price Imaginext Ultra T-Rex: ROAR! It moves. It shoots. It's as loud as can be. Perfect for any young kid on your list.
Nintendo Wii U Super Mario Maker Console Deluxe Set: Super Mario Brother fans all need this – all of them!! Create your own game with the Wii U.
Shopkins Shoppies – Bubbleisha: Shopkins are always on the top of the list. Now, you can add Shoppies to your collection.
Little Live Pets Cleverkeet: They sing and talk just like real birds.
Conair Quick Twist Hair Braider: If you have a tween on your list, this Twist Hair Braider will be a home run!
Delta Children Picnic Table: Looking to encourage your children to get outside more? Unplug? How about a new picnic table!!?
For Baby:
Freshly Picked Moccasins – The most delicious and scrumptious footwear for your little baby! These are so adorable and made with 100% Genuine Leather. They are soft-soled and feature a unique design with elastic at the opening. The best part – easy to get on and off, and they STAY ON!
Fisher-Price Laugh & Learn Smart Stages Scooter – Babies love to scoot and ride! This Fisher Price Scooter includes Smart Stages technology – learning content changes as baby grows. There are three levels of play offer fresh songs, sounds, tunes and phrases for your little one's age & stage! best part – more than 50 learning songs, tunes & phrases!
Playskool Sesame Street Play All Day Elmo – Elmo is Elmo! It's a classic! If the baby in your life is a Sesame Street lover, this is the best new toy for the holiday! Our kids LOVE it!
Gund Baby Stuffed Toy – You can't go wrong with a soft and cozy stuffed animal! Gund is such a classic brand and it's always the most precious and perfect for your babe!
The North Face INFANT THERMOBALL™ JACKET – The cutest. The coziest. The warmest. You can't go wrong with North Face – the jackets last forever and are beyond durable! Worth every penny!
LeapFrog My Own LeapTop – Technology is the wave of the future! Get your little ones ready with their own baby laptop with LeapFrog! Both of our kids have these and they're HUGE hits! Great for babies to press buttons and hear sounds and music! Great learning, too!
For Her:
(sponsor)

Trollbeads: Personalized jewelry where every bead tells a story. Everything we are wearing in this video is from this line. Completely customize your look or buy something pre-made. Something for everyone! Start a tradition — beads for every milestone, vacation, memory, interest, love, passion. You name it.
Kendall Farms: Looking for unique arrangements? We love this company!
Meditation Box: I think everyone needs a meditation box. Write down what you need to focus on for the day and let it go.
Women's Jeffrey Campbell 'Cromwell' Cutout Western Boot: A great pair of chic booties for the Winter.
Easy, Tiger 'Beer Snob' Can Glass: Girls that drink beer but still want to stay a little fancy — problem solved.
J Jill Side Button Poncho: Both of us own this poncho and can't get enough of it.
Soup and Sandwich Ceramic Tray : Sometimes you want to snuggle up with a grilled cheese and a small cup of hot tomato soup. What? Is it just me?
NEST Fragrances Winter Votive Candle Trio: Love NEST and this holiday trio is the perfect intro set.
UP3 by Jawbone Heart Rate, Activity + Sleep Tracker: Not only does this fab looking accessory track your activity, but it also monitors your sleep habits AND your heart rate. AMAZING!
My Fringe Hours: Discovering a More Creative and Fulfilled Life: Our dear friend wrote this book and we HAD to include it on our gift guide because it is filled with wonderful information.
For Him:
Woolrich Felt Mill Men's Scuff Slippers: These slippers are heavenly!
Motorized Grill Brush: Maybe if you buy him the grill brush … he will grill more?
Luma Home Internet Security: How about a new security system to ensure that all of your online activity is safe?
For The Hostess:
(sponsor)

There's simply something for everyone at Hickory Farms. For more than 60 years, Hickory Farms® has been enriching holiday celebrations with the highest quality, best tasting food gifts. Hickory Farms is dedicated to helping you share these traditions with your loved ones. Whether you're passing Hickory Farms along to family or helping friends start new traditions, they are committed to helping you spread joy all year-round. They have something for every budget and serve as the most perfect hostess gift! What better way to bring cheer and joy to a group of people!?
Holiday Doormat – It's something that is fun to gift a hostess! Doormats are an easy gift to give someone, especially with a festive feel! Find one that speaks to the fabulous holiday spirit and gift away this season!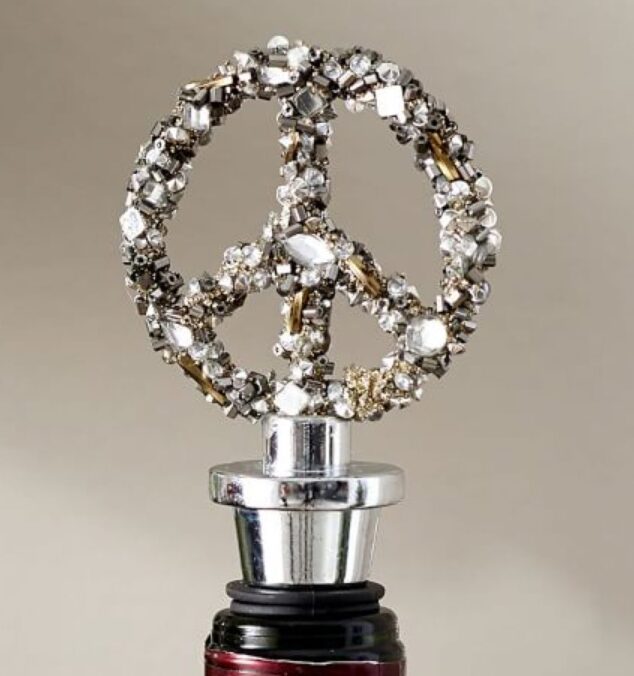 Glitter Peace Bottle Stopper – How perfect is this for a bottle of wine? We absolutely love this, especially with all that's going on in the world right now.
Apple Pie Spice Cookie Mix in a Mason Jar – a Special Limited Edition – This is a fun gift to give! It's a gorgeous package, but the best part – it makes a delicious treat!
Custom Street Map Puzzle – How cool is this!? Bring this to your next party for the hostess – you'll be the fave guest! So much fun! This personalized design comes packaged in a plush velvet pouch and book-inspired box, lending handsome appeal as a housewarming gift or coffee table topper!
What do you think about our holiday guide this year? What are your favorite finds?
Looking For More Holiday Inspiration?
Check out some of our Holiday Hustle Playlist below!! There are plenty of great takeaways for you to watch – including hosting, beauty, cooking tips and more.
Ultimate Holiday Guide for Gift Ideas #HolidayHustle #AudreyandVera
was last modified:
July 9th, 2020
by