Are you ready for 101 Fun Winter Date Ideas? I'm ready to dish it for you!! I'm going to be mad real here, Winter Dates can be the most romantic ever! It's cold… so snuggling is a must! I've been wanting to head out with my husband for some fun and unique winter dates (I just need a sitter!), so I thought it would be fun to come up with a ton of different ideas! Once I started, I couldn't stop! I kept thinking of all the things I wanted to do and all the things I have done and I kept writing and writing and writing! Let me know what I'm missing! I tried to get something for every kind of interest!
101 Fun Winter Date Ideas
Let me just say this – my husband and I don't get out enough together as it is. We need to try our best to constantly make time for ourselves, but with 5 kids it's not always easy. There are so many things that we need to be at and things that we need to do. It's tough because I really love to do date nights, so I really have tried to make them a priority! My problem is right now is never enough time. I know it's a silly excuse, but it's true – there never ever seems to be enough time to do things and it's something that I'm really just starting to push out of my head!
I've been with my husband for over 20 years – we NEED to make sure we have the time, so when I have a list in front of me for some great date night ideas – it makes it that much more easier on all of us! I know it seems silly to think that I need a list, but the truth is, I do! I need one to make sure I'm doing things different with my husband and that we don't get stuck in a date night rut! Are you with me on finding some Winter Date Ideas?
101 Fun Winter Date Ideas – MAKE SURE YOU PRINT THIS LIST OUT!! You can print out my email or copy and paste it over to a word doc to print out! Either way – just to have front and center for yourself to see will be good as can be! I actually have a bulletin board in my kitchen where I hang it and (literally) cross things off as I go! My husband gets a kick out of it because he sees how excited I get when I get to cross something off the list! I always tell him, "It's the little things in life that make me happy!"
Here's my full list of Fun Winter Date Night Ideas – and make sure you tell me what I'm missing! I love to add new suggestions on! I'm all about crafting a list as long as I can get it!!
Sledding
Skiing
Ice Skating
Hockey Game
Ice Fishing
Cross Country Skiing
Snowboarding
Touring Christmas Lights
Cooking Classes
Hot Cocoa (spiked) by the fire
Spa Date
Bowling
Indoor Waterpark
Fancy Dinner
Making Gingerbread Houses
Build a Snowman
Snowball Fight
Carriage Ride (Pack Blankets)
Indoor Skydiving
Fondue
Sushi Night
Jazz Bar
Snowshoeing
Build an Igloo
Hang Christmas Lights
Decorate a Christmas Tree
Head to a Tree Farm
Theatre
Head to a Bookstore
Walk the Mall (Photo with Santa!)
After a Snowfall, go on a Walk
Couples Yoga
Head to a local Museum
Movie Night on the Couch
Visit an Art Gallery
Piano Bar
Movies
Indoor Mini-Golf
Dessert Night
Workout at the Gym
Rockclimbing (Indoors)
Bake Night
Holiday Shopping
Casino
Comedy Show
Arcade
Volunteer at a Soup Kitchen
Head to a Library
Open Mic Night
Walk the Beach (Bring LOTS of layers)
Pajama Party
Coffee Shop
Couples Massages
Photography Classes
Cratfing Night
Winery (yes, even in the winter!)
Host a Holiday Party
Head to a Company Holiday Party Together
Make an Ice Sculpture
Hot Tub Night
Trampoline Park
Painting Party
Roller Skating
Indoor Swimming
Romantic Dinner at Home
80's Movie Night
Dance Party
Paint Ball Shooting
Laser Tag
Make Your Own Pizza Night
Head to Church
Couple's Night Out
Bubble Bath and Champagne
Concert
Visit Aquarium
Stay Overnight at a Hotel (even if local!)
Wii or XBOX Night
Watch Old Videos
Head to a Class Learning How to Make Drinks
Put Together a Puzzle
Game Night
Catch up on TV Show Night
Computer Coding Class
Spin Class
Picnic by the Fire
Try a Restaurant out of your Comfort Zone
Ballet
Opera
Head to a Basketball Game
Go out Dancing
Pottery Class
Haircut Night
Breakfast in Bed
Walk throughout your City
Head to an Irish Pub
Tour a Historical Mansion
Holiday Caroling
Head to a Community Light Up Night
Poetry Reading
Psychic Reading
Karaoke
What do you think? Did I get everything on my Fun Winter Date Ideas LIST? What I love about making a list is that (I know) not everyone will want to do everything on it, but hopefully there's a few things that you identify with on the list. Hopefully there's something that you see here that makes you say, "YES!" This is what I love about it. So (PLEASE) make sure you let me know if there's anything I'm missing!!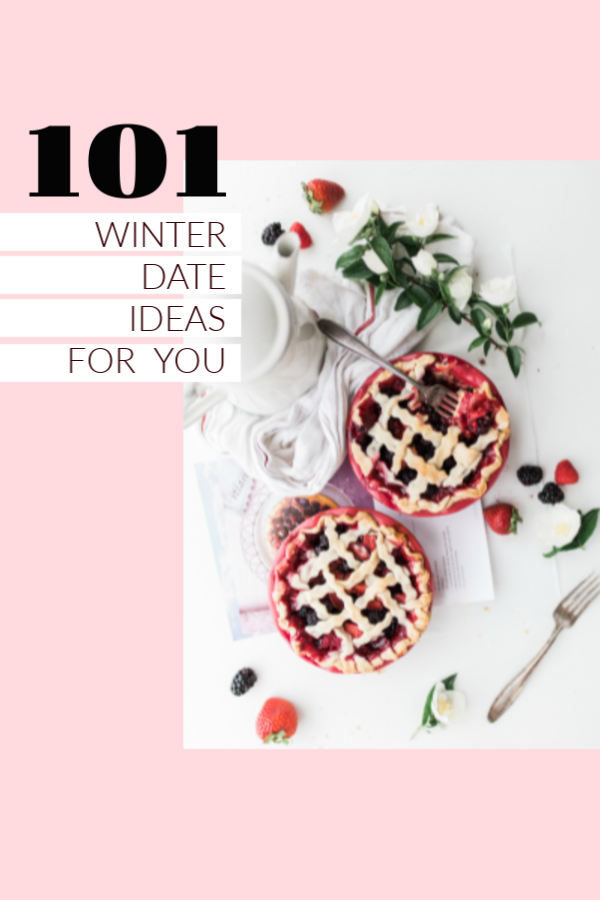 Make sure you check out some of my other lists, too! I love sharing them!! I'm all about sitting down and brainstorming out ideas for lists and stuff. It's actually really fun for me to do and I love seeing them come to life when they're done!
70 Fun Things To Do with your Friends
101 Things To Do with your Teens
101 Things To Do on a Friday Night
And listen, I have a ton of fun over on my YouTube Channel sharing some of my content and life. Love for you to head over there and follow along! I really do have a ton of fun over there! It's a mix of me and my family. Since I'm a lifestyle blogger, I love to share all aspects of my life so I thought it would be fun to really start amping up the content there, too!
101 Fun Winter Date Ideas
was last modified:
April 7th, 2019
by