While at the D23 Expo this past August, I had the chance to hear ALL about many, many upcoming movie releases… one of them being – The Good Dinosaur. This movie is going to be incredible. I actually remember tearing up during this preview at D23, it just touched my heart. This will be a true iconic movie for families.
Why so special?
"The Good Dinosaur" asks the question: What if the asteroid that forever changed life on Earth missed the planet completely and giant dinosaurs never became extinct? Pixar Animation Studios takes you on an epic journey into the world of dinosaurs where an Apatosaurus named Arlo (voice of Raymond Ochoa) makes an unlikely human friend. While traveling through a harsh and mysterious landscape, Arlo learns the power of confronting his fears and discovers what he is truly capable of.
Amazing, right?
Here are some of the images that have been released, too!!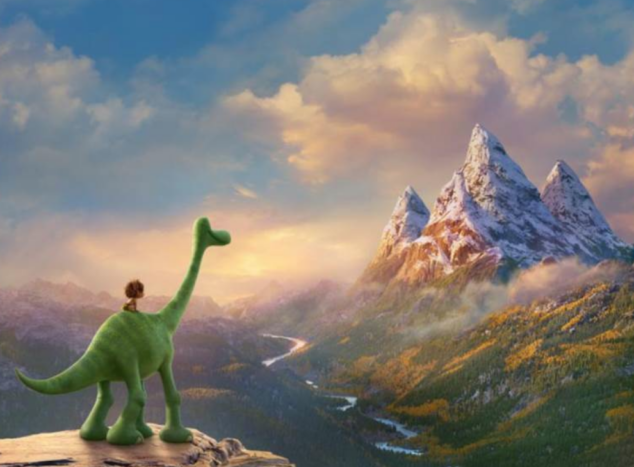 Like THE GOOD DINOSAUR on Facebook: https://www.facebook.com/PixarTheGoodDinosaur
Follow THE GOOD DINOSAUR on Twitter: https://twitter.com/thegooddinosaur
Follow THE GOOD DINOSAUR on Instagram: https://instagram.com/thegooddinosaur/
Follow THE GOOD DINOSAUR on Pinterest: https://www.pinterest.com/disneystudios/the-good-dinosaur/
Visit Disney/Pixar on Tumblr: http://disneypixar.tumblr.com
Follow Disney/Pixar on YouTube: https://www.youtube.com/user/DisneyPixar
Visit the official THE GOOD DINOSAUR website here: http://movies.disney.com/the-good-dinosaur
THE GOOD DINOSAUR opens in theatres everywhere on November 25th!
THE GOOD DINOSAUR New Trailer Released and Images!! #GoodDino
was last modified:
June 19th, 2017
by