I'm always on the look for amazing baby products. Always. Whenever I hear about a new car seat, I'm instantly intrigued. Safety 1st Grow and Go is a carseat that I have been asked about by moms for a bit now. I thought it would be a great idea to showcase the Safety 1st Grow and Go so you can see my review! The features are really great on it!
Safety 1st sent me their Grow and Go™ 3-in-1 Convertible Car Seat to check out for Victoria. She desperately need a new car seat, so I was so excited to pop this one in our car! What made me really excited about this car seat immediately was the fact that it's a Safety 1st Grow and Go 3-in-1, so you can literally go from a 5 pound baby to a 100 child with this SAME car seat. Amazing, right?
VIDEO REVIEW: Safety 1st Grow and Go
The Safety 1st Grow and Go™ 3-in-1 Convertible Car Seat, in the Boulevard style, is the car seat built to grow with your child. It features an adaptable design that transforms from a rear-facing car seat to a forward-facing car seat and finally to a belt-positioning booster seat. Grow with baby body pillows give a snug fit and remove easily as your child outgrows them. The Quick-Fit™ Harness System allows you to change both the headrest and harness height in one simple step for a proper fit. Integrated harness holders make getting your child in and out of the seat a breeze. No more fishing for the harness and clips from behind your child. For all ages, the car seat pad makes cleanup simple. Machine washable and dryer safe, it is also designed to come off the seat easily, with no need to remove the harness.
The number one thing for me is safety. As you can see, this car seat covers that beautifully. I love that I can put Victoria in it and feel comfortable and secure with her in it.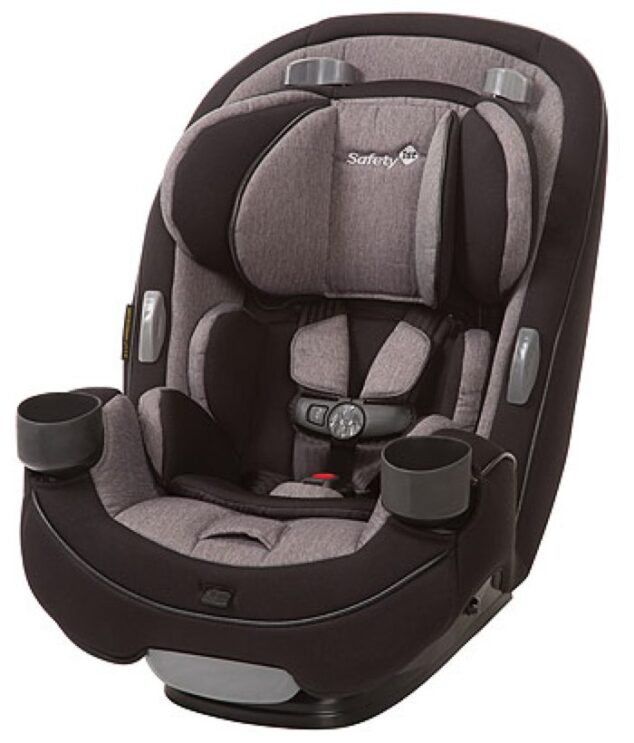 Not to mention, it can be used as they grow!!
Additional features of the Safety 1st Grow and Go
– Use as a rear-facing car seat for babies from five to 40 lbs.
– Forward-facing car seat is great for little ones from 22 to 65 lbs.
– Convert to a booster seat to accommodate children from 40 to 100 lbs.
I just love how everything comes together and it's a perfect car seat for families!! Bravo, Safety 1st Grow and Go – it's definitely a carseat I would recommend and buy for myself. I was really intrigued by the money you can save here, too. It's just great that a company wants you to grow with their product. There's not many brands that want that… they just want you to buy more and more. I love that they make it easy for parents. Makes me love them even more than I do!
Buy it here.
Disclosure: I was sent the car seat to review from Safety 1st. All opinions are 100% my own.
Safety 1st Grow and Go
was last modified:
September 27th, 2019
by