I'm telling you, I love that it's finally FALL! I love wearing pants and long-sleeved tops and enjoying the cool, crisp breeze in the air! My fashion throughout the fall reflects my love for it… I'm in love with chic, trendy and cozy looks more than anything!
Today is all about the color combo of black and brown… it's one of my favorite looks to bring together because it's chic and trendy and classic all at the same time. I never understand when people think you can't bring together certain color combinations, for me – it's the best way to dress and push the fashion envelope.
Metrostyle sent me some gorgeous styles to try out for my fall fashion posts and I'm in fashion-love! I picked this beautiful black blouse, these sexy black pants with these chocolate brown FABULOUS booties!
This look is a great look for a girl's night out or a wonderful date night with my husband! I love how comfortable the blouse is with it longer in the back, great flattering fit! Not to mention the pants are so comfortable and give off an edgy and sexy feel! But these booties… these are INCREDIBLE!! I'll wear these until there's snow on the ground! They are classic and elegant with a touch of sexy! Just loving!!!
You know I love to top my look off with a fedora… just for a little extra chicness!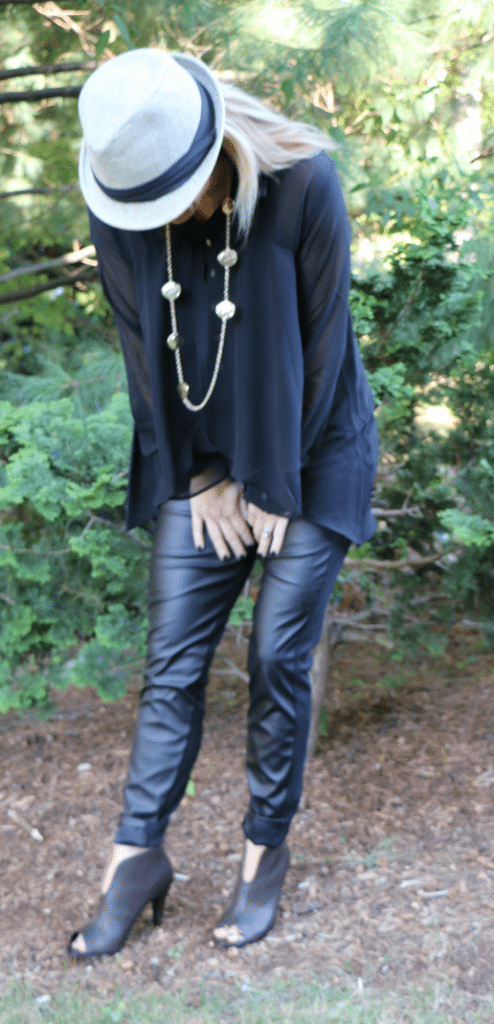 Again, I just loved mixing my black and brown!!
Breakdown of my look from Metrostyle:
Pleather and Ponte Knit Leggings
Disclosure: These clothes were sent to me from Metrostyle. All opinions are 100% my own.
Daily Mom Style: Black and Brown Color Combo
was last modified:
June 19th, 2017
by