There's nothing more amazing than talking to storytellers. Storytellers have a passion for creating a piece of work that will leave an impression on the reader, the watcher, or the person on "the other end." I've always admired the passion of storytellers. They start with an idea and work it into a being and that's something incredible.
I had the chance to meet and listen to 4 talented and passionate storytellers/filmmakers from the Walt Disney Animation Studios Short Films Collection while at the D23 Expo. It was one of those pinch me moments as I was in the same room as – Peter Del Vecho, Dorothy McKim, Mark Henn and Mike Gabriel.
Oh, yes! All of these amazing filmmakers sat with us bloggers while we conducted an hour long Q&A session with them about the Short Film work. It was truly one of the most incredible moments during my D23 Expo time because these short films are simply amazing. I had the chance to watch the Walt Disney Animation Studios Short Films Collection with my kids last week and we were just blown away by the stories. We laughed. We cried. We were mesmerized. And then to be there, with these geniuses – it was just perfection.
For over 90 years, Walt Disney Animation Studios has continued and carried on the legacy of Walt Disney and his brother Roy by making award-winning short films for audiences to enjoy. It is a special tradition that is being passed from generation to generation and it's something that is very unique and special.
Walt Disney Animation Studios is releasing TODAY (8/18) on Blu-ray and Digital HD an unbelievable and extraordinary new collection of award-winning and beloved short films including the never-before-released Frozen Fever, starring Frozen's Anna, Elsa, Olaf, Sven and Kristoff, and the Oscar-nominated Lorenzo. The Short Films Collection also includes the 2012 groundbreaking Mickey Mouse cartoon, Get A Horse! as well as hailed Oscar® winners Paperman and Feast.
I have to be honest, I was totally star-struck by being in the same room with Peter Del Vecho, Dorothy McKim, Mark Henn and Mike Gabriel. To stop and think of their bodies of work and what they've created… it's just extraordinary! It was such an honor to sit with them and ask questions, hear their answers and get some insights as to what inspires them. They were all so honest and so excited to be able to share, and I'll tell you what, their energy in the room was contagious!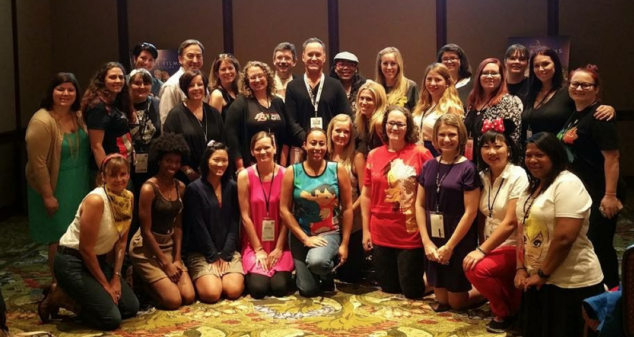 Mike Gabriel chatted about directing Lorenzo (my son William's FAVORITE!).
Peter Del Vecho chatted about producing Frozen Fever (my daughter's FAVORITE!).
Mark Henn chatted about directing John Henry.
Dorothy McKim chatted about producing Get a Horse!, The Ballad of Nessie, Tick Tock Tale, Prep & Landing and Operation Secret Santa.
I'm excited to share with you some standout conversations from our Q&A on Sunday with Mike, Peter, Mark and Dorothy. They had so much to share and to give and it was a pleasure to be there listening and taking it all in.
First, I'm excited to share about Inspiration… what inspires them to create these amazing short films?
Mike Gabriel spoke about how Joe Grant inspired him, which was really cool to hear because Lorenzo started with Joe Grant. Joe Grant began working for the Disney Studios in 1933 and was a Disney artist, writer and is a Disney Legend (1992). He died in 2005 while working at his studio on the animated short Lorenzo. Mike called Joe Grant one of the "earliest Walt Disney superstars." I loved that inspiration for him comes in the form of a Disney legend; very incredible to hear and you could hear the passion in Mike's voice as he told us.
Mark Henn spoke about how the legend of John Henry is something that we've all grown up with and he found it interesting that "Disney in some of their short films involving American Tall Tale legends actually alluded to John Henry, but Disney never did anything with it." Mark thought this was something that should be done, so he went with it. It was interesting to see that the inspiration for John Henry actually came from other Disney shorts. All it takes is a spark and an interest to build on, and that's exactly what Mark did with John Henry.
Peter Del Vecho spoke about how the inspiration for Frozen Fever came after Frozen, the movie, and the idea to "explore a different side of Elsa and find certain comedy in her really appealed to us." Since Frozen is such a MAJOR hit in our family, I loved hearing how this short came to be because it's my favorite, too! My daughter truly loves the world of Frozen and all that it encompasses, so this was a great treat to hear Peter speak about the beginnings of how Frozen Fever came to be.
Vera asked a really great question during the Q&A: Has a short ever inspired a movie?
Mark explained that many times shorts are "created from a technical side to test out a new process for a feature." Dorothy McKim also mentioned that with shorts, many times it's also a great opportunity to "test out talent." Often, the shorts are not by a "big" director who's already done a feature; rather, many times it's someone who might be in animation. Anyone can pitch an idea and if John Lasseter picks the idea, it goes forward. It could be a production assistant. I LOVED hearing this because it really gives people the experience to get in there to pitch an idea and direct it. It's incredible to get John Lasseter to give you the thumbs up on a project! How cool would that be!!??
I loved TerriAnn's question: How do you decide which direction to go in for a short? I love it because there are so many different styles one could do it in!
Mark responded with such a great answer: "There's a lot less risk involved with a short, so you're free to have a bunch more freedom to explore and experiment without putting a full feature out there. In a short, it's short!" I think that's such smart advice for anyone looking to create a short because you really can see what you can do and build from there. The best part was seeing ALL four agree on this question, too. It was also interesting to learn that most shorts are between 7-8 minutes. The point of a short is to tell a story in a confined amount of time.
Another of Vera's question was interesting for each filmmaker: How have they prepared for their shorts?  Vera mentioned that when she interviewed the filmmakers behind Feast, they said that they would always eat the food they were about to draw. I loved hearing everyone's take on how they prepared and got themselves ready for their shorts.
Mike kicked it off with how he had a Tango short and the production team had to learn how to TANGO! The team wanted to find out how the real Tango was done, so for the film they brought in dancers. He said, "That was one of those fun Disney moments when you're watching Tango dancers in your story room!"
Mark said that he and his team did a research trip to Talcott, WV, the location of the Big Bend Tunnel that John Henry supposedly had dug. The team spent a couple of days there at the John Henry Festival… and had a blast. They also went to Washington D.C., to the National Gallery, where they had access to artwork related to John Henry that most people don't get to see.
Dorothy chatted about her work on Get a Horse! and how the team wanted everything to be authentic to the original short; so at WDI (Walt Disney Imagineering), which has the library that Jimmy McDonald created for all the sound effects back when Walt was alive… all of those same props existed, and they were able to use those. The library curator demonstrated how to use the props and they used those actual ones in the short. HOW INCREDIBLE IS THAT? Love the Disney tradition continued through Get a Horse!
Peter mentioned that for Frozen Fever they built on the research that was done for Frozen. He mentioned a very funny story… "We went up to the Ice Hotel in Canada and spent a day doing interviews all day long. The way that research trip influenced the short was that we set the short in springtime." That was HILARIOUS. We all erupted in laughter! Imagine how COLD the Ice Hotel is! Oh my goodness!
FUN FACT ALERT THAT WE LEARNED for those of you who LOVE finding the Easter Eggs in the Shorts and Films 🙂
Peter informed us that there is still one Easter Egg in Frozen that nobody has found. We BEGGED, but he wouldn't give it up or even give us a hint 🙂
My question was the last one asked during the Q&A session: What would be amazing to hear from people watching your shorts?

Mike shared two of the highlights from his Disney career with us from two Disney pros. Eric Larson (an animator for the Walt Disney Studios starting in 1933, and one of the "Disney's Nine Old Men.") was one of those pros. When Mike was involved with The Great Mouse Detective, the dog Toby was his character. As the story was told, "One day Eric Larsen came by my office and knocked on the door… and told me, 'Mike I saw that scene today in the dailies (it was Mike's scene) and that's the best scene I've seen in a long time. I would be proud if I had done that scene myself. That's the level of animation I'm trying to get to happen again.' I'm still on a cloud from that one!" Mike went on to share, "And second, when Lorenzo was finished, there was a screening at the studio and Vince Garry, who is one of our top and most revered story men who had been here since the 50's… he was sitting on the side leaning against the wall of the theater and he watched it. He said to me, 'Mike – when I just saw that I remember why I came to Disney in the first place.'" Mike was floored. I literally got chills with Mike telling these stories.
Dorothy's story was during Meet the Robinsons – a story about adoption. Steve Anderson, the director of Meet the Robinsons, was adopted. When he was adopted, his adoptive parents gave him a letter and told him when he was 18 he could open it and read it, which entailed details about his birth mother (Dorothy said he was about 6 years old at the time he got the letter). Dorothy said that for years Steve wanted to open the letter, and yet, all of a sudden, Steve was 24 and had completely forgotten about it. He never opened it. "When we made that movie, so many people that were adopted connected with that movie. To have people come to us and say that really changed my life and connected with me… that's my ultimate thing. To reach out and help people… " I literally was crying when Dorothy spoke about this. Just beautiful!
Mark added that, "We make these films first for ourselves and what we believe is going to be really fun and entertaining and put them out there and hope that the audience is going to embrace it as much as we have. I had a case yesterday… coming to an event like this, people are so amazingly kind about how things have affected their lives. I had a young man come up to me yesterday and tell me that Aladdin saved my life." Can you imagine that level of amazing. I mean, think about it… what you're doing saved someone's life. Mark said that he got chills talking to the guy. I think you could probably hear a pin drop as he told this story.
Peter shared, "Just coming to D23 and seeing the people who took the time to actually make their own costumes! Even the new Anna dress… the fact that people create that and all the YouTube videos, all of that. But certainly for the movie, a lot of them centered around the song 'Let It Go.' The one that sticks out to me the most was a guy who had fought in the Gulf War and had lost both his legs. He said that the song Let It Go made him realize that he needed to accept who he was. Stories like that are extremely powerful."
I'm telling you… this Q&A session was beyond amazing. I loved hearing all the "behind the scenes" talk from these creators/story tellers/filmmakers and really getting to know more about what goes into making these shorts.
Thank you to Mike, Mark, Dorothy and Peter for sharing your time and your amazing.
Make sure you buy this amazing Disney Collection.
Walt Disney Animation Studios Short Films Collection Q&A with Filmmakers #D23EXPO
was last modified:
June 20th, 2017
by