Hello, TUESDAY! 🙂
This morning we had a ginormous storm rock through out neighborhood and it left tons of branches and trees and everything just down — even my power. I'm working off of my iPhone "hot spot" right now… with literally only 6% left, so I'm rushing to post this!
With no electricity, there's no hairdryer and no flat iron.
So basically, today's a BUN up kinda day now.
A few weeks ago I went through my closet and found tons of clothes that I have had FOREVER, but just never worn. I couldn't believe the amount of tees and tanks, shorts and skirts I had – never touched! I blame it on the fact that i was constantly pregnant and just never had the chance… but in reality, there's a bunch of awesome things and they WILL get put to good use!
I wanted to dress it up a bit today on my blog, but also have some fun… so I grabbed a tee that I bought at Old navy YEARS ago (because I had 4 sons at the time!), I don't even remember how many, but it was awhile ago – and my FAVE new H&M skirt!!
I just thought this look was fun for the day! And I LOVE this shirt because it's adorable… and, for me – I'm a total BOY mom, so it's even more FUN!!!
AND! Surprise! My Alex took all the photos! He did a great job, right!!??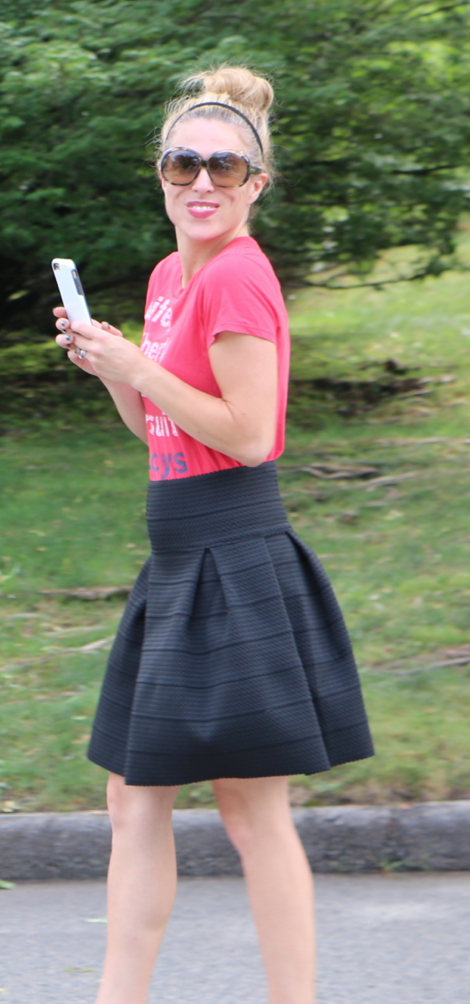 Get my look:
The TEE will be tough to get, but ANY graphic tee will do!
Skirt: H&M – available NOW
Shoes – DSW
Sunglasses – Tom Ford
Happy Tuesday everyone!
Wear something FUN today!!
Daily Mom Style: It's ALL About the Boys
was last modified:
August 4th, 2015
by