I'm all about hair talk, especially when it comes to my children. I love styling their hair and making them look handsome (for my guys) and beautiful (for my girl). I remember "hair time" with my mom and dad (yes, my dad did braids!) was such a special time for me. I would always sit on my bed with a basket of dolls in front of me and play with them while my hair got done. I used to love it when my hair was completely done with bows and beautiful braids. It always made me feel so special to head to school in the morning!
Fast forward 25+ years! Here I am with my own 5 kids, 4 of them (my sons) who are heading into elementary school (2nd, 3rd, 4th and 5th) and my daughter who will be heading into preschool. I love having history repeat itself with my kids and our hair routine in the mornings. They all love it (sons included) when I style their hair. Actually, my sons William and Alex now style their own hair, which is cute to see now, too! And now for me – I have a girl's hair to do!! Her hair is finally long enough to now do braids, ponytails, pigtails and buns — as you can imagine, I'm having just a blast, this is a dream come true for me!
School starts (believe it or not!) in 3 weeks, so we're getting full-blown into back-to-school mode right now in our house. It was super fun because I attended with Henry and Victoria a JOHNSON'S® back-to-school styling event in NYC featuring celebrity hair stylist Josue Perez to kick off this time of year and back-to-school hair talk!
We had so much fun and I was able to capture it ALL on video!!
Check it out!!
I'm telling you, I still can't believe Victoria sat for her hair to be done. It truly melted my heart. It was her VERY 1st time having it styled like a big girl! And her braid was AMAZING, they did such a wonderful job!!
Such a special moment to share with Johnson's NO MORE TANGLES because we literally use the NO MORE TANGLES products on her every single day! The 3-step regimen is my go-to for her… and my boys!
The coolest thing about being at the event was being able to chat with Josue! What a sweet, wonderful, kind man! He stood and chatted with me for 15 minutes while Victoria and Henry were getting styled and giving some awesome personal hair tips (you saw some in the video above!).
Josue shared with all the attendees some great back-to-school hair styling tips & tricks that showcase the NO MORE TANGLES® regimen to help achieve those "Great Hair Days" with simple and personalized looks. His biggest advice – Johnson's NO MORE TANGLES products for child's hair!
To make hair styling process quick, easy, and tangle-free in the morning, follow the Johnson's NO MORE TANGLES 3-step regimen to keep hair soft and manageable: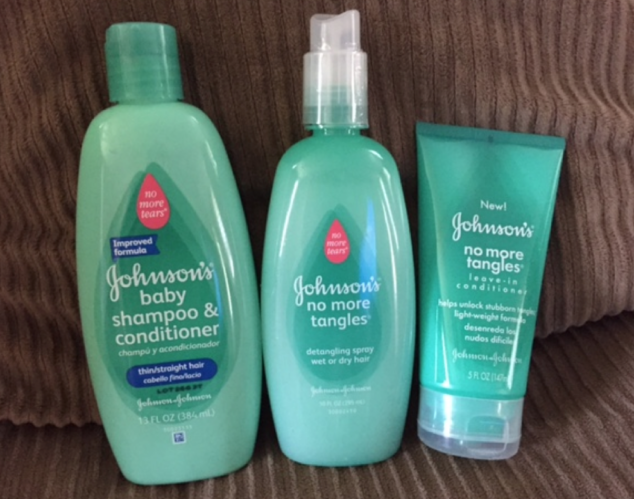 1. Cleanse with a 2-in-1 Shampoo and Conditioner
2. Nourish utilizing a Leave-in Conditioner
3. And, style using a brush or wide tooth comb and a Detangling Spray
I love that he was encouraging moms and dads to have fun with your kids' style and avoid getting tangled up in the knots and challenges of managing it. Great hair days can be easy and fun, and made that much easier with the help of JOHNSON'S® NO MORE TANGLES®!! For me in particular with Victoria, he emphasized that toddlers are active and parents need JOHNSON'S®NO MORE TANGLES® because it simplifies their hair care routines and allows them to keep up with little ones, who are always on the go. The JOHNSON'S® NO MORE TANGLES® hair care regimen delivers so much more by addressing the ease of styling. Through styling, Johnson's is creating a way for parents to connect with their little one, turning the daily routine into a positive moment of self-expression.
This I love.
Thank you to Johnson's for including us at this amazing event!
Disclosure: This is a sponsored posting with JOHNSON'S. All opinions are 100% my own.
Back to School Hair Trends with Johnson's NO MORE TANGLES #TangleTalk
was last modified:
June 20th, 2017
by