Summer fashion! My favorite! I love summer fashion because it's so easy and so accessible! I love sharing different ways to rock basic items that everyone has in their closets. A white tee is an item (I'm thinking) everyone has or can easily get. But here's the thing… what can you wear with a white tee that's different and chic and trendy?
White Tee – What to Wear
This is what I love about a white tee – it's easy, it's versatile (beyond just about anything!), it's chic, it's simple and it's an item everyone and anyone can wear. I love that fact that a white tee covers so many different bases. I love that you can really dress it up, dress it down or wear it anyway you prefer! I also love that it doesn't matter your age, your size or your height – you can rock one! I love items that are created equal for everyone!
Here's the thing – how can you style a white tee?
How can you be different with just a plain ole white tee?
What can you do? How can you do it? How can you make it look chic and fabulous?
5 Ways to Wear a White Tee
Here are 5 ways to wear a white tee and look ultra-chic and fashionable!
#1 Style – Easy and relaxed and perfect for the weekend!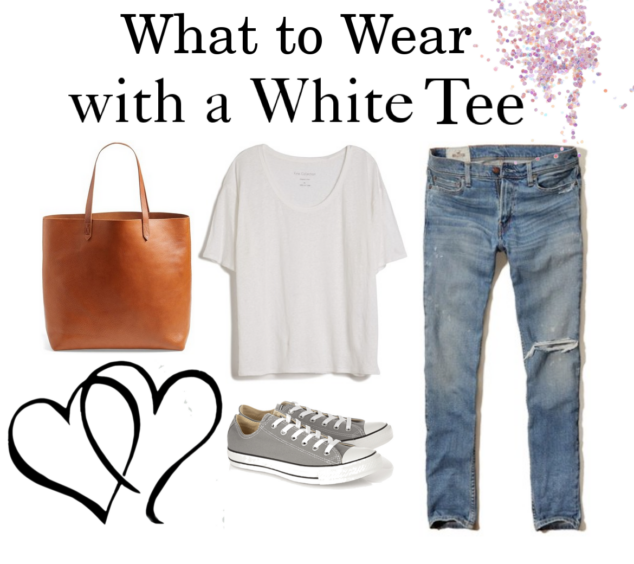 #2 – OK, this is a super cute look! It's fresh! It's unique! It's perfect for vacation time! Add fabulous sandals and you're good to go!
#3 Grab a fabulous blazer and some adorable (appropriate shorts) and wear to work! It's a total fashionista look and it's just stunning!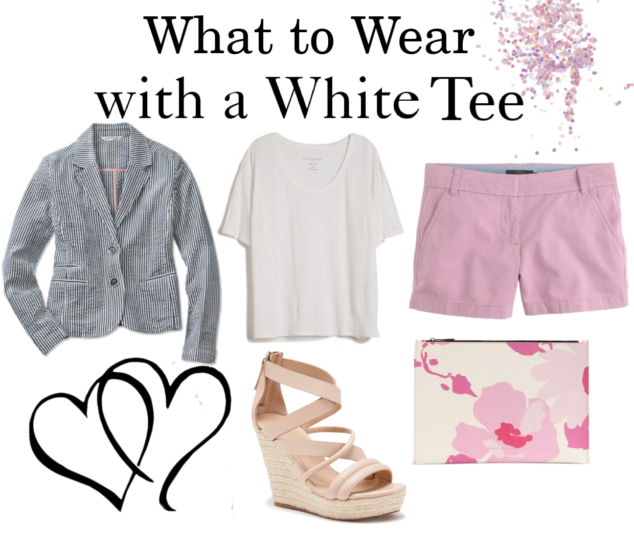 #4 Since you can wear just about anything with a white tee – I say go with a bold print! These stripes are out of control fabulous! Pair with a little denim jacket and you're rocking it girlfriend!
#5 Go relaxed and chic with a white tee and some flowy pants. I love being able to mix it up and wear something cozy and comfy and chic all at the same time!
I hope you love these styles and are inspired to rock one of these looks or go create your own!
I want you to remember 5 things when it comes to looking for the perfect looks:
Make it all about you.
Use what you have, don't always think you need to go out shopping.
Make sure you feel comfortable and confident.
Make sure you find items that fit you perfectly.
Always remember that you need to feel beautiful. Be you. Do you. Make sure you're reflecting your best foot forward into the world!
I fell in love wit fashion years ago because I knew I could show off my personality through my clothing. When I became a mom, I also knew there were staple pieces I needed to always have on hand. This is one of them. You need items that you can do your everyday things in. You don't want to feel like someone else in the clothing you wear, you want to feel like YOU and be YOU.
White Tee – What to Wear
was last modified:
February 9th, 2019
by