I'm very lucky when it comes to milk consumption in my house. My 5 kids LOVE milk. We actually go through 1 1/2 gallons of milk a DAY!
Yes, a DAY!
When we head to the grocery store, we usually pick up 4-5 gallons at once! Ever since my kids were babies, milk has been a staple drink in their lives. It's funny, my son Alex would ONLY drink milk if I let him, he's that much of a milk-lover. For us, DairyPure milk is an essential part of our family's day. It's always – right there – in the fridge, just "hanging" out.
We LOVE DairyPure milk for our house because it's the only milk backed by an exclusive Five-Point Purity Promise. For me, knowing just how much milk we consume in our home, that's incredibly important.
All DairyPure milk:
1. Contains no artificial growth hormones
2. Is tested for antibiotics
3. Is continually quality tested to ensure purity
4. Only comes from cows fed a healthy diet
5. Is cold shipped fresh from your local dairy
DairyPure milk is the kind of milk you want your family drinking because it's delicious, it's healthy and it's easy to get. We're strictly a whole milk drinking family, but DairyPure is available in the dairy case at grocery stores nationwide in 2% reduced fat, 1% low fat and skim/fat free milks, as well as creams. So truly, there's an option for everyone's needs.
Since the McClelland MILK-LOVE has become "well-known" on my blog, I have had moms throughout the years ask me for tips when it comes to getting their own children to drink milk.
First up – straight up!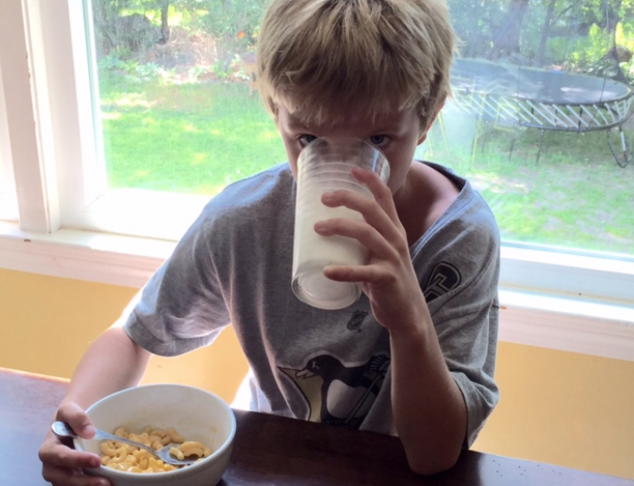 Oh, yes – just a straight up plain glass of milk. The secret in my house, I try to pair the milk with a meal that works well for my sons with it. I know whenever they eat mac & cheese, they're going to want a glass of milk with it, too. The same goes for spaghetti and meatballs, stews, hot dogs and grilled cheese.
Second – Slight twist, you can add Chocolate Syrup, Coffee Syrup or Strawberry Syrup!


A little added twist to a plain glass of milk can always dress it up! Whatever your child fancies the most, added it in for a little extra special milk!
Third – fruit smoothie! I'm going to be honest, I don't usually make fruit smoothies too often in our house – but they are the easiest to make!

Just buy frozen berries (any kind of mix you want), add milk and blend! I usually go like this with the measurements. If I buy a 3 lb bag of berries, I'll add 1 1/2 cups of milk. Always go half. As you can see – the boys LOVED them!
Forth – chocolate shake! Perfection in the summer! One of the FAVES of most kids!

Can't get more easier than this – milk and chocolate ice cream!!
4 ways to get your kids to add milk into their lives!
DairyPure milk is our go-to and I love that I know I'm giving my 5 children the best there is out there!
Tell me – what do you do with milk that your kids love!!??

Disclosure: This is a sponsored posting with DairyPure milk
How to Get Your Kids to Drink Milk
was last modified:
July 8th, 2015
by