The Button Tin ~
I wrote this post about my late Mom-in-law, Flo, 4 or so years ago. Yesterday would have been her 96th birthday, and as my family does every year, we celebrate Flo with a birthday party. We all talked and laughed and reminisced about this great Lady with the biggest heart – and sometimes the biggest and loudest opinions! – and I thought about her Button Tin. There wasn't a moment in Flo's life that her hands or mind were idle, and there wasn't a button she didn't have to save a garment, festoon a costume for her kids and grandkids or to give a little flair to an outfit. I'm re-posting my post today to honor Flo and her flair for everything – especially LIFE itself.
I love buttons. I love the feel of buttons sifting through my hands.  This love comes from my Mom's Button Tin… from when I was a child.  My Mom kept all kinds of buttons in a rectangular shaped tin box.  This tin box had a delightful Christmas motif on its tin lid.  I remember my Mom heading to that button tin whenever she needed a button to mend something, or to store new buttons… you know, the extra ones that come attached to blouses and sweaters and jackets.  I even began my own Button Basket (I must find a tin for my buttons) when I was old enough to do so, and it's my go-to haven for all of my glorious, magnificent, all-shapes-and-sizes-and-colors buttons.
When my mother-in-law, Flo, passed away a bit over 2 years ago, I found her Button Tin among her things.  Flo loved to sew… and there is not a scrap of fabric, lining, zipper, thread, needles, buckles, buttons she did not save.  Flo's Button Tin is a golden-colored round tin with a Christmas motif lid (there seems to be a Christmas theme here)… with dazzling stars around the outside.  I took Flo's Button Tin home and placed it, intact, on a very high shelf in my work area.  It feels wonderful to see it every single day.
Yesterday, I took the Button Tin down from its high shelf.  (I have a little Christmas "project" that I'm working on for my 9 grandchildren… and buttons are in order.)  I carefully opened the lid and peeked inside.  Instantly, there was magic in the air.  Hundreds of buttons… many of them decades old… greeted me.  Some were still in their little packages, others were "bagged" by color, and then rest were free to fall through my hands.  I did it.  I let them fall through my fingers and hands, feeling their fun and utility and importance.  It's like they had been waiting for me.  I marveled at their magnificence.
I needed 9 buttons.  (I can't yet tell you why because my "project" will not be revealed until this coming Saturday.)  I watched the sun set while I searched for 9 perfect buttons.  I had such a wonderful time.  And I found them… all 9 of them… all perfect, all different, but alike, too… just like children!
Such a simple thing like saving buttons in a Button Tin makes all the difference in a moment, a day, a lifetime.  I can't wait to show you what I'm doing with those 9 buttons that come from somewhere, somehow, some time… through  NanaFlo, all the way from heaven.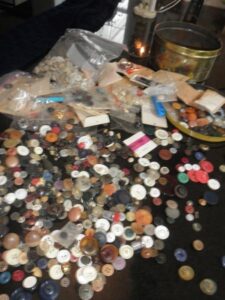 The Button Tin ~ a post to honor my late Mom-in-law, Flo
was last modified:
July 8th, 2015
by