It's the HOLIDAYS! I don't know about you, but I love to dress in the "holiday spirit" during this time of year, especially when I'm heading to a party or a gathering. It's fun for me to really amp it up and do what I can to spread some fashion cheer!
For me, it's all about wearing RED for the holidays.
Red is typically the color of the holidays. It's a great statement color and can be worn in a variety of different ways. I love the versatility of the color red, but I also LOVE that anyone can look good in the color red, it's one of those awesome colors that works for everyone.
I wanted to show you can wear red by adding it in through different ways – through a dress, through an accessory, through a sweater, through some shoes! I had some fun creating all these different holiday looks for you! These are my favorite kinds of posts to write for my blog! 🙂
Holiday Style: How to Wear RED for the Holidays:
Let's say HELLO to the HOLIDAYS and HELLO to some RED!
Look #1: You can't go wrong with a red dress. It's a true statement dress, and it's spectacular! To make it a little bit more chic, add some black-gem jewelry with it. It will really turn it more into a classic and trendy look.
Look #2: A red blazer! This is one of those staple items to have in your closet throughout the year. For the holidays, you can't go wrong pairing it with a blouse and black skirt. This is the kind of look you can wear to a family party, work party or out with friends!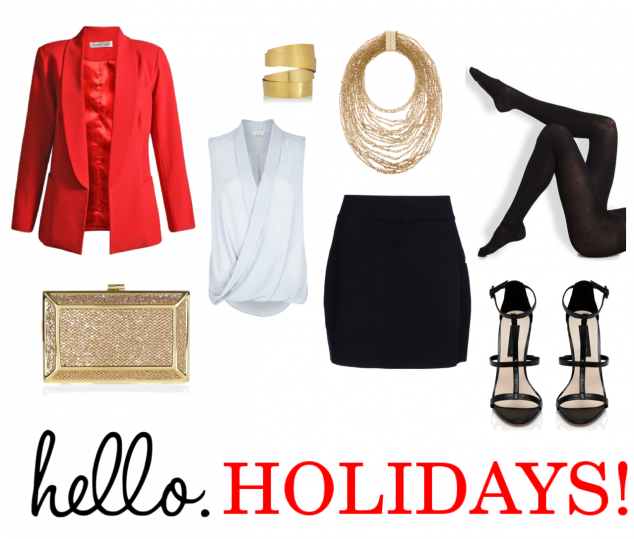 Look #3: Probably my favorite! I love wearing jeans, so I'm always looking for ways to dress them up. I love these easy chic look with red heels. Find you FAVE pair of jeans, a dressy top and add some red heels and jewelry! This is perfection. 🙂
Look #4: Faux Fur vest and red pants. FABULOUS! If you have some red pants in your closet, now is the time to wear them! I suggest wearing with black sweater and something fun and different, so I added the vest and a really cool scarf. I love this look, it's very different!
Look #5: RED SCARF! Find some staples that you have in your closet or some items that are very in-season right now. Leather pants are hot-hot-hot right now, so I decided to use these as an example. I love how pairing with a red scarf, it really makes the outfit holiday-pop!
Holiday Style: How to Wear RED for the Holidays
was last modified:
December 18th, 2014
by