I don't know about you, but my holiday shopping list is a long one.
There's my husband.
There's my children.
There's my parents.
There's my nieces and nephews.
There's the teachers.
There's the coaches.
And there's my friends.
My holiday shopping list is always a long one, but I love that about the holidays. One of my favorite things to do is give to people. I love finding the "perfect" gift. I love watching someone's eyes open up wide. I love the gift-giving reaction of appreciation. It's a beautiful thing. It's a good thing.
I'm excited to share with you something that is going to make you feel extra good and special this holiday season while you're doing your holiday shopping.
It's all about GoodShop.
GoodShop has a listing all the best coupons and deals for thousands of retailers that you know and love and use throughout the holidays. You yes… there's Amazon, Target, Sephora, Apple, Gap, J.Crew, Macys, Toys R Us and thousands more!  By shopping with GoodShop a percentage of your purchase will be donated to your favorite charity for free!  No need to do a search for "store coupons" and have to go into all the sites to find the best coupons – Goodshop lists them all!  To date, Goodshop has raised more than $11 million for causes ranging from the American Cancer Society to local dog shelters and schools.
The cool part is that you choose the cause that you would like to support while you're shopping.
Here are some of the causes that you can support…
For me, I am choosing to support Dana Farber. My husband has been treated at Dana Farber since February of 2012, so for me… it's a personal thing. I love that I am able to give back in this easy way and hopefully make a difference or a little a dent in something positive and good at Dana Farber.
The whole process of GoodShop is super easy:
1. Choose a cause to support (e.g. The Red Cross)
2. Choose preferred retailers (e.g. Nike, Office Depot, J Crew, Sephora etc.)
3. Receive coupons for your favorite retailers
4. Buy products you would normally (e.g. Lipstick stocking stuffers from Sephora) through the app
5. A portion of your purchase goes back to support your selected cause (the percentage varies by store and by cause)
6. You can track the money you raise in your profile, can change your preferred cause at any time, and can add or edit your preferred list of retailers.
And I encourage you to take the GoodShop Pledge.
This year there is a special day — Goodshop Sunday — which is happening on Nov 30. This is the day when the GoodShop retailers are focused on giving the best deals AND giving back. On that day, some retailers will be offering double donations and others will be giving exclusive Goodshop Sunday deals!
Pledge to buy at least one gift that gives back.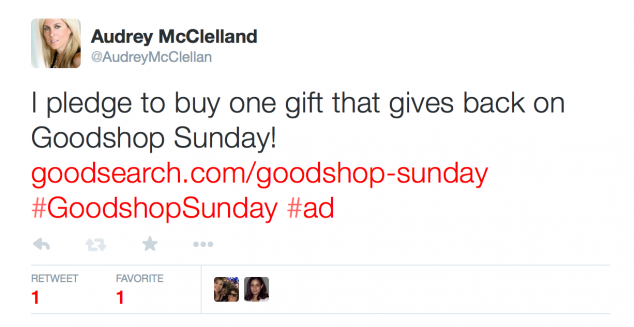 Pledge by 11/30, "GoodShop Sunday."
Let's do something good this holiday season while we're shopping for our loved ones!
Disclosure: Sponsored posting with SheKnows Experts Among Us program.
Giving Back with GoodShop this Holiday Season
was last modified:
July 8th, 2017
by