My children are COUNTING down the days till Halloween.
As of today… 26 days.
My sons are at the perfect Halloween age right now – 6, 7, 9 and 10. They are 100000% into Halloween and they all want costumes that are popular right now.
Here's the thing about Halloween in my family. It's my husband's FAVORITE holiday, so we have had our house decorated since mid-September and we've already carved some pumpkins and have planned a trip to Salem, MA (next weekend!) for some added Halloween fun.
But – for my sons – Halloween is ALL about the costumes.
Spirit Halloween is an incredible destination for costumes for the whole family. This year at our 3rd Fashion Forward Conference on September 30th, we had Spirit Halloween as one of our Kid Fashion sponsors! It was absolutely adorable to see the kids grace the runway in popular and oh-so-precious Halloween costumes from Spirit Halloween. As soon as the children saw whom they were "wearing" they light up! They were so excited and so enthused to be part of the show in a fun costume! Check out who walked the runway for us during Fashion Forward!
We actually have a Spirit Halloween location right near us, so we've already been in and perused around for what everyone wants to be this year. Spirit Halloween is the largest seasonal Halloween retailer in North America (United States and Canada) – and it just recently announced more than 1,100 store openings for this Halloween season! It's the place to go and find the best costumes!
This year, everyone wants to be something different. For the last couple of years I've been able to convince everyone to dress up as a group – Duck Dynasty guys, Superheroes, Ninja Turtles… this year, not so much. Everyone wants to be their "own thing!"
As the leading authority for all things Halloween, Spirit Halloween has also announced this year's top costumes (so hopefully this will help you and your family as you start your costume shopping):
· New Disney characters like Frozen's Elsa, Anna and Olaf
· Official Game of Thrones (exclusive license)
· DIY costume themes around Harlequin, Burlesque, Punk, Leopard and more
· Disney Princesses including Ariel, Rapunzel and Merida
· The Walking Dead (exclusive license)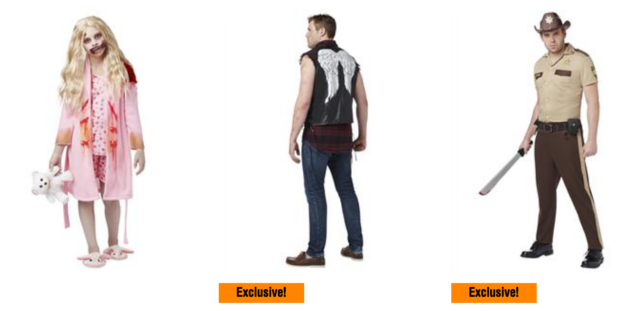 · Nostalgic Characters such as Dr. Seuss's Cat in the Hat and Where's Waldo
· Superheroes including Batman, Captain America, Spiderman and Transformers
· Teenage Mutant Ninja Turtles
· Outrageous Halloween Men's Suits
LOTS of Halloween options!!!
At the heart of Spirit Halloween is its philanthropic Spirit of Children program which brings fun and funding to hospitals across the country for children who otherwise would not be able to celebrate. When visiting a Spirit Halloween location, shoppers can donate as little as $1. This year Spirit of Children's goal is to raise $5.2 million, bringing its total contribution to $21 million.
Disclosure: Sponsored posting.
Spirit Halloween's Top Costumes for 2014
was last modified:
July 9th, 2017
by