BoldrDash Kids 2014 – what challenging, fabulous fun for kids!
Last September, my husband and I took 2 of our grandsons to BoldrDash Kids 2013. We didn't really know what to expect, but the event far exceeded both ours and our grandsons' expectations for a challenging, fun, fabulous run/obstacle course race straight up a ski slope and down – as fast as possible right into a mud pit…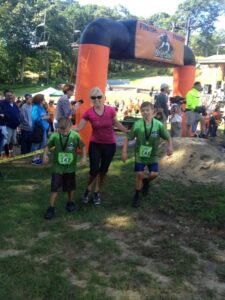 Kids were required to be accompanied by an adult, and this Grandma happily obliged. I wrote about our wonderful experience here.
THIS year, we wanted all of our age-appropriate grandkids to participate (that would be 9 of 11!), but due to already scheduled activities/events that could not be missed, we could only round up 2 more grandsons… brothers of the 2 from last year.
My husband Barry and I arrived at the parking area of the event and took a school bus a few minutes to the BoldrDash race site. Taking the bus was definitely part of the fun of the day for the kids and SO convenient and perfect for the grandparents, I must say…
We quickly, and thanks to the volunteers, efficiently and very friendly-like, picked up the kids' race bibs, got the kids their most awesome t-shirts and headed up the ski slope for a good look at just exactly what this race entailed for 6-year old Henry and 7-year old Ben…
Hey, I told you the course was straight up a ski slope! Ben and Henry were kind-of prepared for this because their 2 brothers from last year's race (8-year old Alex and 9-year old William) had kind-of prepared them with lots of details about the awesomeness of this race, but staring at that uphill start was, like, OMGoodness!
But soon their wave (having numerous waves of kids' races keeps everything very safe and controlled) was ready to take off, and off they went, me trying to keep up with the boys (wow, difficult!) and Pop-up capturing as many photos as possible (props to Pops for being just about everywhere. I don't know how he did it, exactly!)…
And the rest of the story is better left with that old adage, a picture is worth a thousand words…
… and they're still running UP-HILL!
At the top of the slope, the kids were handed potato sacks and had to jump several feet (did I mention several?) around the cones before the descent…
I will say that I snapped this next photo, but the boys were hopping so swiftly that I couldn't focus properly!
… and down we raced!
… right into that awaiting mud pit!
… with a race photographer on-hand to capture all the fun and mud and smiles and an awesome volunteer at-the-ready with a beautiful Race MEDAL!
What a RACE – just as their brothers had described!
(And oh, I just realized while posting this photo that I wore that same pink shirt last year. You might be seeing the same one at next year's race, too!)
But the fun didn't stop when the race was over, which is one thing that I really, really love about this event. We had plenty of opportunities to watch the adult racers, in all their gear and many in competitive groups, taking off in their waves. The excitement was palpable, real, electric.
And there were lots of activities for kids to enjoy, too…
Yep, Pops had to show them his skillz!
And, of course, the "boulder lift" – to show how awesome and strong you really must be to finish such an awesome, challenging race…
We WILL be back next year, again!
Barry (aka Pops) and I enthusiastically recommend the BoldrDash Kids race, designed beautifully for kids 4-8 and a bit more challenging course for kids 9-12.
GO BOLD with your kids!
BoldrDash Kids 2014 – what challenging, fabulous fun!
was last modified:
July 9th, 2017
by