An interview with Viva-the-Diva "Baby Fashionista"…
Viva-the-Diva "Baby Fashionista" burst onto the fashion scene nearly 15 months ago, and is with us today to offer some insight on her own fashion tips. I sat down with her yesterday to capture her unique aura.
Me (aka Grandma): How would you describe your unique fashion perspective?
Viva: Simple. I hear fashion…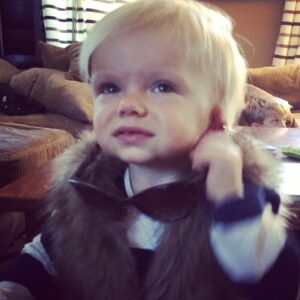 Me: What are you wearing today?
Viva: Vest and Boots – Old Navy…

Me: What is your opinion of Mother/Daughter matching fashion?
Viva: Hang on a sec. Here comes my Mommy in a fur jacket like mine. OMBA-nanas! I literally DIE! My favorite matching fur jacket in the whole universe…
Me: What is Winter 2014 chic?
Viva: A Rebecca Minkoff deco biker-jacket for around town, the PTA meeting or dinner with Daddy is SO everything. Classic Fab…
Me:  Is there an age limit to fashion forward?
Viva: Shut. The. Front. Door. Grandma, just look at you! You OWN leopard…
Me: What are the hot colors for Spring 2015?
Viva: Think nature. Minimalistic. Aquamarine. Custard. Strawberry Ice. Mint. Marsala. I'll be wearing my Marsala, of course. Seriously 'en plein air'…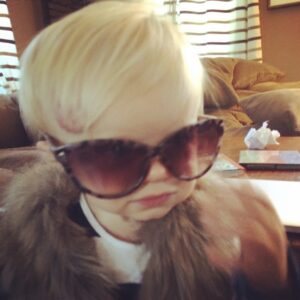 Me: What's the rage for baby fashionistas?
Viva: The pacifier is classic MAJ rage…
Me: Thank you, Viva-the-Diva Baby Fashionista. Is there anything you'd like to ask Grandma?
Viva: Could you call for my car, please?
Thanking Viva-the-Diva "Baby Fashionista" for her enlightening insider Fashion advice. Until next time, VIVA la Fashion!
An interview with Viva-the-Diva "Baby Fashionista" ~
was last modified:
September 23rd, 2014
by