My friend Wendy Morelli (@AppHipMom) is co-founder of Tweenhood and is contributing to Mom Generations today about Parental Apps for iPhone. Kids are not the only ones that need to adjust to back-to-school routines. Parents will be busy as ever, juggling work, car pools, homework, meals preparation and extra-curricular activities. But thanks to technology and your good old trusted smart phone, having the right apps can help busy parents multitask and lighten the load.
Parental Apps for iPhone
Here they are in NO particular order!!
#1 Parental Apps for iPhone – Paperless post


Image: Paperless Inc.
As much as I love receiving paper invitations, when it comes to kids, invitations somehow disappear into a big, black hole, never to be seen again. That's where digital invites and an app like Paperless Post comes in handy. Email party invitations directly to parents, track responses, communicate with guests directly through group or private message and see who opened their email invite. You can also share and collect photos from guests at the event to share privately with the group. Free, with in-app purchase; iOS
#2 Parental Apps for iPhone – DinnerTime


Image: ZeroDeskTop Inc.
Parents can now use their iDevice to remotely "shut down" their kid's Android device with the DinnerTime app. Parents can choose from 3 breaks – Dinner Time, Bed Time or Take a Break, to which parents are in complete control to set time limits to their child's device. Busy parents will appreciate not having to repeat themselves for the hundredth time to put devices away at meal times and bedtime. The free app allows for 2 devices to be connected, while an in-app purchase of $1.99 will connect up to 5 devices in addition to providing usage reports on how long your child used the device and the apps they used. Free, iOS (for parents), Android (for parents and kids)
#3 Parental Apps for iPhone – Canvsly


Image: Canvsly LLC
Kids come home with a lot of work during the school year, whether it's artwork or a Pulitzer Prize worthy story or high-test marks. It's difficult for parents to pick and choose which pieces to keep and what to toss and unless you have an entire floor dedicated to safekeeping their work throughout the years, Canvsly may be a good option. Parents can capture, organize and share their child's artwork to cherish forever and share with family and friends. You can even turn your child's favorite into a mug or t-shirt for Grandma or Grandpa. Talk about convenient. Free, iOS
#4 Parental Apps for iPhone – Joya


Image: Happy Bits Co
Parents take a lot of photos and videos during the school year and smart phones have made this so convenient and easy to do. There's the school play, school talent show, dance recital, track and field, etc. to share with friends, family or even other parents. But we know all too well that sending a video via email just doesn't work. With Joya, you can send videos of any length via email or text message to any of your contacts. The recipient can view it on their device or home computer simply by clicking a link. They don't need to download the app to view videos. It's so easy, that even your less than tech savvy aunt can do it. Free, iOS, Android
#5 – Parental Apps for iPhone – Ringya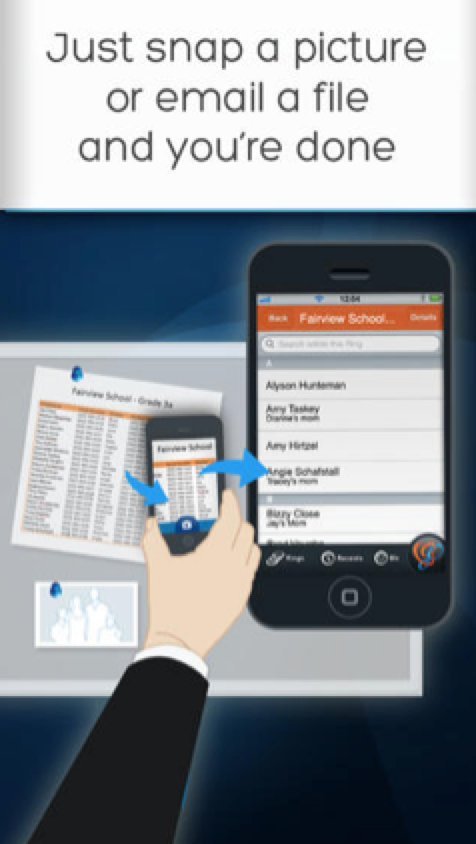 Image: Ringya Ltd.
Ringya makes it easy to download team or class lists to your device. Instead of searching your email from the coach to look up phone numbers or addresses or worse off, pulling out a pocket size card you can't read, just look it up with the Ringya app. Download the list you got from the coach or snap a photo of the paper list and let Ringya do all the work. The contextual ID will show "Jane Doe, Anne Doe's mom, ABC School, first grade" when a call comes through. Ringya is a huge time saver. Free, iOS, Android
BIO


Wendy, aka AppHipMom, loves her 2 kids and her iPhone, not necessarily always in that order. She is an app obsessed mom who loves everything tech and is (unfortunately) old enough to remember the brick Motorola cell phone and the Commodore computer. Wendy is co-founder of Tweenhood, an online magazine for parents with kids ages 8-12. Be sure to follow her on Tweenhood.
Parental Apps for iPhone
was last modified:
February 17th, 2019
by