If you follow me on Instagram, or are friends with me on Facebook, you've probably noticed that I have a new favorite accessory (besides my little sidekick, Brian Jr): the patemm pad! I actually own two – one that stays at home and one that comes with me everywhere little Brian and I go – from trips to Florida and Martha's Vineyard, to everyday places like work, restaurants and visits to Grandpa and Grandpa's house.
The patemm pad is so much more than a changing pad. Have you ever changed a baby on standard-sized changing pads? Brian was too big for those even when he was a newborn!
The mom-invented patemm pad is (ingeniously) round and, as you can see from the photo above, plenty big enough for changing a baby. At 5 months, Brian can roll now, and even when he's moving around as I'm changing him, there is always plenty of room for him on the patemm pad.
The the laminated cotton patemm pads that I have (there are also organic cotton pads available) are PVC, Lead, Phthalate, Latex, BPA, and Formaldehyde-Free – and extremely easy to clean. Any mom of boys knows about pee mishaps, so that's why I use a patemm pad every time I change Brian. All I have to do when there's a rogue stream of pee is wipe the pad down with a wet wipe. So simple!
In addition to diaper changes, I've used our patemm pads for tummy time since Brian was a teeny baby.
And now that Brian is rolling, it's great for that, too! This way, he's not on a blanket that bunches up when he moves around, and he's also not on our carpet that has dog hair all over it it (I vacuum every day, but having 3 dogs takes its toll on our carpet!).
As far as traveling with a patemm pad, it couldn't be easier. It folds up in a snap without any zippers, buttons or straps to mess with. I either throw it in my purse or just carry it as is, especially if I am going somewhere for a quick outing. There are little pockets all around the pad that are perfect for diapers, wipes and/or a change of clothes.
The patemm pad is an awesome gift for new moms – I actually just bought one for my friend who is due in a few months. And did I mention they are made in the USA? As if you needed one more reason to get one!
Here are just a few more ways we use our patemm pads: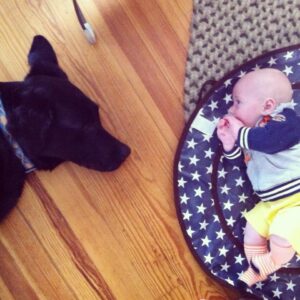 —
Disclosure: I received a patemm pad as a gift with no expectations or requirements for a review. I loved it so much I bought two more – one for a friend and one for myself. I plan on buying more for friends who have babies in the future!
The Patemm Pad: A Must-Have Baby Item For New Moms
was last modified:
August 1st, 2017
by