We're that family who will decide on July 3rd that we want to go to Cape Cod to celebrate the 4th of July weekend. I'm not kidding, that's kind of how we roll. We're the epitome of last-minute travel, especially during holiday times. I was just looking at some hotels in the Chatham area of Cape Cod last night (I couldn't believe some still had vacancy!) and was trying to figure out how I could potentially make a quick family trip happen over the weekend. The summertime is the best time for us to travel because we only have to worry about my work schedule and the boys' swim schedule. As long as there's nothing booked, we're usually good to go!
Ahhh, yes… welcome to the world of the McClelland family. We're spontaneous and we have always been that way! Just yesterday we took a day trip to Kittery, Maine… for lobster rolls, outlet shopping and to check out the gorgeous beaches. It was a fabulous day!
When it comes to travel with our family, I have always relied on using rewards from our credit cards. It's been the most practical way for us to travel because we're booking for 7 people. Not to mention, I travel for work a ton and usually I am booking my own hotel/train/airfare and rental cars. Since I work for myself, these costs add up and they add up quickly!
Here's the *snafu* about rewards from credit cards that I have had to deal with when I'm booking travel for the family and for me for work:
1. Blackout dates
I'm not kidding, you want to SCREAM when this happens. It's the most frustrating thing in the world to try to book a trip – last minute or not – only to realize that all the rewards you have been saving up can't be used because of black out dates. I have felt like a deflated balloon many times when I have realized I can't use rewards because from "July 1st through July 6th" the dates are blacked out.
Well, let me save you the frustration and aggravation. You need to get the Capital One Venture Card. It's that simple.
Venture Card has anytime, anywhere, anyhow rewards.

No blackout dates: Fly free on any airline, anytime. We won't get in your way.
Unlimited miles: There's no limit to how many miles you can earn and your miles don't expire. You earn them, you keep them.
Redeem for any travel expense: There's more to travel than airfare. Use your miles to reimburse your travel spending including hotel stays and car rentals.
More than just travel: You're the boss. Redeem your miles for gift cards, merchandise, even cash back.
So what does this mean for someone like me?
It means that vacation planning is a summer breeze with Venture's any day, any flight, any time miles. There are NO blackout dates.
Which means, I can book a trip to Chatham, MA from the evening of July 4th through Sunday July 6th for my family… and even add in a day trip to Nantucket on the 5th.
Sounds dreamy, right? Here's what I have researched online…
We could stay at the The Bradford Inn at Chatham…

We could fly over from Cape Cod to Nantucket on Nantucket Airlines and visit the island…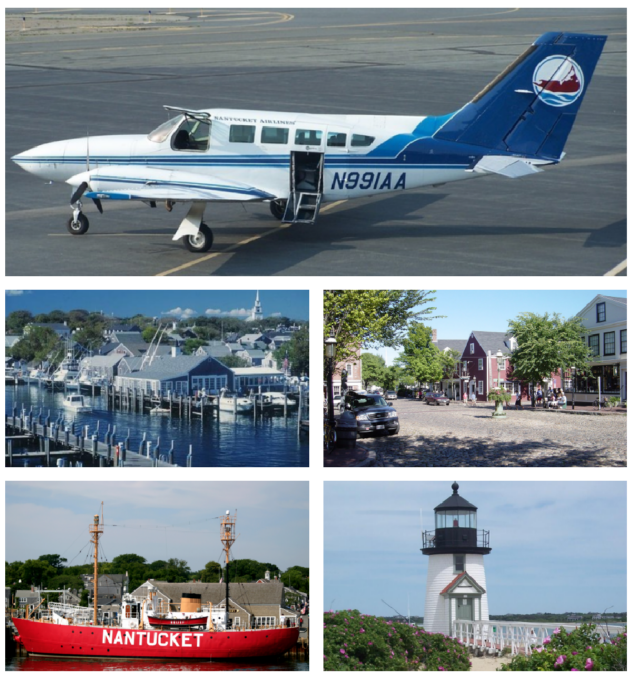 And this is what you'd catch me doing all day Sunday at the beach in Chatham…


Oh, yes… just sitting here with my husband while we watch our 5 kids enjoy the beach.
Do you know what the best part is about this trip?
I can book it ALL with my rewards through my Venture Card. ALL OF IT. Since I do all the rewards transactions on the "other end" and I just get to book myself with my actual Venture Card, there aren't any blackout dates for me and my family. As long as there's availability, we can be there. It's perfect for holiday travel and last-minute traveling.
According to Capital One's Rewards Barometer Stats:
Blackout Dates Continue to be a Top Barrier: Top barriers for redeeming travel rewards include: not having enough rewards to go where and when they want (34 percent), blackout dates (20 percent), changing value of miles (16 percent) and expiration of miles (12 percent).
Imagine saying good-bye to this?
You just SAW the trip I can book for my family today (July 1st) for the 4th of July weekend with my rewards.
It's that simple.
It's that easy.
It's that practical.
As a mom, I can tell you first-hand that I need travel to be easy to book. Since I'm accruing rewards with my credit cards, I want them to work for me. I want to be able to go away on a last minute trip with my family and not have to worry about the booking process and if my rewards will be redeemable. It's all good with Venture and I love that.
Venture, my kids thank you! You make me happy.
For more information about the Venture card, head over here. Also, follow the hashtag #YesMiles.
Disclosure: I have partnered with Capital One throughout the summer as one of their ambassadors.
Holiday Travel without Blackout Dates with the Capital One Venture Card
was last modified:
July 7th, 2014
by