2014 Eagleman 70.3 Ironman – the RUN…
I'm dividing my Eagleman 70.3 Ironman Race Re-cap into 3 parts, because it's just like the race itself:  SWIM. BIKE. RUN. I hope you enjoy it!

I wrote about the 1.2 mile SWIM here, finishing with an official time of 1:04:53. Swimming without a wetsuit in open water for the first time ever, I was very happy with my finish…
My 56-mile BIKE re-cap is here. I finished with an official time of 3:25:12 – averaging 16.5+ mph and crushing my personal goal time of 4:00 hours by 35 minutes. It was a very happy ride…
Now it was time to transition from BIKE to RUN and run the last 13.1 miles of the 70.3.
I will tell you that in the 10 days since the race, I've given this RUN a lot of thought; more thought than I've given every race combined in the 5 1/2 years since I began running at age 56. Not a beat-myself-up kind of thought. I don't do that; but rather a meditative, learn-from-it kind of thought.
My Eagleman race goal was 7:59:00.
When I dismounted my bike, I felt I had this race. This goal. I was elated with my Bike.
My 13.1 PR is 2:12.15. I recently ran a 2:14:07 Rock "n" Roll Half.
I was looking at a 7:30:00 Ironman 70.3.
I thought.
I ran my bike to its spot in the corral, hung it quickly…
And began my transition. Helmet off. Gloves off. Bike shorts off. Quick drink of water.
Sat down to put on my running shoes.
THAT's when my stomach gave me an uh-oh feeling… like everything I've ever heard about sloshy stomach, but never, ever experienced until that moment. I felt I had hydrated quite well and quite smart on my bike, but this feeling was telling me otherwise. Had I over-hydrated? I didn't know.
I sat next to my bike, nausea setting in.
I put on my running socks and shoes, moving as gingerly as I could.
It was getting hotter by the moment.
I filled my hand-held bottle with a Nuun and some water, but the thought of drinking it was making me sick.
I said to myself I don't care if you have to walk the whole freakin' 13.1 miles — you're doing this.
I sat there. I didn't know if seconds or hours were passing. Swirls of people, colors, sounds surrounded me. But I kept thinking I don't care if you have to walk the whole freakin' 13.1 miles — you're doing this.
I had trained for this Run… mostly running in the high 9's, low 10's, knowing that 11-minute miles would do for me at that race, after the Swim and the Bike, in that heat. I had never imagined walking.
I stood up. I tried to stretch my legs. They ached and I remembered that I had forgotten to wear my compressions socks on my bike. I never, ever ride my bike without compression socks. (Oh, I will never forget again.)
I would discover later that my Transition time was 10:42. I had practiced… no, perfected, this transition to 3 minutes. Yikes.
I began to walk to the RUN exit. I saw a woman coming toward me. She was at her bike station looking for something to ease the pain of a severe rash near her underarm. We said hello.
I told her I may have to walk this thing. As I rounded the first turn of the run, I saw Barry…
I was up and on my feet and nothing was going to stop me.
The woman I met coming into the Run and I would power walk together for the next 11 miles… Adele Snowman – 65 years old and who, like me, came later-in-life to running 5 years ago. Adele was trying to beat her 2013 Eagleman time of 9 1/2 hours. (She would Finish 2014 Eagleman in an incredible 1 hour, 20 minutes faster than her 2013 race!)
Ironman 70.3 races require an 8 hour 30 minute time to officially FINISH. From the moment your Swim begins, until the moment you run across that FINISH line, that 8:30:00 is on your mind. Beyond 8:30:00, you are not considered an official FINISHER.

Adele and I talked as we walked, but we never lost the fastest pace we each could accomplish with my nausea and legs and her painful arm and legs. In the heat. Not a breath of air. Not a glimpse of shade. No spectators to cheer us on. No bells ringing. The temperature in the high 80's. I could feel the heat of the asphalt through my running shoes. My socks were bunching. My socks never bunch.
The run was an out-and-back rural 2-lane main road, so we could see the returning runners as we headed 6.5 miles out. Many walking.
But it wasn't demoralizing. We were getting it done. Each of us on that course was getting it done. There were plenty of water stops and very encouraging, enthusiastic volunteers. One water stop ran out of ice and I think the volunteers felt worse about this than the runners did. Well, maybe!
I tried running. Adele and I had a pact of sorts that whenever each of us needed to bust out and run – just do it. But my legs were almost immobile. I had never experienced this feeling, not once, since beginning running almost 6 years ago and through 2 marathons… but this was not the time to worry about it. Just keep moving toward that 7:59:00.
Each step. Each step getting us closer to that Finish. Having someone at your side with that same fight to finish as fast as possible was very important to me. THAT's one of the things I love most about running – the connection, the camaraderie, the knowing the goal.
At Mile 11, I felt a need to bust out and run. Adele wished me luck and off I went. My socks bunching, my feet swelling, my quads and calves burning, I just ran. I knew the course was taking me back into the charming streets of Cambridge, MD. I knew neighbors had jerry-rigged hoses to cool off us runners. I saw runners just heading out on their runs from the Bike and my heart both ached and soared for them – Finishing what they began.
People were lining the streets as I approached Mile 12, bells ringing, voices cheering, arms waving. It makes me tear up as I write this,  just thinking about it, seeing those strangers pushing us runners along with their great, loud enthusiasm. I felt strong for the first time during that run. I knew by my watch that my 7:59:00 was lost, but I just wanted to Finish strong.
Finish strong.
I picked up my pace through the pain. I rounded the last turn where the shoot was visible and spectators were 10 deep, cheering, calling out our names (see SHARON on my bib!) with the greatest enthusiasm in the world. Total strangers. Great big smiles…
Then I saw my husband Barry. My heart soared. I was this close to the Finish…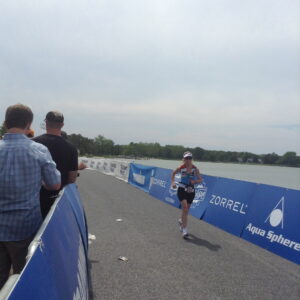 And I FINISHED!
As I raised my arms and crossed that FINISH, the announcer was saying, "Here's Sharon Couto from Bristol, RI. A Grandma of 11! Check her out over at her Facebook page See Grandma Run!"  I loved it!

A very happy volunteer handed me my medal, my Finisher's Cap, a bottle of water and then I fell into the greatest hug of my life in Barry's arms.
My official Run finish: 3:15:16, a full hour+ off my 13.1 PR.  A run that tested my inner strength and my heart more than any run I've ever done. A run I'm proud of because I freakin' did it. I would have crawled it.
My Finish time: 8 hours, 2 minutes, 29 seconds.
My stats:
| | | | | | | | |
| --- | --- | --- | --- | --- | --- | --- | --- |
| USA | 7 | 602 | 1909 | 01:04:53 | 03:25:12 | 03:15:16 | 08:02:29 |
I've been on my bike since my race, remembering my compression socks!  I've done a couple of 2-miler and 3-miler runs since my race…
I must admit that I was slightly anxious about feeling that sloshy stomach thing again and have been doing some research on not only that, but stepping up my knowledge of hydrating overall. But my running is back… and the Joy of it, even the freakin' walking of it during my 70.3… and I'm ready to begin another adventure!

See Grandma Run!
2014 Eagleman 70.3 Ironman ~ the RUN
was last modified:
July 10th, 2017
by