If you've been reading my updates on Facebook, Twitter, Instagram and through my blog… you know that I had an exceptional time last week while visiting Karisma's Generations Riviera Maya. It was, in a word… heavenly.
There were so many amazing things about the Resort that I have mentioned… the beauty of the resort, the staff, the food, the activities, the fun, the entertainment, etc.  But there was ONE gigantic feature of the Karisma Resorts that really captured my attention and my love – their Greenhouse.
If you read my blog, you know my husband is into gardening and farming. It's his passion. We have a 50 x 50 foot garden (he calls it a farm!), at our house where he grows all of our vegetables and some of our fruit. We love having it at our house because it's so amazing to be able to grow this on our land and eat it! We know where it came from and we feel fortunate to be able to cook with it all.
When we were told we were heading to the Karisma Resort Greenhouse, I was expecting a smaller area filled with vegetables and fruit.  When we pulled up to the Greenhouse, I was in complete awe.
It was a 100,000 square foot Greenhouse.
All I could think of was… my husband would LOVE this!
Take a peek at some of the photos I was able to get…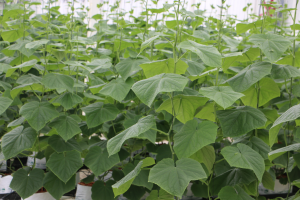 But here's the thing, it WHAT the Greenhouse on the Karisma Resorts is doing that makes it one of my favorite features… it's where they grow all the vegetables and fruits for the resort. Everything that is served comes from the Greenhouse on the Resort.
Is that not the coolest thing ever?
They grow several types of tomatoes, cucumbers, peppers, chilies, squash, beans, leafy vegetables and a selection of herbs. They also use a fabulous process called Hydroponics. My husband is OBSESSED with Hydroponics, so I was amazed to see that everything they grow is through this process.
Hydroponics is a method of growing well balanced plants. Using nutritious mineral solutions without soil, it allows plants to absorb nutrients with very little effort compared to those grown in soil, as the roots of the latter must spend energy searching and extracting nutrients, rather than using it for growth and for flowers and fruits production.
They use coconut mulch and lava rock instead of soil.
What makes me love this is Karisma Resorts are taking the extra steps to take pride in everything they serve. All of the meals work in vegetables and fruits, so it's just awesome to know that they grow everything right there on the Resort. I think it's valuable information for the guests to know and also wonderful that they take pride in doing something so wonderful for the environment.
For me, this is such a huge feature and wonderful perk for the guests. I also love that they allow the guests the opportunity to tour the Greenhouse and really get a view as to the amazing job that they do to bring fresh, delicious produce to the guests.
BRAVO, Karisma!!
Disclosure: I visited Generations Riviera Maya on a press trip last week. I have been writing a series of postings on the resort.
The Greenhouse at Karisma Resorts #KarismaExperience
was last modified:
July 9th, 2015
by