My sons love a good pair of sunglasses.
Believe me, they think they're James Bond in them. All of a sudden, this "coolness factor" exudes out and it's adorable.
With the hot summer sun coming, I want to make sure my sons all have sunglasses to protect their eyes. I don't want them to be squinting or not be able to see properly in the sun without protection. We are literally outside all summer – we're at our pool club, the beach, our backyard, the park – so there's never really a time where we're not out there. I protect their skin with sunblock, it's important to make sure I'm protecting their eyes, too. The sun can be brutal!
Foster Grant has some AWESOME and COOL options for kids! My Henry has been sporting 2 different pairs throughout the last 2 weeks of sun… a cool dude blue pair and an very cool dude red pair with skeletons on them!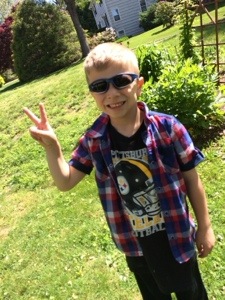 Yup, he's loving the look.
But for me? What am I loving about the Foster Grant sunglasses?
1. They have shatter-resistant lenses. As mom of 4 boys, this is music to my ears.
2. 100% MEGA BLOCK UVA-UVB Lens Protection. This is KEY for me and knowing I'm doing everything I can to protect their little eyes.
3. And yes, they do look totally cool. 🙂
If you're looking for some great and affordable options for the summer, check out Foster Grant for your kids, too!
Sunglasses for Kids #FosterGrantUSA
was last modified:
July 11th, 2017
by