"No nonsense" Denim Capri ~ everyday denim/all day comfort…
I didn't make up the tagline for No nonsense Denim Capri Leggings ~ everyday denim/all day comfort; but I live it!
Here's how.
No nonsense sent me 3 pairs of Denim Capris to wear, try-out, review – one pair for me and one each for my two 13-year old granddaughters, Taylor and Maddie. We weren't specific about the color selections, just as long as each of us had a different color.
My Denim Capri came in Sand Dune (love the name!)…
Taylor's came in Dark Denim (left) and Maddie's in Candy Heart (right)…

Now, I love hanging around with my lovely granddaughters and these photos show just how comfortable these No nonsense capri leggings really are, but there is SO much more to the everyday, all day comfort of these versatile capris.
I can, literally, wear these fabulous, comfortable capri leggings any day, any time of day and even all day long:
~ Starting with breakfast in-town and a nice shopping stroll with Taylor and our family's littlest bundle of joy, 3-month old grandson, Brian…
~ Transition into a business lunch…
~ And later add a fun coat and scarf for evening and dinner with my husband…
I can host an outdoor PARTY in these capris…
And totally get into all the back yard FUN…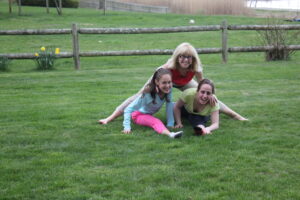 Or simply lie in the grass, study cloud formations and tell stories of when I was a girl of 13…
I can wear my No nonsense denim capri to my daughter's home for a cookout, including her 4 boys and baby girl, and get dared into climbing a formidable pine tree by these same 4 boys…
(But maybe not climb to the very tippedy-top anymore!)…
I can sit in ketchup, because that's what happens when you have 11 grandkids at a cookout, but I can launder these No nonsense like it's, well… no nonsense.
And this means no ketchup stains!
I love these No nonsense Denim Carpi Leggings. I love a go-to, casual-to-dressy, morning-to-night, home-or-travel-with-ease, versatile item of clothing. It just fits so nicely in my life.
To see what I mean, look for this package and read the details…
Real back pockets
Comfort waistband
Fun Capri length
No nonsense Denim Capri Leggings are now available in fun, fashion colors. Features Faux front pockets and fly and real back pockets. Made with a cotton/polyester blend for a comfortable fit. The non-binding waistband moves with you. Colors vary by size.
78% cotton, 19% polyester, 3% spandex
Hand wash in cold water. Do not bleach. Drip dry. Do not iron.
Follow on Facebook: nononsense  –  Twitter: BeNononsense  –  YouTube: BeNononsense
*****************************************************************************
This is truly NO NONSENSE!
"No nonsense" Denim Capri ~ everyday denim/all day comfort
was last modified:
July 11th, 2017
by