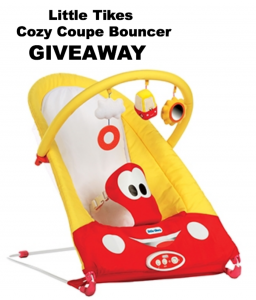 Baby gear is something that I've become an expert in over the last 9 months with my Victoria. It's funny, when I had my 4 sons a few years ago, there wasn't that much out there for babies to play in. I'm not kidding. Back in 2004, I remember there were very few items that I was able to register for when it came to lounging products for babies. I remember actually using our carseat for awhile in front of the TV because I couldn't really find any products that I felt William would be safe in.
Well, fast forward 10 years.
Here I am, a mom of 5 now… and I am just always impressed by products that amazing companies and brands bring to us.
Little Tikes has an awesome product called the Cozy Coupe Bouncer that I think it absolutely adorable and very useful for a mom. Let me preface it with this… it's called COZY. 🙂 My Victoria is 9 months old, and since she's a total mover-and-shaker now, I thought it would be fun to show you how much my 2-month-old nephew Brian loves the Cozy Couple Bouncer…
Adorable, right?
Brian just fits right in and is so content and so happy. As a mom, that's all you want. 🙂
Your baby will be entertained with some cool music and a fun toy bar that includes a plush toy version of the iconic Little Tikes Cozy Coupe. Your baby will love to look in the mirror and stay entertained playing with the toys.
When time comes to relax the Little Tikes Cozy Coupe Bouncer is the only bouncer with a unique mesh recline for your baby's ultimate relaxation. Simply remove the toy bar and let your baby enjoy the soothing nature sound and switch on the soothing vibration. The Little Tikes Cozy Coupe Bouncer features an adjustable 3-point harness to keep baby safe and secure, and is designed for use from birth until your baby can sit up unassisted.
Also, the assembly was VERY easy. It took my husband about 10 minutes from start to finish.
GIVEAWAY:
Win a Little Tikes Cozy Coupe Bouncer!
How can you enter?
*Each entry will count as a separate entry!
1) Leave me a comment telling me who this would be for!
2) Tweet me @AudreyMcClellan that you'd love to win!
3) Pin this post and tag me! @AudreyMcClellan
Winner will be chosen next Tuesday at 5PM, EST!
Little Tikes Cozy Coupe Bouncer and GIVEAWAY #Giveaway
was last modified:
July 11th, 2017
by