Lee.com Jeans – a perfect fit!
I am a jeans girl. I love jeans. I love them when just hanging around, I love them casual and I love dressing them up, too.
But my jeans must, must, must be fashionable and comfortable. I'm a Blogger, I travel… but most of all I'm a busy wife, Mom and Grandma to 10, soon-to-be 11 beautiful, busy grandkids.  I'm always on the go and want my jeans to be my perfect go-to item from morning to evening.
Sounds impossible?
So when Lee Jeans offered me two pairs of Lee Platinum Label Jeans to try, I was all-in. The Platinum Label features ultra-stretch fabric to both hold us women in, while "flirting" with our figures. I like this.
Here's what I discovered.
*Disclosure: I was given two pairs of Lee Platinum Label Jeans for an honest review. All opinions are my own and my opinion of these Lee Jeans is that I'm in love!
First, let's talk the Lee  Slender Secret Madison Legging. I generally run from the world "legging" in a jean, but this bold, sophisticated Nior-colored "legging" jean with its dramatic tuxedo stripe caught my imagination and my fancy. I was thinking holidays and versatility… and I was correct on both accounts!
My Lee Madison Legging paired with a flared, cap-sleeve blouse and slouched high boots made me the hit of our Thanksgiving dinner, prompting my almost 13-year old granddaughter to ask, "Grandma, where did you get those jeans? I LOVE them!" – This is a winner!
(Grandpa, in the mirror taking the photo, kind of really, really loves them, too!)
Extra soft, slimming, lifting and comfy – with a nice pocket for my always-on-me phone…
These jeans took me from the kitchen to our Thanksgiving table to clean-up, with all the fashion and comfort anyone could hope for…
I know I mentioned versatility, so why not toss on a cute little tank, dressy jacket, fishnet stockings and booties to take these same jeans out on a Saturday dinner date with my husband and some friends?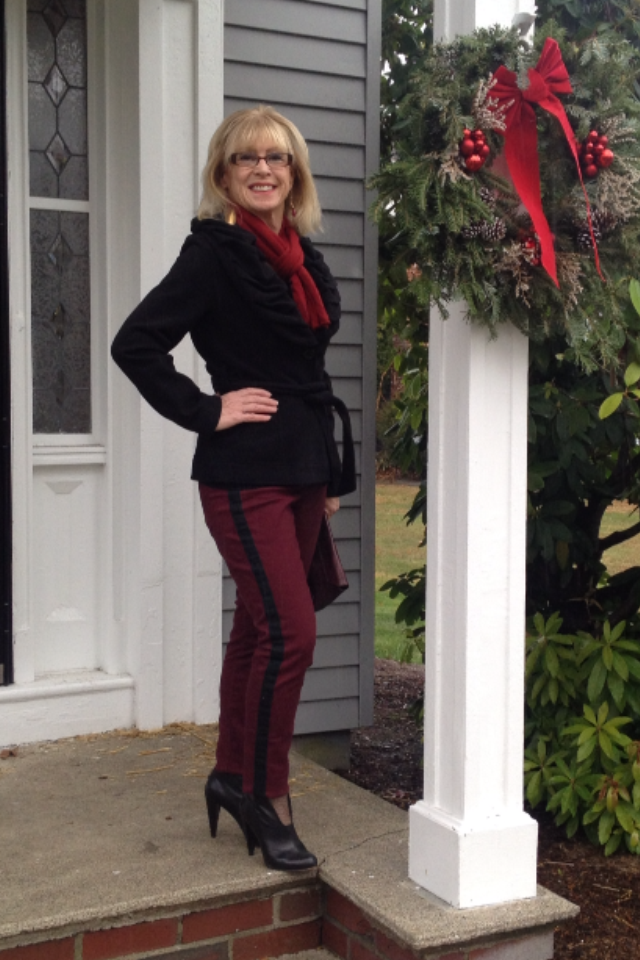 My hot legging tuxedo stripe jeans became an instant favorite among our friends!
Then there's the completely comfy dress-down look of decorating our Vintage Pom Pom Christmas tree, followed by a spaghetti dinner with a couple of our kids and grandkids at a favorite local restaurant, and a nice walkabout in our beautiful New England town at the Holiday Lighting Ceremony.
All I needed were my Lee jeans, paired with low riding boots and a black turtleneck sweater…
When the Lee.com website tells us that the hunt for your standout pants is over, it's true.
Whatever makes the Lee Slender Secret Style come to reality, it's true.
What makes me feel luxuriously comfy and fabulously fashionable, it's true – Lee has it!
I can wear the Slender Secret Madison Legging anywhere, anytime, and feel like a million!
*****************************
Remember I said that Lee sent me two pairs of jeans. Stay tuned for my review of the gorgeous denim Lee Shapetastic Skinny Jeans with the premium fabric that lifts and shapes! I love the words lifts and shapes…
Lee Jeans – a perfect fit for any occasion!
was last modified:
July 12th, 2017
by