The Color Run. Color a 5k and they will come…
The Color Run 5k is the first paint race of its kind and was inspired by several awesome events, including Disney's World of Color, Paint Parties, Mud Runs, and Festivals throughout the world, such as Holi.  The creators of The Color Run wanted a less stressful and untimed running environment that is more about health and happiness!

This past Saturday morning, my husband Barry and I picked up our 12-year old granddaughter Taylor at swim practice and took her for breakfast. We talked about all kinds of things… swimming, friends, boys, school, running.
Ah, running.
COLOR RUN
Taylor had joined her school's Cross Country team this year and has been very excited about running. I've been running for five years now, beginning as a real beginner – the novice of all novices – and truth be told, I've dreamed of running with my grandkids  (10, going on 11, grandkids!) since my first run around my block in borrowed running shoes back in September 2008.
Sitting there with my oldest grandchild, I had an idea. I said, "There's a run tomorrow in downtown Providence – The Color Run. A 5k. Would you like to do it with me"?
Taylor's eyes lit up like the clock at a finish line.
"YES!" she said, "I've heard about that run! YES! Can Maddie come, too!?"
That set everything in motion for a generational "Happiest 5k on the Planet"… because we called my granddaughter Maddie, also 12-years old and also a newbie to her school's Cross Country team, and my daughters-in-law, their Moms, Nicole and Aimee. Everyone was in!
Now, this is where I must say that registering for a run THIS BIG and THIS LATE in the game, with 5 people, is sometimes not easy.
Where do you find COLOR RUN?
The Color Run's website allowed me to go in, grab our wave (9:15 am) and read everything there is to know (FAQ and then some!) about The Color Run – right down to parking, packet pick-up (the easiest and most organized race pick-up I've experienced), lots of photos and apparel ideas in a forward and fabulously fun way.
Yesterday morning, we all met at Providence Place in downtown Providence, with thousands of other runners and spectators, and began not only a dream-come-true for me to run a 5k with my two granddaughters, but to have the most vividly colorful, fun run ever…
Complete with an awesome white t-shirt, white head band, Happy tattoos and a packet of glorious color (for… well, you'll see!).
Were we HAPPY? I'd say!
The Color Run sets up lots of creative and wonderful photo opportunities for an incredibly memorable experience.
COLOR A 5K AND THEY WILL COME! Runners. Walkers. Strollers. Older folks. Younger folks. People with babies, toddlers, kids, teenagers. Teams. All colorful. All laughing. All cheering to the excitement of the official Race Starter…
And us!
We wouldn't look all this clean for too long… because this is THE COLOR RUN!
Now, I think I'll let the colors tell the story – colors of food grade cornstarch and 100% natural and SAFE…
YELLOW!
BLUE!
Here's me with my beautiful and colorful granddaughters at the half-way point!
ORANGE!
Taylor and Maddie stopping for COLOR ANGEL moments!
And me – soaking in every moment of HAPPY with every moment of COLOR…
As was a HAPPY Providence Police Officer…
More Color Angels, because what's happier than a Color Angel?
And why not get in on the pure, joyful happiness and play? See Grandma Play. Play Grandma Play!
PINK!
And when The Color Run 5k is finished, the HAPPY isn't.
There's the Finish Festival – where celebration of HAPPY and HEALTHY continues – runners and spectators alike. No-one is left out. I love this!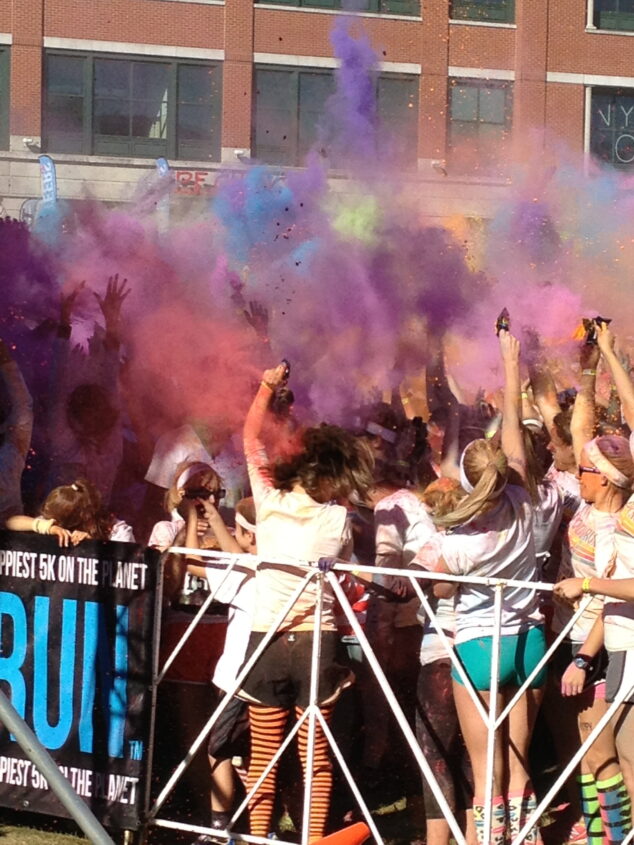 MUSIC. DANCING. EVERYONE! HAPPINESS! COLORS!
My 9-year old grandson Jake wants to run The Color Run next year… and I think all 11 grandkids will be in on the HAPPY.
Color a 5k and they will come.
And love every second of it!
The Color Run. Color a 5k and they will come.
was last modified:
January 8th, 2019
by