Grog & Dog Jog – one wild day of running, 'Gansetts and Gaggers…
A few weeks ago, our son-in-law Brian invited my husband Barry and me to run, as part of a relay, in one of his favorite races -the Grog & Dog Jog.
It all sounded innocent enough; a nice run from the Wild Colonial Tavern in Providence to raise funds for the Rhode Island Community Food Bank and to *support the very good work it does.
Then we got the details. Wait, I'll just give you a couple of photos…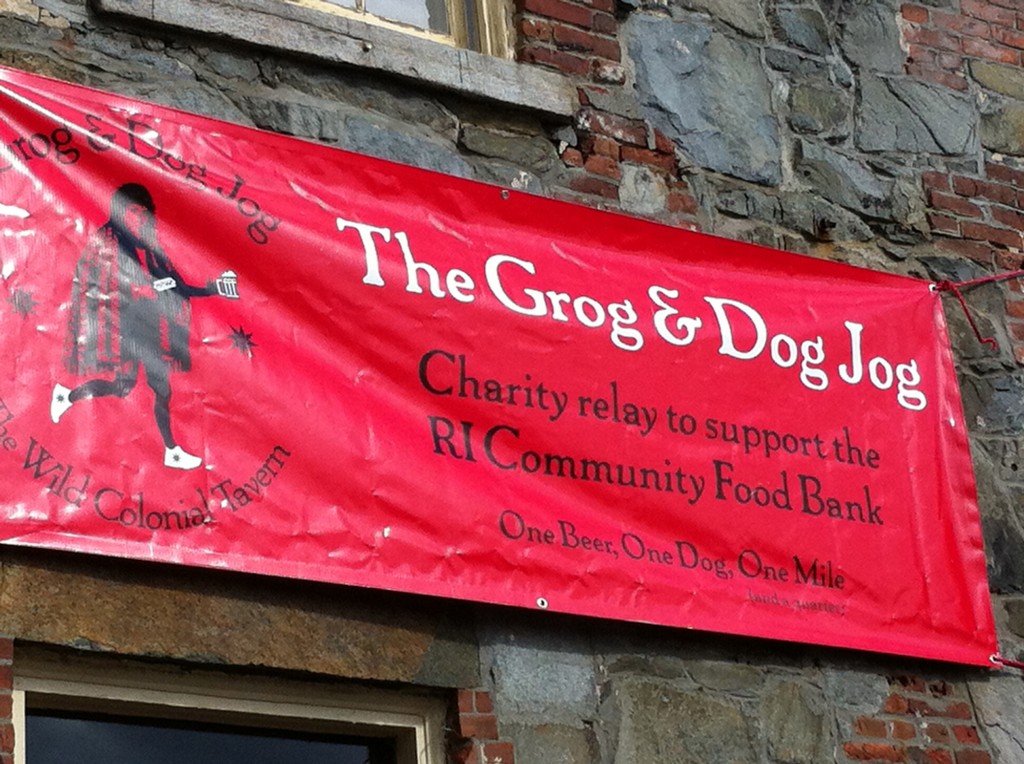 Yes, that would be RUN a mile and a quarter, then DRINK a beer and EAT a hot dog before passing the baton to the next member of your relay.  Here's the memorable race tech shirt with the race tag line: "The bad idea that keeps getting worse." –
Oh, wait.
You run in costume.
Barry and I were in all the way!
Hands downs.
Or… pint down!
*I'm going to give a big shout out right now to the wonderful sponsors of this race, because I love our famous Narragansett Beer and Saugy hotdogs, anyway… but also to acknowledge how Rhode Islanders care –
So… running in costume at the Grog & Dog Jog from the Wild Colonial Tavern?
Why not be Viking-types and wenches…
Our daughter Jane is 5 months pregnant with their first little Viking, a baby boy due in February.  The race rules allow for ginger ale and veggie dogs. Pretty accommodating, I'd say.
Here's our Team – that someone got the name The Lazy Goats. Hmmmmmmm. We were among 80 relay teams (that's 320 runners!) and hundreds of spectators who came to watch the shenanigans…
Then the fun really began. I'm sure you've heard the expression: A picture is worth a thousand words.
Well, here goes…
Then it was time to get the feet running, the grog pouring and the dogs steaming…
Do you know how difficult and exhilarating it is to guzzle a 'Gansett and down a Gagger after running a mile and a quarter while hundreds of spectators are cheering you on?
The answer is methodically. Some guzzle and devour. Some sip and dip. Others gag and, well… gag. But everyone has to finish, because there are grog and dog checkers at the end of the shoot to make sure you're done before your relay mate can take off.
This oughta show ya…
SEE GRANDMA GUZZLE!
In the 5 years I've been running, the Grog & Dog Jog is by far the wildest run of all.
We will be back!
Grog & Dog Jog – one wildly fun day of running, 'Gansetts and Gaggers!
was last modified:
July 12th, 2017
by