A 5-mile Pub Run – in the dark…
Definition of this Pub Run? Running 5 miles from and back to a Pub in Rhode Island and/or nearby Massachusetts – at night – then celebrating.
My son-in-law Brian runs these 5-mile Pub Runs each Thursday evening from September through May – each run from a different Pub and each run carefully planned by a runner in this Pub Run group.
Anyone can come. Everyone is welcomed. And lots of people come just for the celebrating!
Sounds simple enough… like something I've had in the back of my mind to do while watching Brian (and sometimes my daughter Jane) run these Pub Runs all around the state.
But – it's running in the dark; albeit with reflective clothing, shoes and most often a headlamp… with other runners.
But – it's running in the dark.
But anyway. I turned 61 a couple of weeks ago and decided that 61 is the new 16. Would I have run in the dark at age 16? Heck, no. OK. I guess I just decided that this Pub Run thing looks fun and adventurous and why not?
Last night's Pub Run was from Aidan's Irish Pub in Bristol, my hometown, and my son-in-law was the designated planner for this night's run, so I didn't have many excuses to not run – except that in the dark thing. But I put on my big-girl Grandma running pants and headed out, while watching the sun quickly vanish from the sky…
And before I could run 5 steps backwards and retreat for my life, the pack of about 25 runners was off…
Along the bike path…
And onto Poppasquash Road… a winding road along Bristol Harbor and bordering Colt State Park, a road with very few street lights and all I could hear was my heart pounding as I ran and tried my best to stay in the circular, bouncing lights of the runners ahead of me.
Then I saw the moon in the night sky and her magical reflection in the ripples of the harbor and the lights of the town of Bristol beyond…
I could hear the runners ahead of me rounding the bend up ahead. I could hear them talking and I could hear their footsteps so clearly in the night air, the night air that carries sounds so differently than in daylight…
Then I knew this darkness thing has a quality unlike anything I've experienced in running.
I did feel 16.
That feeling of freedom. Doing something almost, almost forbidden… like running in the dark on a winding road with very few streetlights.
It was an exhilarating 5 miles.
Guiding my feet with my headlamp. Listening for the head runners call out "Car coming!" Feeling the dampness of the night air.
Being careful and carefree simultaneously.
Then the town appeared again, with its streetlights and civilization…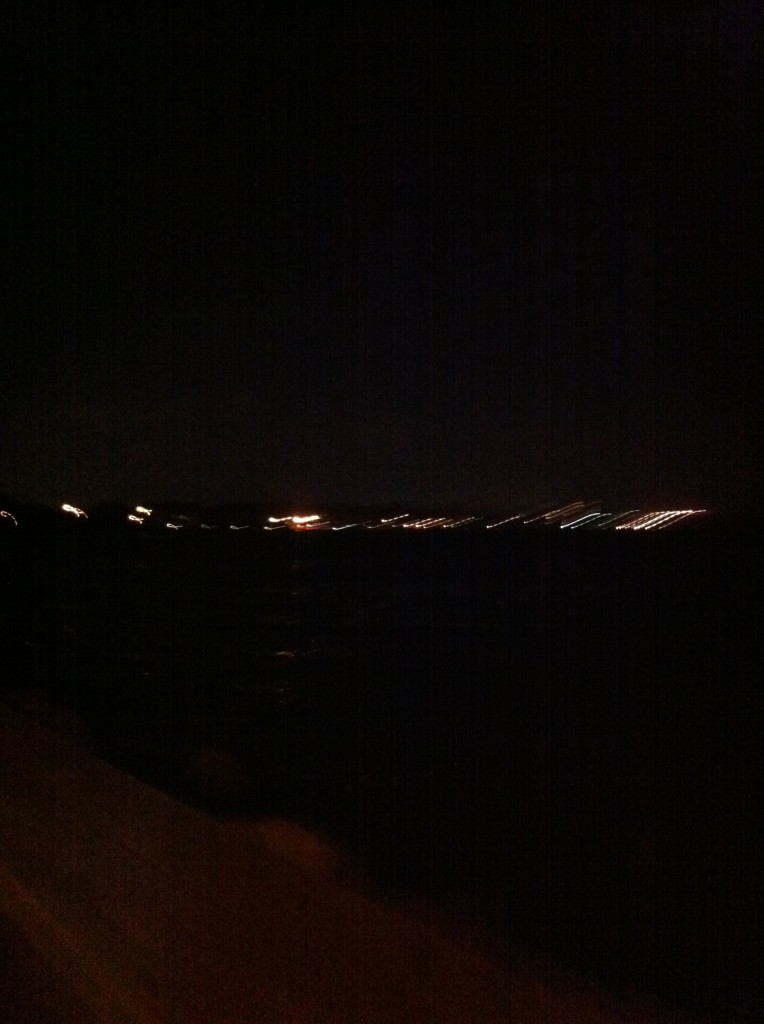 Back to town…
As happy as that 16-year old girl who still lives in this 61-year old Grandma of 10, going on 11!
On to celebrating at Aidan's Irish Pub, where our son Keith and grandkids Taylor and Andrew were waiting to join us! What a nice, happy surprise…
Will I be running another Thursday night Pub Run from another pub somewhere or other?
Do I have What? In the dark? thoughts already?
Yes.
And yes!
Sometimes running outside our comfort zones brings the most magic and discovery of all.
5-mile Pub Run – in the dark!
was last modified:
October 19th, 2013
by