#SeeGrandmaPlay #PlayGrandmaPlay
Barry (aka Pop-up) and I had three of our daughter Audrey's four boys (and now a baby girl!) for a sleepover on Wednesday night.
That, of course, meant Pop-up's famous pancakes early on Thursday morning. There is nothing in the world quite like Pop-up's Pancakes.  They are legendary, created from a secret process/recipe/genetic factor acquired from Barry's mom, Nana Flo.  And as legendary as the pancakes, is also kitchen clean-up.
SO.
Who generally cleans up?
You guessed it.
But yesterday morning, after the Pancake Feast, the boys were itching to get outside to play.  It didn't matter that it was drizzling.  They had street hockey (or, in this case, driveway hockey) in mind.
Why not?
Barry will play while I clean up.
I scraped a few leftover pancake bites from the breakfast plates.  I soaked the griddle.  I began to load the dishwasher; but the boys' laughter and cheering drew to put down and put off the kitchen cleaning and head outside. 
This stuff can wait. 
As the boys heard the back door open, they already were creating out-loud teams... all sorts of mixes of Alex, Ben, Henry, Pop-up and me.
Me in flip-flops, half pajamas and all, how could I resist playing against this vagabond team…
… and my partner of decades in all kinds of PLAY – Pop-up!
The boys hit around a bit…
And Henry helped Pop-up with the net.
Let the games begin – 3 against me!  Oh, boy oh boy oh boy…

This is serious stuff…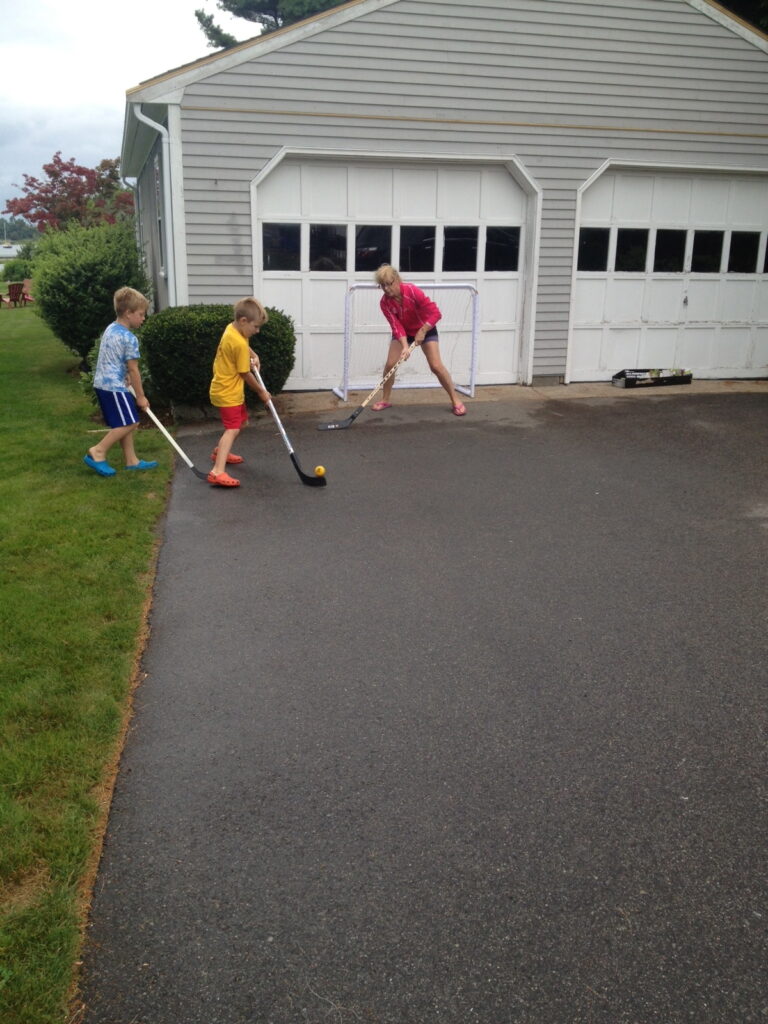 That might require a little more goal-tending brush-up on my part!
Oh, and Pop-up's, too!
Yep, I could have been cleaning the kitchen.
But there are always kitchens to clean.
These moments and there memories are once-in-a-lifetime.
I'll always choose to PLAY!
I could be cleaning the kitchen… or playing driveway hockey with my grandsons!
was last modified:
August 9th, 2013
by