A bike ride into the sunset…
There's this thing about training for something that makes you feel… well, compelled to train. I am currently training for the 9-29-13 Providence Rock 'n Roll Half Marathon…
Ah, ha.
This is a good thing.
But when you're tired and hungry and for many reasons it's way later than you imagined getting in your training, your training plan seems H-U-G-E and strict and begins to resemble a schoolmarm with a big stick, ready to bomp you on the head for not completing your homework.
This was me last evening, cowering at my desk, pleading, "No. Please no, Miss Reckon, I will do it tomorrow. I promise."
Then, while waiting for the bomp on the head, your best friend slips you the homework and all is well.
Barry was my best friend last night, slipping me that homework in the shape of,  "Let's do a bike ride around the park."
"But your tires need air," I answered; a bit too quickly, I might add.
"I have a pump," Barry responded; a bit too quickly as well, I might add.
"MY tires need air," I said.  (I promise, Miss Reckon, I WILL do my homework tomorrow…)
But before I could say MISS TREATED, this is what was going on…
Then this…
As I rode behind Barry, I realized that in the three years I've been perfectly fitted, yikes! and owned my lime-green baby, I've never ridden at sunset… when the shadows are cast L-O-N-G and gloriously alive in the golden glow of the evening sun.
It was mesmerizing.
And the SUN, settling into its resting place… its rays dancing on the water and waving Good-night.
My tired, my hungry, the lateness of the day.
All gone.
This is the greatest homework assignment training of all!
With my best friend.  You know, the one who slipped me the homework!
As the sun danced and played 'til the very, very last moment…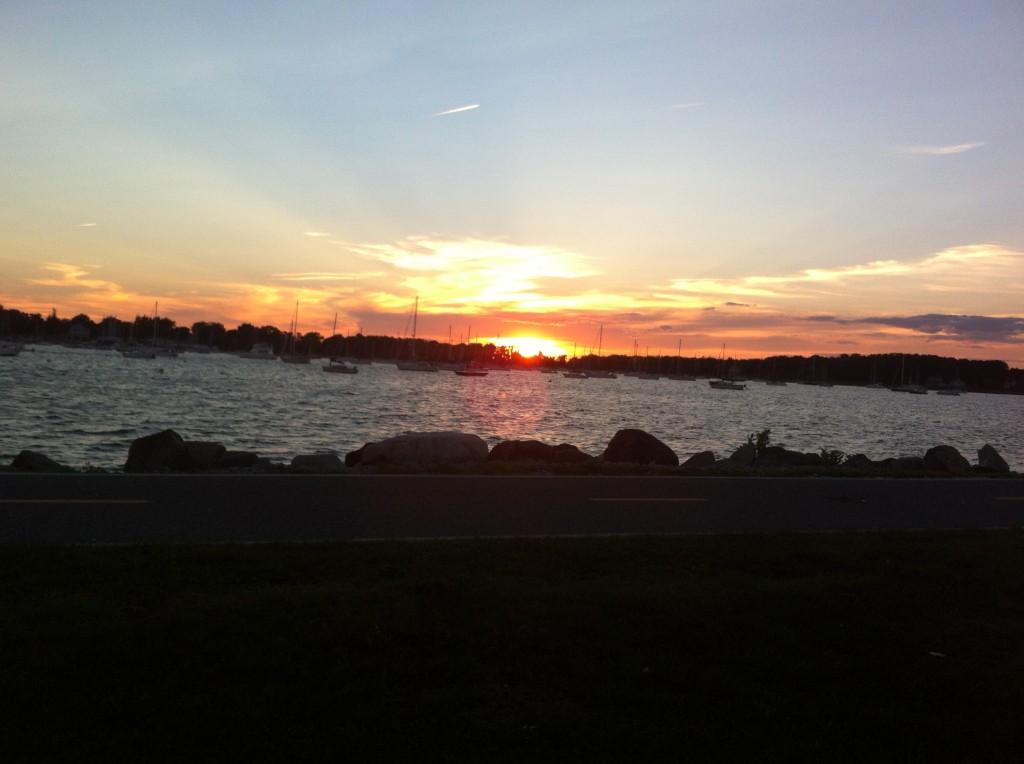 I RECKON I did a buddy homework assignment last night and learned a thing or two about this big, beautiful world of ours (like sometimes the you need a schoolmarm with a big bomping stick of discovery!).
A Bike Ride into the Sunset, against all odds
was last modified:
August 16th, 2013
by