Is Kinky Pinky Steel a nail polish color?
I love beautiful, manicured fingernails.
I love experimenting with nail polish color.
But I had a manicure last week that has left me… well, IN THE PINK in a different way.
IN THE PINK, not in a good way.
Like Bubble-gum-ish PINK.  Cotton-candy-ish PINK. Old School-house-walls-ish PINK.  Bad Princess-Costume-ish PINK.  Like 4th-grade your mother's not looking–ish PINK.
I didn't start out to get this PINK color.  I just wanted a quick manicure to freshen up my nails and therefore my psyche.  I didn't have any special event/occasion/place to go.  I had a peeling gel manicure that made me look like an unraveling mummy. That's all.  I was looking for a color, something subtle, easy and quick.
So, I headed into a local nail place where the head guy asked, "What you need?"
I answered, "A quick gel manicure."
"Pick a col-ah."
I did.  It was a very pale rose color on that wheel of colors; you know, the ones with the numbers, not the uniquely fun, interesting and even racy OPI or Essie colors on regular polish names… names such as You Calling Me A Lyre? Tease-y Does It or Oktoberfest, William Tell Me About It and so many others.
I think the gel color I chose that day was #44, but I don't really remember after my mind-boggling run-in with PINK. It has left me kind of seeing pink elephants.
I sat down and my guy took my hands and began.  He spoke not a word, but went straight to his work… kind of like Santa.
I was fine with it.
He stripped off the old gel, smoothed my nails, etc. etc. etc.; then he rolled on the new color on my pinky nail.
The PINK I described above.
"Oh," I said, "that's not the color…"
But he was onto my ring fingernail.
"Oh. No. That's not…"
Onto my middle finger.
Maybe appropriately.  Maybe he was telling me something.
"I don't think that's the color I chose," I said.
He was on to my pointer finger.
That's when I just plain old resigned myself to PINK.  Mothah Fingah Pink, maybe.

Soon, I had 10 PINK fingernails. Like, WHOA Pink. I paid the guy, left him a tip and went about my day… thinking oh well, I'll get my money's worth of this 4th grade princess bubble gum-ish cotton candy color.
Well, I really didn't go about my day, because I couldn't get my eyes off my PINK.  My nails were SO pink that I stopped at home to change my shirt before I met my daughter Audrey for a golf lesson.  I needed to diffuse the PINK by putting on more pink. I found a pink shirt; you know, to spread the pink around so my nails wouldn't overtake my entire being; aka, my entire world… and still, Audrey said, "Wow. That color isn't YOU."
Yes, Audrey noticed.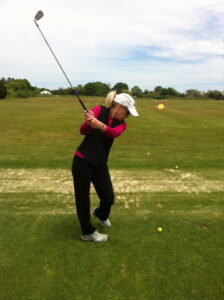 And even at that, as my golf instructor was adjusting my grip on my 7 Iron, she said, "Of course, I don't want to ruin your manicure!"
I felt compelled to explain the blinding PINK and my pink shirt to diffuse. OK. Etc., etc., etc.
And this went on for days. Me wearing PINK to offset my PINK nails.  Me thinking just change it… go get another color.  Then thinking it's only nail polish and who cares anyway?  Wearing pink stuff every single day.
Thinking it will begin to peel.
It didn't. It was like steel.
The most long-lasing color evah.
One night, Barry and I decided to head out to get burgers for dinner.  Of course, I grabbed something pink…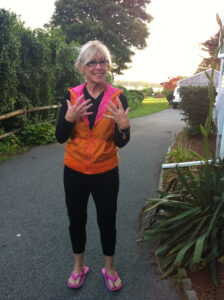 To diffuse.  (Note the pink Crocs… 'cuz maybe if someone sees my feet, they won't notice my nails?!)
Barry said, "I think it's kinda kinky. Kinky Pinky."
OK.
That's the color.
That's the new me.
And I can't kill this color anyway, no matter how hard I try. I clean, cook, garden, launder, take care of my Mom. It won't chip or peel… like steel. 11 days of  finding PINK in my wardrobe. 11 days of Kinky Pinky Steel…
Accidental Kinky Pinky Steel.
Who knew?
(BUT and by the way, Honey… THIS is Kinky Pinky!)…
Kinky Pinky Steel
was last modified:
June 14th, 2013
by