I am a member of the Collective Bias® Social Fabric® Community. This shop has been compensated as part of a social shopper insights study for Collective Bias and their client. As always, all opinions are my own!
My husband and I love living in the downtown section of our small town – it allows us to walk or ride our bikes to the many shops, cafés and restaurants that we are lucky to have so close to us. We are also both runners, and we enjoy running around our neighborhood. But when it's dark out, we make sure we are wearing bright headlights for our jaunts around town so that cars can easily see us.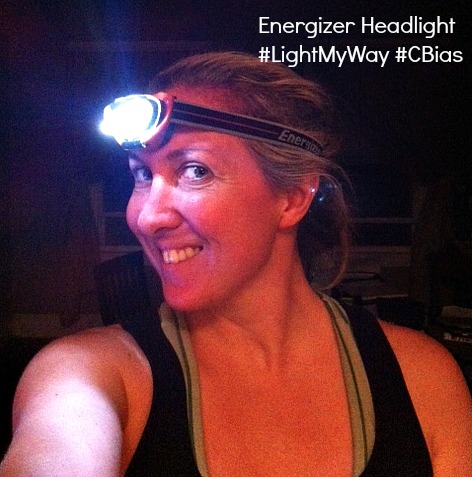 We run all year long with our running group, so wearing headlights at night isn't a new concept to us. In the winter months, wearing reflective gear and a headlight are safety necessities. And in the warmer months, whether it's meeting my parents at a local pub, heading to the nearby yoga studio, or making a trip to the homemade ice cream shop, we do a lot of traveling around town on foot or by bike. So night headlights are very important for us to have all year round!
Just recently I went shopping for a new headlight at Walmart. I wanted to get the Energizer Trailfinder Headlight because I had read great reviews about it, and with several weeks of Independence Day celebrations coming up in our town, I knew we'd be doing a lot of walking and bike riding around at night. Our town's 4th of July celebrations begin with Flag Day on June 14 and last until July 4, and include evening outdoor concerts, a week-long carnival, fireworks and a huge parade!
I also knew that in the summer heat, sometimes I wait until after it gets dark to go for a run. I hate running in the humidity, so I will wait until it cools down at night. The first time I took my new headlight for a spin was a huge success. Bright beam headlights are a must for night running, and the Energizer Trailfinder Headlight is super bright!
I love that the Energizer Headlight is completely hands free. I just put it around my forehead with the soft, easily adjustable strap and I'm good to go! It doesn't get in the way of any activity I'm doing – it's so lightweight that I'd actually forget I was wearing it if it wasn't for the brilliant bright beam that lights my way through town!
I also love (but am not surprised, given what the Energizer Bunny is known for) that the headlight runs up to 50 hours on just three Energizer MAX AAA batteries, which are included in the packaging.
My husband loves that there are four lighting modes: spot, flood, spot/flood and night vision. Here he is modeling the night vision option:
Here are some more Energizer links to check out: facebook.com/energizer, twitter.com/energizer, twitter.com/energizerbunny
And check out my Google+ Album of my shopping excursion to Walmart for my Energizer Headlight HERE!
Bright Headlights From Energizer For Nighttime Safety #LightMyWay #CBias
was last modified:
July 14th, 2017
by