Monday Fashion Round-up: 15 Summer Shorts for MOMS
I'm a lover of shorts in the summer.
I know… I know… so many of us seethe them during the summertime, but at some point… it gets so HOT that you literally *may* just have to dive right in.  I also know that not all shorts are created equal for moms.  The ultra minis just aren't "our" thing, and they seem to be everywhere right now.  My rule of thumb is pretty simple – you know shorts are too short if you literally can't bend down with them on without exposing parts of your body you don't want exposed.
So… I've taken the time to scour the stores and find shorts that are:
1) Appropriate
2) Stylish
3) Versatile (who wants to wear a pair once?)
4) Well priced (who wants to spend $100 or more?)
Here are 15 Summer Shorts for MOMS:
1) Lands' End – Women's Regular Fit 2 Linen Cotton 7″ Shorts – $19.97

2) Lands' End Canvas Collection – Women's 5″ Chino Shorts – $39

3) GAP's Striped boyfriend roll-up shorts – $44.95

4) Neiman Marcus Bermuda Shorts – $47

5) Old Navy Women's Everyday Printed-Khaki Shorts (5″) – $17.50

6) Banana Republic Tie-Front Short – $49.50

7) Lands' End Women's 5″ Paisley Poplin Shorts – $49

8) J.Crew 9″ chino short – $48

9) AE Pocket Bermuda Short – $44.95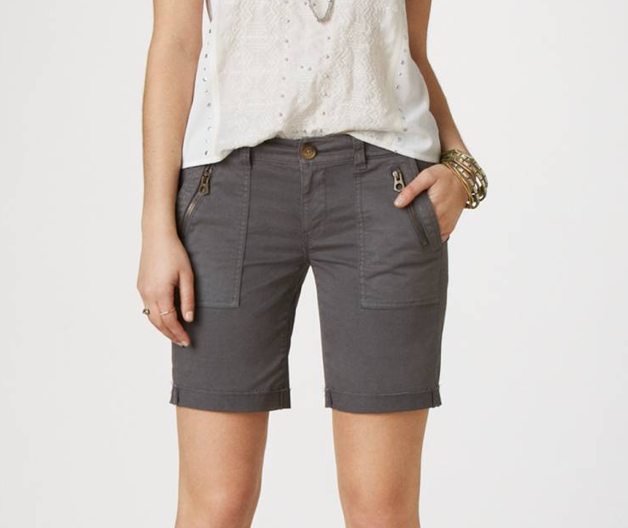 10) Coldwater Creek Denim walking shorts – $54.95

11) Callahan Beach Twill Short by Lilly Pulitzer – $63

12) L.L.Bean Comfort Trail Shorts – $49.95

13) GAP's Striped jersey clean front shorts – $39.95

14) St Johns Bay® Tie-Waist Shorts – $10

15) Kohl's SONOMA life + style® Cargo Bermuda Shorts – $19.99

Monday Fashion Round-up: 15 Summer Shorts for MOMS
was last modified:
July 15th, 2017
by