31 Days. 31 Flowers. Teaching kids about the Pansy…
Literature, legends and art bloom with FLOWERS, from lovely little nursery rhymes to sophisticated epic poetry and great myths and masterpieces.  Knowing the names of flowers, the references to flowers, the symbols of flowers, the language of flowers gives kids a blooming head start in understanding literature and enhancing literacy.
Each day in May, a FLOWER will be presented here at 31 Days. 31 Flowers – 31 Ways to engage your kids in literature, literacy and life in just a few moments a day. Enjoy!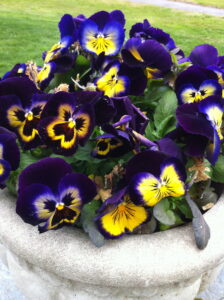 The PANSY… derives from the French pensee or pansee, in the sense of thought. The Pansy has come to symbolize loving thoughts and memories, some believing that the flower resembles a human face that nods in deep thought.

The Pansy is a favorite little flower that flourishes both cultivated and in the wild.  The primary colors of the Pansy are purple, yellow and white… and its three pedals has earned the Pansy the nickname Herb Trinity as a symbol of the Holy Trinity.
The Pansy is a great favorite of poets in the matter of love, and this has given the Pansy more nicknames than most other flowers; names such as Tickle-my-Fancy, Kiss-Me-at-the-Garden-Gate, Love-in-Idleness, Jump-up-and-Kiss-Me, Flame Flower and Heartsease.  Heartsease is the most favored Pansy nickname, the flower itself reputed to ensure the love of a sweetheart.
William Shakespeare used the Pansy in Hamlet and in one of his most beloved comedies, A Midsummer Night's Dream, as a love potion… "The juice of it, on sleeping eyelids laid, will make a man or woman madly dote upon the next live creature it sees."
Bring your kids into the secrets of the little Pansy with its powerful gifts.  Your kids will most certainly bump into the Pansy in their literature… so why not give them a bit of Tickle-my-Fancy now!  Plant a spring/summer border or potted area of the whimsical Pansy and marvel at its loving contemplation.
Giving your kids wonderful frames of reference is a great bloomin' gift!
31 Days. 31 Flowers. Teaching kids about the Pansy!
was last modified:
May 10th, 2013
by