The Parenting Experience Event with Cercone Brown in NYC
I love going to events. There's something really fun and wonderful about seeing new products and meeting the individuals behind the brands that I know and love.
I attended The Parenting Experience Event in NYC last Thursday with my bestie Vera Sweeney and just had the most incredible time. It was wonderful seeing some of our FAVE brands there and also meeting new brands and getting to hear about new innovations, new product launches and awesome spring/summer/fall launches!
As soon as I walked in, I was drawn to the Summer Infant area.  Since being pregnant, I love seeing all the new products that are out for moms and dads. It's so much fun for me to dive into the world of BABY and see the cool and amazing features.  I LOVED their new monitor, high chair and stroller/carseat. What I thought was REALLY awesome about the monitor was that there was a feature where I could actually check on my baby via my iPhone when I'm not even home! So if I'm away on a business trip, it would be easy for me to pop up the app and look right in the nursery. Talk about making a mom's life easy and convenient.  I loved it!! And I also couldn't get over how sleek and modern the high chair was! So much has changed since I had my boys 5 years ago!
OK… if you read my blog religiously, you know that I'm obsessed with boots. ANY kind of boot – for me, my boys and my husband. I had never heard of The Muck Boot Company before, but I certainly know about them now! They have the greatest boots for your family. I couldn't get over how cool they were for the boys, too! I LOVE the features:
Stretch-fit topline binding snugs calf to keep warmth in and cold out
Fleece lining
100% waterproof, lightweight and flexible
Durable, natural rubber shell
Comfort range of sub-freezing conditions to 85°
You just can't go wrong! I was able to get a pair in my gift bag and I'm excited to try them out… I'm enjoying the warm weather right now, so I'm not going to wish the warmth away… but my feet will be ready for the rain and cold!
(And for the record, the boys were OBSESSED with the blue and orange! The colors combos are GREAT!)
And then I moved onto a section of the event that had me at HELLO!  CRIBS and DRESSERS!  Can you believe at one point in my house we had 4 cribs and 4 dressers for each of the boys.  Oddly enough, we gave all of the cribs away.  I guess it isn't so much odd, we just weren't sure we were ever going to have another baby, so we thought we would donate and pass along to our family members who needed cribs. Here we are – 5 years later – looking for cribs for our baby girl! I have to admit, this is SO MUCH FUN! I love this part, it's something I had forgotten about after having the boys and being out of "baby world" for so long.
Bonavita was absolutely delightful to meet and check out. They brought the most GORGEOUS GORGEOUS GORGEOUS display. I was attracted to it immediately.  What I loved was the elegance, the sophistication and the beauty of the pieces. They're the kind of pieces you WANT in your child's room, and the best part is that they grow with your child. I was just blown away by the beauty.
Here was my FAVE piece… in LINEN GREY, which I thought was clever… as in 50 Shades of Grey. 😉
When I was a little girl, I had a Snuggle Bear. I used to love it! I actually remember my sister and I fighting over the bear… LOL, makes me laugh and smile.
I'm all about laundry in my house. It's something that I do every single day of my life! I was interested to see the different laundry essentials that all & Snuggle brought to show all of us.
I received Snuggle fabric softener sheets to test out at home in my goody bag and I've been doing just that!  The smell is AMAZING. I'm obsessed with it.  The sheets help soften and reduce static and also have some other uses which are VERY helpful:
– For diapers: Keep your used dryer sheets in your diaper bag, and roll one up in the diaper to prevent odors before you have to chance to throw it away
– Keep bugs away: Tuck some in your picnic basket or under lawn furniture to repel bees from your juicy flesh and encourage them back to the flowers, where they belong. You can also rub a sheet directly on your bare skin to discourage would- be buggers from leaving their mark.
– Need some sleep: keep a fabric-softener sheet in your pillow case and under your mattress or mattress pad for sweet dreams of summer all year 'round.
We were also showed the new all which now combines in-wash pre-treaters with active stainlifters to attack tough dirt and stains better than ever. They did a grass stain demo which really showed how powerful this new all formula is.
This year, together with Snuggle, 'all has announced a multi-year, exclusive partnership as the official laundry products sponsor of Little League Baseball and Softball to help moms (and dads) get those tough grass and clay stains out. SO SMART! 🙂
And… since we're talking laundry essentials, it's important to bring up what you do your laundry in!
LG was there!
We got to see new products that I would LOVE to have in my home!! OH. MY. GOODNESS.
I loved that they brought 2 different models to show off – depending upon your preference – there's one for YOU!
LG's Front-Control Top-Load Washer
·         LG's Front-Control design is a revolutionary spin on the traditional top-load washer. By moving the control panel from the back to the front, the buttons and LED display are easier to read and use – along with a sleek, stylish design.
·         This model features 4.5 cubic feet of capacity which is unique for the top-load washer, allowing users to do more laundry in fewer loads.
LG's TurboWash Front-Load Washer
LG's innovative TurboWash™ technology allows users to save 20 minutes per load, even with larger loads of laundry, while still offering outstanding cleaning performance.
·         This model offers an "Allergiene" cycle where the power of steam removes over 95% of common household allergens along with those dreaded wrinkles, dirt, and odors.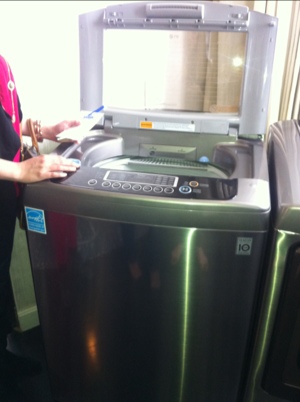 And moving onto my FAVE spot of the day – NEW BALANCE!
I'm a HUGE New Balance fan when it comes to sneakers for myself, but let me tell you… I'm OBSESSED for my sons and for my little-girl-to-be!
I was blown away by the bold and colorful styles, the cute and important design innovations and the range of different styles.
I mean, look at how adorable these are…
And I know my sons' styles more than anything, they will be all OVER these cool "dude" styles for them. When it comes to boys, they want cool sneakers, but sneakers that perform, too. I love that with New Balance, they'll get everything! They're styles for kids, but with an adult flair… and I think that's VERY important to note.
I just had the most spectacular time!
It's always so much fun meeting and chatting with brands.
And I'm excited to try out many of these products!
The Parenting Experience Event with Cercone Brown in NYC
was last modified:
July 17th, 2017
by