Mom and me and Pinkberry…
When I was a very little girl, my Mom would give me money, probably a quarter or maybe even less way back then, to buy a popsicle for my younger brother and me.  I remember opening the front door to our tiny apartment in Boston and running to the edge of the tiny grass lawn that we shared with dozens of other families, to stand in line with dozens of others kids, when the ice cream truck came by.
I remember that my older brother got his own money to buy his own ice cream treat; I mean, he was 7 and I was 5, after all.
I still remember the ice cream truck's bell and music and standing on tippy-toes to reach the small window where the ice cream man stood.  I don't remember if the ice cream man smiled or said "thank you" to each of us kids or even cared that we were buying his ice cream and stuff.  I remember that we called him the Good Humor Man.  I just remember those moments of my late spring and summer days of 1957- '58 as the most exciting of all moments of each day.
I remember that my Mom pushed aside the kitchen window curtains and watched my grown-up girl transactions.  I can still see my beautiful Mom in the window, like it happened just today. I would wave to my Mom and return to our tiny apartment with an orange popsicle that my Mom would break in half… you know, where that break-in-half thing is, and give one half to me and one half to my little brother.  Then my Mom would break in half my older brother's popsicle and they might share that one, or my Mom would stick that half in the freezer for later.
I still remember those first magically tart orange popsicle bites.
I didn't understand anything about money way back then; or most specifically, not having money for such things as whole orange popsicles.  I didn't understand that my Dad had to work an extra night job in addition to being in the Navy to make ends meet.  But none of that mattered.  It was the adventure and the taste of that half orange popsicle that meant everything.  It still does.
Can I say that my Dad worked nights for orange popsicles from the Good Humor Man?  Maybe.  Just maybe.  But as I reflect back now and remember those adventures from our apartment in Boston to the edge of the tiny lawn where the Good Humor Man parked his truck, I see and feel a love so big and vast and wide and unfathomable that my heart still can't take it all in.
This is what kids remember.  It's the half orange popsicles and the adventures to the ice cream truck and Mom peeking through the window curtains to make sure you're safe that kids remember.  It's really, really this simple and this magical.
SO all of this brings me to this afternoon with my Mom; my beautiful Mom who's turning 88 this Saturday.  My Mom would cross this big country of ours more than once to follow my Navy Dad wherever he was stationed.  There would be new ice cream trucks and new music and eventually my two brothers and I would each get our own ice cream treats.  Oh, yeah.  And we'd still bring home maybe a Hoodsie Cup or orange popsicle for our Mom…
… and today, decades later, while driving my Mom from an early morning dentist appointment, to breakfast at her favorite place, to the bank and to Target for work out gear (yes, I wrote that correctly), my Mom said, "Sharon, I want to treat you to one of those things at that place I love."
That would be Pinkberry at Garden City in Cranston, Rhode Island.
It may not be the Good Humor Man parked on the edge of the grass, but it's the same feeling, the same love, the same adventure, the same longing, the very same longing for that specific treat that makes you smile in the sharing of something so delicious.
I was all in!
My Mom and I stood in a long line of happy, happy people.  We ordered from a young lady who did care and did say "thank you"!  My tiny Mom actually had to stand on tippy-toes to see all the delectable selections.  And then my Mom pulled money out of her wallet and said, "If you don't let me pay, I'll never come here with you again."
I hesitated.
I relented.
I honored my Mom, even though I wanted this to be one of my birthday treats for her.
I remembered the orange popsicles broken in half.  I remembered all those nights that my Dad worked two jobs.
I remembered.  It's what kids do when memories are so vividly colorful, like the orange in orange popsicles.
And I don't think I could have loved my Mom more than while watching her love her first magically tart bite of this strawberry Pinkberry treat at almost 88…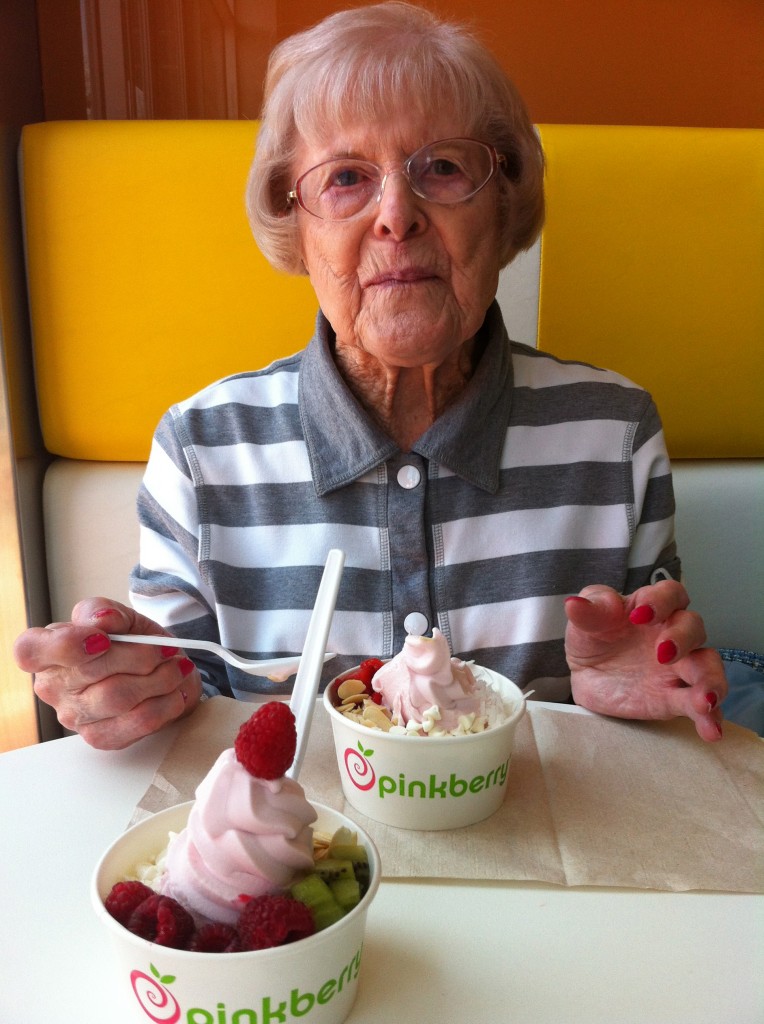 Please remember that kids remember the simplest moments, like buying orange popsicles from the Good Humor Man.
Mom and Me and Pinkberry
was last modified:
July 17th, 2017
by