The language of Pansies – purple, yellow & white Pansies symbolize memories and loving thoughts…
As a member of the Club-Sandwich Generation – a Boomer with parents, children and grandchildren – I am sometimes called upon to be in two places at one time.
This, my friends, is impossible.  Well, maybe kinda impossible.
Take this past Wednesday. I was all excited to attend my youngest grandson Dylan's  Grandfriends' Day at his pre-school; his last Grandfriends' Day, since he'll be heading to Kindergarten next school year. My husband Barry and I have been to these special, special days with Dylan's older siblings, too, both Maddie's (now 12) and Jake's (now 8).  When Maddie was 4 years old, she and I even made the local newspaper!
Grandfriends' Day with Dylan took a different turn for me when my Mom, Rita, needed emergency oral surgery. Overlapping times put me with Mom and Grandpa Barry with Dylan.  Barry promised to take lots of photos and videos and text me often during Dylan's special event.
It just so happens that the day before, on Tuesday morning, I had filled Barry's and my flower urns with Pansies; stuffed to the brim and placed on top of our tiny front lawn stone wall.  Pansies remind me of my late mother-and-father-in-law, Flo and Joe; how they lined their driveway with these little Spring beauties year after year after year… always purple, yellow and white ones. This is our first Spring in our new "old" home (old as in built in the 1820's), and I wanted to bring along some beautiful memories of my beloved in-laws.  These Pansies make me smile…
Now back to Wednesday, Grandfriends' Day. When I walked into our home early Wednesday evening, Barry had a little Grandfriends' Day gift from Dylan, a beautiful little gift of Pansies (purple, yellow & white, of course!) that contained more memories and more love in that little sparkly, bright blue handcrafted masterpiece than Dylan could ever have imagined…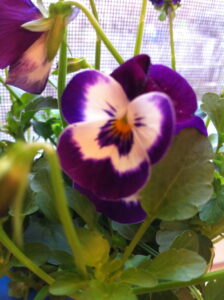 Oh, how these Pansies make me smile.
If ever there is a need to be in two places at one time... just rely on your angels for help.  Nana Flo and Papa Joe were there with Dylan Joseph at Grandfriends' Day, and took the meaning of Pansies – memories and loving thoughts – to new, heavenly heights…
Ah, leave it to Grandfriends!
A Pocketful of Pansies; or How to Be In Two Places at One Time
was last modified:
April 12th, 2013
by