A mom and a son breaking swim records in the same pool, 25 years apart…
Records are meant to be broken.
Ah. We've all heard this, yes?
But what about those elusive swim records that remain for decades; records that stay recorded inside those glass cases or high up on those Record Boards in swimming pools all across the county, with a name, a date a time that seems all the more impossible to achieve as the years kick along.
Well, I have a story that spans 25 years, a story of a mom and a son who achieved their swimming goals in the same pool, each at the New England YMCA Championships at Springfield College in Springfield, MA, one in 1988 and one in 2013. I know this story well because the mom is my daughter, Audrey, and the son is Audrey's son, my grandson, William…
25 years ago, Audrey was 10 years old and swimming with the Barrington YMCA Swim Team in Barrington, RI.  She was a tiny girl with a great competitive spirit, a competitive spirit that was recognized and enhanced by a great swim coach, Bob Hassan.  As the swim season progressed that year and as Audrey kept chipping away at her times, especially in the 50-yard Freestyle, Bob mentioned that there was a long-standing Girls' 9, 10 50-Freestyle record, held by a Barrington swimming great, Beth Robinson, that Audrey just may have the talent and determination to break.  Audrey would have to break that magic 30-second mark in the 50-Free to break the record.  It was a big challenge to take on.
Audrey took on this challenge. (I'll get back to this story in a moment.)
25 years later, Audrey's son, 8-year old William, noticed a decades-old Boys 8-and under 25-yard Freestyle record listed behind the dusty glass of the Record Board at Kent County YMCA in Warwick, RI, the swim team he swims with.  The holder of the record was listed as UNKNOWN.  This piqued Audrey's interest as well as William's, and after a lot of digging, Audrey discovered the holder of the record as Chip Moser, a swimmer Audrey knew from all those decades ago.  The record was 14.66, a formidable time that had stood for 23 years.
William took on this challenge.  A few weeks ago, William tied the record, swimming a 14.66, and his name went into the Record Board along with Chip Moser (no longer known as UNKNOWN!).
Yesterday, at Springfield College, I sat in the stands, my heart beating for my 2 grandsons, Jake and William, swimming this day in the New England YMCA Championships.  The stands at this natatorium are high up, elevated above the pool, giving a great view and perspective of all the swims, the swimmers, the starts, the finishes.  My crew of 13 family members was at the finish line end of the stands. The ceiling is high and open and somehow or other, this facility looked familiarly comfortable.
I couldn't quite put my finger on the comfort factor of the facility as my heart pounded out of my chest with excitement for my grandsons.
Now back 25 years to Audrey.  Audrey had come this close to breaking that 30-second 50-Free so many times that I probably lost count.  But on this one day, in this one pool, on her last-ever swim as a 10-year old girl (she was turning 11 in May), Audrey swam the swim of her life.  When I looked up at the timing board: 29.87!  I remember everything about that moment.  I remember Audrey getting out of the pool, I remember her smile, I remember her waving at Barry and me sitting way up at the finish line end of the stands. I remember her 4 or 5 steps as she walked under the overhang that lead to the girls' room.
Audrey had chased a swimming goal and broken a long-standing record.  There is a newspaper article with photos of her and Beth Robinson and all the chronicles of Audrey's feat, but do think I can find it?
Now to William's swim…
The Springfield College pool extends from 25 yards to 50 yards by removing the center divider, and it looks like it goes on for miles.  As William readied for his 25-Free, I thought about Audrey and her 10-year old swim.  I knew this was William's last chance (he turns 9 in September, but this meet was the last meet of the season) to break the record he was looking for.  My mind raced with the similarities of my daughter and my grandson… challenges, great spirit and determination, fearlessness, take-it-on attitude, separated by 25 years.
THEN it struck me.  THIS is the SAME pool.  The facility has undergone major renovations over the years, expanding the pool and ceiling… but that 25-yard distance that William was staring at was in THE SAME POOL THAT AUDREY WAS FACING 25 YEARS AGO.
No wonder there was a comfortable familiarity amid the heart pounding.
My heart relaxed as I heard the start.  I watched William challenging himself the same way his Mommy did.  I watched him glide through the water, just like his Mommy.  I saw his finish.  I turned to the timing board…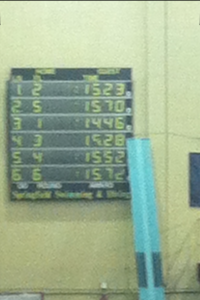 My heart soared for Audrey and William…
My heart soared for this most serendipitous day of swimming!
Chasing a swimming goal to break an elusive record – Mom and Son
was last modified:
March 26th, 2013
by