As a Caregiver, a couple of "practical" Christmas gifts I'm giving to my 87-year old Fashionista Mom…
My 87-year old Mom, Rita, is a Fashionista.  She always has been.  She always will be.
I love this about my Mom, and I've called her Fashionista Rita since I can remember…
My Mom is effortless in grace, style and beauty, both inside and out…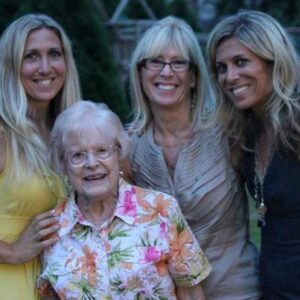 Rita loves a good Fashion Haul and is still picking out things like high heels and skinny jeans.  Yes, I kid you not…
… and Santa has a couple of Fashionista surprises for Fashionista Rita this Christmas (he'll never tell!); but as my Mom's Caregiver,  there's another layer of "practical" gifts that I've picked up for Rita this Christmas that will make her daily life a whole lot easier.  These gifts may be practical, but quite simply beautiful as well, in how they fit into her lifestyle:
1. Storage Containers –
My Mom has a million storage containers in a million sizes with no covers that fit any of them.  I'm going to toss these out, and eliminate that huge frustrating daily nightmare by gifting my Mom with a million (well, 30 or so) storage containers, all the same size, all with covers that fit and fit securely.  My Mom stores small, single/double servings of fruit, crackers, dried fruits and nuts, veggies, soups and meals that I prepare for her.  These Ziploc brand storage containers, at her fingertips, will make storing, covering and retrieving her goodies a true Christmas (and all year 'round) miracle.
2.  Recycling Bin –

My Mom loves a neat, clean, organized kitchen.  Her senior-living apartment is small, but that doesn't prevent Rita from being green and clean.  Rita is the model recycle-er, but her homemade bins take up a lot of space.  I'm going to surprise Rita with this Rubbermaid Double Decker 2-in-1 Recycling Modular Bin with LinerLock.  I think I'll really get her with the LinerLock!
3.  Toilet Paper Stand with Reserve –
My Mom's hands are arthritic to the point where fiddling with a toilet paper holder is just about torture; and again, living in a small apartment, every square inch of space counts.  I recently purchased a toilet paper stand with reserve to store several rolls of toilet paper, and Rita commented on how much she loves it.  Well, struggle no more, Mom, because she's is getting one of her own.  One criterion I had for this gift is a very sturdy base to prevent tipping, and I've found the perfect one.  Santa may even bring along a bagful of Rita's favored toilet paper!
4.  Keurig® MINI Plus Brewing System –
My two daughters are chipping in for a mini brewing system for Rita (they're hoping to get a red one!)  Rita loves a good cuppa coffee in the morning, but her percolator brewing system is not only old, but getting too dangerous for her to operate.  Rita has been to both of their homes and is intrigued with the ease, safety and deliciousness of the Keurig system.  K-cups, here comes Rita!
5.  Gloves (and lots of them) –
My Mom gets cold very easily, especially her hands.  I recently came across a mountain of gloves at a local discount department store in my area, and the price was too good to be true – 2 pairs for $1.29.  I looked at the gloves and had an inspired idea… buy a bunch of pairs in black (in case one gets lost, there's always a pair to be found), and have my Mom stuff a pair into each of her jacket/coat pockets.  This way, when Rita's out and about with me, family members, friends, or on the senior bus, she always has gloves on hand to warm her hands; and if she loses any, for that price, who cares?  Genius?  Yes.  Thank you.
Oh.  The hot pink pair?  That's for the Fashionista in Rita!
6.  Gift Cards and Gift Card Tin –
Ah, the old stand-by.  My 4 children/spouses and now 9 grandchildren love gifting Rita at Christmas.  Rita is a beautifully generous grandmother with her time, love and laughter, so giving back is an extraordinary privilege for them.  What I've recommended for this Christmas are gift cards in increments of $10.00 or $20.00 to Rita's favorite places: her grocery store of choice (she takes the senior bus each Tuesday morning to do her grocery shopping); her hairdresser (Rita takes the senior bus each Wednesday to get her hair done);  mani/pedi (I take my Mom on mani/pedi dates); her favorite restaurants (when someone takes Rita out to breakfast, lunch or dinner, she loves to pay… so this way she can); places like Dunkin' Donuts and local ice-cream shops because Rita loves surprising her great-grandkids with little treats; and, of course, her favorite clothing stores, such as Kohl's, Target, Ann Taylor Loft for her fashion hauls.
The smaller $$ increments keep Rita organized and less upset that the kids are spending $$ on her in the first place.  You know grandmothers and their insistence on no gifts!
I've already picked up the perfect Gift Card Holder (a sturdy, easy to open tin) that will be easy to store and to find in my Mom's purse.
7.  Some fun, sparkly, lovely Fashionista Rita surprises – No, not 4″ leopard heels!
**************************************************************************
As a Caregiver and a member of AARP's Kitchen Cabinet Blogger Advisory Group on Caregiving and Caresupport, I'm always on the lookout for ways to keep Caregivers and those they care for as safe, healthy and happy as possible.  Especially as the holidays approach and families come together, its an opportune time to check up on loved ones and assess what's needed. To get your ideas flowing for safety and possible holiday gift-giving, a checklist by AARP has been created for this very purpose. And if you are a caregiver or know a caregiver, please visit/refer to aarp.com/caregiving for caregiving resources.
I am a member of AARP's Kitchen Cabinet on Caregiving and Caresupport.  All of my opinions/views are my own.
Among a couple of Fashionista surprises from Santa, a couple of practical gifts, too, for my Mom for Christmas!
was last modified:
July 18th, 2017
by