Fashion Round-up: 10 Shades of Gray for the Holidays under $100
It's HOLIDAY time! You know what that means, right? It's time to start getting ready for holiday parties and events. Whether it's festivities for work, for your family, for your girlfriends, for your neighbors, for your child's school, etc… it's nice to have clothing that you can easily dress up!
I know everyone usually loves festive colors for the holiday – reds, greens and whites… but not everyone feels comfortable in those colors. I wanted to find a color that can easily be dressed up and could easily work on ANY woman.
I chose GRAY.
Here are 10 GRAY items that you can easily wear for the Holiday season that are under $100… it's my 10 Shades of Gray for the Holidays!
1) Peter Pan collar tee from J.Crew – How sweet is this sweater!? Absolutely love!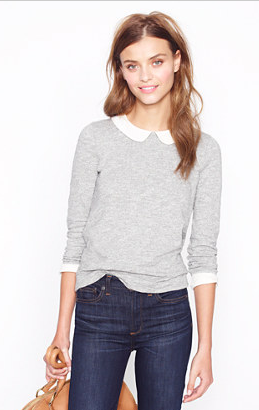 2) Tunic Sweater from Victoria's Secret – Gorgeous sexy over-sized sweater!

3) Novelty Stitch Sweater Coat by Pim + Larkin on Piperlime – I love this long sweater coat. It's so classic and so exquisite!

4) ASOS Swing Dress With Long Sleeves – I am in LOVE with this dress! PURE AUDREY!

5) Kensie Chubby Fur Vest – Adorable to wear as an add-on to an outfit! Very festive!

6) Shawl Cardigan from Victoria's Secret – Absolutely an essential to have in your closet! So great to wear with a blouse and pencil skirt.

7) Mossimo® Womens Convertible Maxi Skirt – Perfect to wear for the holiday!

8) ASOS Heart Elbow Patch Sweater – How stunning is this sweater?! So cute!

9) Kaos Shrug Wrap – I love a wrap! You can wear them in so many different ways! Just perfection!

10) Maria Scarf from Goorin Brothers – I love a scarf, and this unity one if perfect to wear as an accessory throughout the holiday season!

Fashion Round-up: 10 Shades of Gray for the Holidays under $100
was last modified:
July 18th, 2017
by