Snugli has been in my life since 1981.
I was 2 1/2 years old when my mom and dad brought home from the hospital a beautiful little baby girl named Jane… my baby sister.
I doted on her from Day 1.
When my mom was feeding her, I wanted to help feed her.
When my mom was bathing her, I wanted to help bathe her.
When my mom was changing her diapers, I wanted to help change them.
When my mom was dressing her, I wanted to help dress her.
I was everywhere my mother was with my little baby sister Jane.
I'll never forget my mother carrying my sister around in a cozy, denim baby-carrier. I actually still remember begging my mom to let me wear it with my baby sister in it (she never gave in!)! My mother always used to call it Jane's "Snugli." I always thought my mom used to call it that because it truly… pun intended, snuggled by baby sister. Jane was ALWAYS happy in her Snugli and loved to be in it, it was truly – in every sense of the word – Jane's snuggle-ly.
Fast forward to 2004.
I was pregnant with my first child. My mother gave me a very special gift at my baby shower, Jane's denim Snugli. She had kept it throughout the years and was passing it along to me. And when I was "done" with it, I would pass onto Jane, when she had children of her own.
Snugli. That's how long Snugli has been in my family. It still makes me smile to think of how truly amazing the brand is and how it's evolved and grown with families for years and years.
It's a brand I trust.
When I heard Snugli has launched into baby gear, I was ecstatic.
As a mom of 4 little boys and trying for another, I am drawn to baby products that speak to 3 things:
1) Safety
2) Quality
3) Fashion
I need my baby gear to be safe.
I need my baby gear to last for a long time and stand up to the test of time.
I like my baby gear to have my fashion flair.
Snugli sent me their new High Chair to review and check out and I couldn't have been more impressed. I'm pretty tough when it comes to dazzling me in the baby gear department because their is so much out there, but their High Chair and its Style Sets truly blew me away.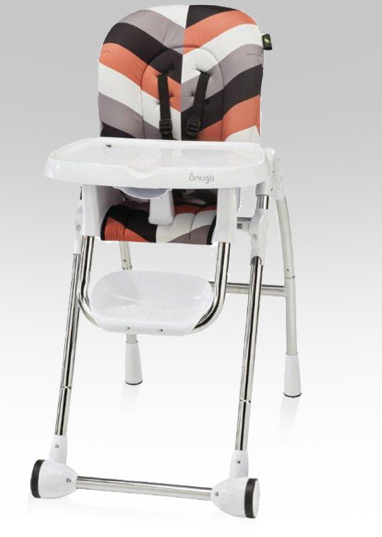 I love the white surface and the chrome tubing because it literally works for every kitchen. We have white cabinets and stainless steel appliances, so the Snugli High Chair worked in our kitchen immediately. I think that's important to note for families… it's extremely versatile in design for your kitchen. Not to mention, the Snugli High Chair is EXTREMELY durable, which is a bonus because you need this High Chair to grow with your child, so you need it strong.
It's the features in the Snugli High Chair that truly impressed me:
1. Fully adjustable seat for a comfortable fit during feeding – It's imperative for a baby to have different positions in their high chair. You want them to be as comfortable and as safe as possible. I loved seeing just how much this High Chair does.
– 6 position height adjustment
– 3 position reclining seat
– 3 position tray adjustment
2. Convenient, easy to clean features – One of the most convenient feature's for a parent! You don't want your High Chair to be hard to clean, you need quick, easy and practical.
– Smooth, easy to clean surfaces
– Dishwasher safe, removable tray insert
– Machine washable Style Set
3. For children up to 40 lbs – So the High Chair literally grows with your child. It's all they will need until they're ready to be at the "big" table without a High Chair.
And one of the coolest things about Snugli's NEW High Chair is that you get to define your own style.
It's Your Style. Your Way.
I love it!
Snugli offers Style Sets with their High Chair, where you get to choose what works best for you. This distinctive new line of changeable Snugli® Style Sets Pairs with Snugli High Chair for Your Style. Your Way.
There are 4 sets offered – Geo, Pink Geo, Black Camo and Quilted:
I personally LOVE the GEO, which is included with the High Chair. It's my perfect style choice.
The sets are padded, so they are extra soft and cozy for baby's bum-bum and they are quality stitched.
Not to mention, the greatest news… they are machine washable.
I am thoroughly impressed and obsessing over the Snugli High Chair!
Highly suggest it if you're looking for a new one!
(Also, perfect baby gift!)
SRP: $139.99 (high chair), $29.99 (style sets) Available exclusively at BuyBuyBaby
Snugli Launches Gear: Obsessing over Snugli High Chair
was last modified:
July 18th, 2017
by