*Mile-8 Adventures and why I run, continued…
Yesterday morning, I ran my 2nd to last L-O-N-G run (a little over 10 miles) in my Runner's World Challenge training for Marine Corps Marathon on October 28th.
When I signed on for this great big challenge for this great big race (30,000 runners) what seems eons ago, March 7, 2012, my stomach flipped a few (hundred) times as I pressed the key to officially register.  Did I imagine that the day would come when I'd be looking at 12 days to Race Day?
NO!
Did I imagine way back on my first official day of training, July 9, 2012, that I'd be looking at only one more long run and 5 short runs?
NO!
Way back in March, I knew I wanted to herald in my 60th birthday (October 6th) with something that challenged me to the core. Something I had never, ever dreamed of doing.  Something both introspective (miles and miles of running alone give rise to lots of thought) and extrospective (ah, miles and miles of observing and sometimes, even, being observed).
I found it… Marine Corps Marathon.
What has been remarkable in this journey is the discovery of wildly cool things… like paying attention to what happens at Mile-8 of each long training run.
My attention to Mile-8 began with a photo my husband Barry took of me at mile-8 of a Disney Half Marathon training run, and later a few laughs with my wonderful, fun and funny blogging friends Renee Ross and Lorraine Sanabria Robertson about this photo (a story for another blog post.  Maybe!) well before my training for Marine Corps…
But Mile-8 Adventures serendipitously grew around that photo and those laughs with a life of its own… and each Mile-8 began to bring both introspection and extrospection to my long training runs.
Yesterday's long run was no exception.
I headed out of my house toward my local park early in the morning.  The sky was dark, cloudy and threatening rain, but I knew I had to get this 10+ mile run in before the day kicked into high gear.  My thought was to loop through the park, then along the harbor and through my little downtown.  But I decided to stay inside the park where the wind was wild, the mist was cool and it seemed like dog-companion day.  I recognized many of these people and dogs from other runs in this park.  Everyone had a dog and I love that.  Big dogs, little dogs, barking dogs, quiet dogs, old dogs, puppies.  I felt peaceful.
There's also this wonderful, old, low stone bridge in the park that I love to run up and down…
It's not steep or long or challenging, but it's there in all of it prettiness of age and splendor.  Since beginning my training in July, I've run up and down that small bridge dozens and dozens of times.  I've passed at least a half-dozen wedding party photos being snapped, lovers embracing on the low stone seats, babies in strollers, kids peeking over the edge in the grips of their parents, dog-walkers, elderly couples holding hands, fellow runners, cyclists, and one day even a topless woman sun-bather.  Yup.  Topless, right here in small town U.S.A. (sorry, no photo!)…
I've often thought of bringing my grandkids to that ageless bridge to discover its past, its secrets and search for 4-leaf clovers that grow wild in the moss between the old stones…
Yesterday, I had the bridge to myself but for some of the pups and their owners.  Up, down, around the park… up, down, around the park I ran.  I imagined all kinds of stories about the bridge and felt thankful that someone had enough love of old things to keep it intact when these private grounds were donated to the State of Rhode Island for use as a public park.
"Old things" are pretty good, you know.
That old stone bridge became the focal point of my long run yesterday… for how beautifully it has aged and the stories it can tell.
I wasn't paying particular attention to my miles because I've become rather accustomed to Endomondo doing that for me, but at one point I decided to run down a long, low hill toward the bridge again.  As I did, I noticed three men and a small pug dog sitting at a picnic table as I approached a small parking area.  I recognized a van in the parking lot as one from a group home for handicapped adults, one I've seen before on these runs… and I saw the caretaker and the men petting the little dog with love, love, love.
As I ran past, I said, "Your dog is beautiful!"
Then one of the men yelled out with such innocent enthusiasm, "YOU ARE SO PRETTY!"
Well, I knew for a fact that I didn't look pretty at all with my wildly flying hair, damp clothes and mud-spattered socks… but I called back, "Thank you!" and ran along toward the old bridge.
I actually smiled as I ran along.  Pretty?  Pretty old, maybe!  Then Endo called out 8 Miles.
By the time I reached the old bridge, I felt pretty.  Pretty in the sense of the old bridge, with age and stories and discoveries still to be made.  Pretty in the most introspective and extrospective ways imaginable!
I ran up the bridge, down the bridge and and looped around the bay.  By the time I returned to the picnic table, the 3 men and the pug were gone…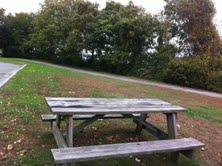 But what I DID notice was something extraordinary.  If you look closely, you can see the old bridge behind the picnic table through that little opening in the trees, exactly where the pretty-word man was sitting…
Ah.  A Mile-8 Adventure of beauty, of pretty, where you least expect it, through the eyes of the beholder.  A discovery of stories already told and stories yet to tell of old bridges and old gals running.
Of age and pretty and foundation and pretty and noticing pretty and feeling pretty and yielding to the small, pretty miracles of life… like on Mile-8 of long runs.
THIS is why I run.
*********************************************************************************************************************8
*My other Mile-8 Long Run Adventures:
Cormorant and Little Girl
My 2nd to last MILE-8 Adventure while training for Marine Corps Marathon…
was last modified:
August 1st, 2017
by