In my previous post, I mentioned that Olympic soccer star Brandi Chastain has teamed up Libby's Fruits and Vegetables to promote healthy snacking and active lifestyles for kids. On Saturday I had the chance to see this partnership in action when Brandi came to nearby North Providence, RI to host a clinic for the North Providence Youth Soccer Association, and to present the organization with a $5,000 check on behalf of Libby's.
Watching Brandi interact with the kids, and speak about the importance of staying fit and healthy, I can say unequivocally that Libby's absolutely teamed up with the right person. I can only imagine how incredible it must have been for the young soccer players to have one-on-one time with Brandi out on the soccer field. And she was so genuinely interested in giving them helpful tips and answering their questions. There were a lot of smiles all around!
Meanwhile, Libby's was on hand giving away their yummy single-serve fruit cups and goodie bags, which were a huge hit.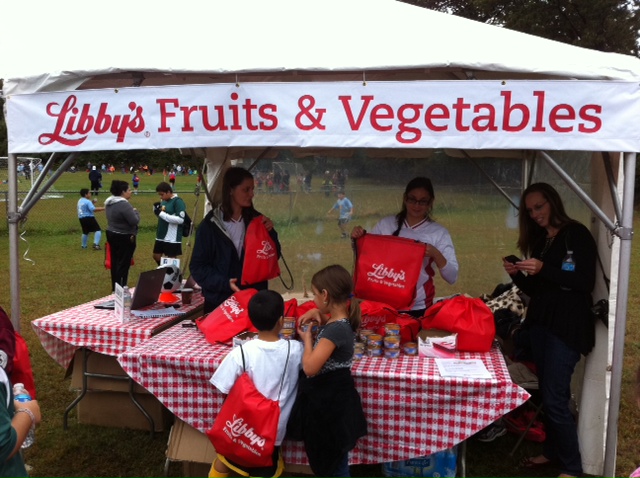 Along with a few other local bloggers – Jen from Savor the Thyme, Diane from Main Street Mommy, Robin from Mom Foodie, and my mom, Sharon – I had the chance to chat with Brandi during the clinic.
We talked about why we blog, as well as what healthy living means to each of us. Brandi shared an anecdote about how she and some of her mom (and one dad!) friends fit in workouts together while their kids are at school. How cool would it be to work out with Brandi?
And, of course, Mom and I couldn't resist grabbing some delicious Libby's fruit cups while we were at the event.
We had such a great time, and I'm an even bigger Brandi Chastain fan than I was before!
Giveaway time!
Win a fab red Libby's drawstring bag with the following contents inside: a water bottle, a large plastic stirring spoon, a coupon holder, a notepad/grocery list, and a coupon for Libby's Single Serve Fruit Cups.
To enter to win, leave me a comment here sharing your favorite way to work out!
I will choose a winner on Friday, October 5 at 5:00pm ET. Good luck!
—
Disclosure: This post is written in partnership with Libby's and The Motherhood. I received compensation as well as a gift bag identical to the one in the giveaway. All opinions are my own.
Meeting Soccer Star Brandi Chastain + a Libby's Giveaway!
was last modified:
July 18th, 2017
by