November is NATIONAL FAMILY CAREGIVER MONTH…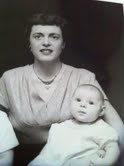 I am a Caregiver.
In 1994, the National Family Caregivers Association began promoting the celebration of family caregivers during the week of Thanksgiving. President Clinton signed the first presidential proclamation in 1997 and every president since, Democrat and Republican alike, has issued an annual proclamation appreciating family caregivers. As interest grew in family caregiving issues, National Family Caregivers Week became National Family Caregivers Month.
I am a Caregiver with history.

Day in and day out, along with more than 42 million family caregivers in this country, I fulfill a vital role in the daily care of my 87-year old Mom, Mary Rita.  I can tell if someone knows my Mom well, or not, by how she is addressed; "Mary" – you don't know her well.  "Rita" – ah, yes!
Rita is one of 7 siblings (2 boys, 5 girls), 2 of whom have passed away, one in infancy. Rita is the second child and first daughter of first generation Irish immigrants who came to this country for a better life. Her father was a Boston Fireman who died in his early 40's of lung cancer.  My Nana was left a widow at age 41.
As the oldest daughter of a grief-stricken mother and younger siblings, my Mom became a caregiver at the very young age of 18.
My Mom stayed very close to her family in Boston until age 25, working as a secretary and living at home.  As Rita tells it herself, she "wasn't looking for a man"… but loved going to the weekend dances with her sisters, where the servicemen who "could dance" as well as she could provided all the entertainment she needed; until a young Navy man from Michigan named Bill, 3 years her junior, "who couldn't dance at all" stole her heart on New Year's Eve 1950.
Rita and Bill married in August 1950, welcomed their first son in May 1951 ("9 months and 2 DAYS later," as Rita is still fond of saying, for all the legitimacy she needs!), welcomed ME in October 1952 and another son in June 1954.
My Nana always told me that my Mom "made up quickly for all that lost time" when all of her many, many uncles thought she was destined to "old-maidhood."
Rita would leave her home and family in Boston to travel the country with Bill and the 3 kids for the next several years, oftentimes being a single Mom for months and months at a time while my Dad was out-to-sea… leaving her caregiving responsibilities back in Boston to her younger siblings, none of whom left New England.  My Mom has often told me of the guilt she felt in leaving my Nana; not something my Nana placed on her, but still an intrinsic feeling of "could I have done more?"
As a child, I knew my Mom as the playful Mom, hula-hooping, jump roping, doing cartwheels on the front yard, a Brownie leader, taking my brothers and me to swimming lessons and catechism and to church every single Sunday. My Mom baked cookies and made Kool-Aid and baked and decorated birthday cakes until I was all grown up. My Mom was the one exercising to Jack LaLanne in our living room, wearing tiny, cute little shorts.  Fashionista-Rita. I wanted to be my Mom when I grew up.
My caregiving role model formed while watching my Mom and her Mom.
My family returned to New England when my Dad retired from the Navy for the specific reason of helping in the caregiving of my Nana; we first settled in New Hampshire and then moved to Rhode Island, where my Dad worked.  My Nana still lived in Boston, in the same home in which my Mom grew up.  As a teenager, I watched and learned from the warm and loving relationship of my Mom and Nana… which I attribute to my sense of caregiving and the responsibilities it entails.  Three of my Mom's siblings shared the large multi-family home that my Nana owned, so daily care fell to them as my Nana aged, but my Mom's part in the family caregiving dynamic was real, vital and welcomed.
At age 47, my Dad suffered a fatal coronary and my Mom's existence was forever altered.  She was 50 years old and only my younger brother was still living at home.
I sometimes, even now, wonder how my Mom and my family survived the grief, the suddenness, the pain of losing my Dad… a loving, wonderful, funny, caring, do-it-all kind of man.  It was my Mom who carried the rally flag.  Three weeks after we buried my Dad, Rita went out to apply for secretarial jobs.  She told me, "I'm not going to sit around the house all day, am I?"  No.  Not Rita.  She landed a job close to home and began what I now see as her survival skills that were honed from the tragedy of her own Dad dying so young.
I had just begun my first teaching job, had my own apartment and circle of friends, but I felt I should move back home.
Rita would have none of that.  It wasn't until I married that Rita agreed to move into a 2-family home that my husband and I had purchased for that specific reason.
Rita wasn't ready for caregiving.
Rita was, and still is, fiercely independent.  She likes her "space."  She likes her routine.  She likes her things just so.  She didn't much enjoy living above a growing family of kids and dogs and lots and lots of noise and commotion and visitors.  As I reflect back, I think my home became too much like the fun-but-never-ending chaos of the home in which she grew up… in addition to me always checking on her whereabouts and all that good stuff.
Rita loved to shop, dress beautifully for her job (Fashionista-Rita!), exercise, travel with girlfriends, golf, visit my Nana on weekends (my Nana died at age 82, in 1984), DANCE at the ballroom on Thursday nights with older men "who could dance" (my Dad would never learn to dance, by the way)!  My Mom had no interest in dating and I think I became too much like her parent.
Rita bought a condo.  My husband and I bought a single-family home for our growing family where my Mom was a very frequent and very loved visitor, loaded with gifts of toys and clothing and dollar bills for her precious grandchildren.
Things change…
In 2005, my Mom suffered a series of sudden medical situations that changed everything.  At that time, Rita had retired and was living independently in affordable senior housing.  She literally went from exercising every day, walking her daily mile, driving, shopping, cooking, cleaning, traveling, golfing… to complete debilitation.  My Mom stayed with my husband and me for several weeks while we struggled with what do we do?
I became an unprepared caregiver. 
Months of rehabilitation and daily, sometimes hourly, changes in medications, therapy and strategies to manage pain, hopelessness and the depression that set into my Mom's daily routines became my new normal.  Rita could hardly dress herself, tie her shoes, maneuver a necklace… never mind be my Fashionista-Rita.
I had retired from teaching, my own children were grown, married, and grandchildren were arriving into our world in rapid succession. I remember thinking, "This is supposed to be the happiest time of my life."
It was with my husband, kids and grandkids.
And wasn't with my Mom.
Constant worry.  Constant changes in the health status of my Mom.  Her physician pretty much demanded that she relinquish her driver's license, which I knew was the proverbial "nail in the coffin" thing.  Hospitalizations.  Isolation.  Helplessness. Struggling to find the perfect living situation.  Monitoring/researching medications.
I was totally unprepared and frightened out of my mind.  Losing contact with my family and friends.  My very relationship with my Mom was slipping away.  Imbalance was my life.
My husband and I made the difficult decision in 2007 to move Rita into an assisted living complex 5 minutes from our home, where daily nursing care, meals and recreation were all provided. It was far too expensive and we knew that finances would be an almost immediate issue, but we were desperate to grab any semblance of normal for both Rita and us.
Rita hated it. Repeat. Rita hated it.  She hated following a strict routine that wasn't her own routine.  She hated the food.  She felt diminished and out-of-control of a life she had so beautifully controlled for just about ever… rallying in the face of everything that life had tossed at her.  Until then.
The turning point for me happened one night when I had returned from visiting Rita.  I lived on a very busy main road, and as I stepped from my car, I had the thought, "If I get hit by a car, I could get some rest."
That thought, my friends, scared the crap out of me.  No other way to say it.
The next day, I made an appointment to see our family physician to just talk.  I poured out everything.  A river of fear and hopelessness and frustration and even pent-up anger at my brothers' lack of help.  This family issue was one that I had buried somewhere deeply inside as the good daughter thing, but oh brother did I vent.  And cry.  And ultimately get personal control as my physician listened so wonderfully and told me that I have no control over my Mom's feelings or my brothers' lack of participation.  I had to get control over myself.
I am a caregiver.
From then on, I gave care.  I told my Mom that I had no control over all this new, bad stuff that was happening, but that I did have control over where we could go from there… like first and foremost, calling and visiting new places for her to live.  I did.
Within a few weeks, I had moved Rita into an independent senior complex that she loved.  I took her to the local senior center where she registered for the senior bus privileges and decided on daily programs in which to participate.  We found her a hairdresser.  She still lives there.  She feels independent, although I take her to all of her appointments, deliver all of her meals, take her to all family/holiday gatherings (there are many!), and pick her up often to visit her precious great-grandchildren, where she shows up with her famous dollar bills.  AND I bring Rita to our home to sit in our back yard and read in the summer, and to watch almost every New England Patriots game with my husband and me at this time of year.
All is well.
Today.
But the most difficult thing about caregiving, to me, is the unknown of the next moment… the next stumble, the next medical crisis, the next phone call from Rita that she's misplaced her hearing aids or glasses, checkbook or keys.  I know that each moment brings a teeny bit more debilitation, hearing loss, muscle loss, memory loss.  I know that things will never get  awesomely better.  This is the difficult part of caring for an aging parent… just wanting to preserve the beauty and ease of now, if it's only this one moment of now.
I visit or check in with Rita every day, oftentimes several times a day.  She loves this.  If I'm going away for a day or two, I make sure one of my children will be checking in by phone or in person.  I am blessed with children who care.
But even as I write, I am thinking, thinking, thinking of that appointment we have at an assisted living facility in the town my husband and I moved to recently.  I am hoping my Mom likes it, maybe even loves it… and that its affordability is emotionally comforting to her.  It's close enough for me to walk to, and I've told Rita that she can walk to my home, too, if she uses her walker.  Rita just laughs at this reverse-role "parenting" trap that she's definitely not falling for!
I'm 60.  My Mom is 87.  Yes, I'm one of the 42 million caregivers who began a caregiving role with simple things like scheduling a doctor's visit or helping with daily errands, but gradually has expanded over time to become a major life commitment.
I'm blessed to love my Mom and be loved by my Mom, and to have seen my Mom in a great, albeit different, caregiver role to my Nana.  I am blessed to have my Mom such a vibrant, beautiful part of my life and my family's life.
But there is still so much to know of the great unknowns that may happen today or tomorrow.  This is why AARP has set up a community of experts and other caregivers to "help each other better care for ourselves and the ones we love."  Caregivers like me are encouraged to access these tools by visiting www.aarp.org/caregiving or calling a toll-free hotline at 877-333-5885.  These tools give us help with our daily needs and sometimes struggles in caring for loved ones, and affirm our situations as real.
NOVEMBER is NATIONAL FAMILY CAREGIVERS MONTH.  NFCA coordinates National Family Caregivers Month as a time to thank, support, educate and empower family caregivers. Celebrating Family Caregivers during NFC month enables all of us to:
Raise awareness of family caregiver issues
Celebrate the efforts of family caregivers
Educate family caregivers about self-identification
Increase support for family caregivers
As one of the approximately 3 out of 4 boomers who caregive, I am honored to be among the Kitchen Cabinet Blogger Advisory Group for the AARP (http://www.aarp/caregiving) and Ad Council Launch (http://caregiving.adcouncil.org/) of the new National Multimedia PSA Campaign, letting the more than 42 million caregivers in the United States know they are not alone, and offering resources and support. This important campaign's objectives are:
1. To raise awareness among boomer women that the help they are
providing an older adult is caregiving.
2. To raise awareness among caregivers that there are resources available
to help them and their loved ones.
3. To help connect caregivers to experts and other caregivers as an
additional source for advice, help and support.
4. To encourage caregivers to call 1-877-333-5885 or visit the campaign
website, www.aarp.org/caregiving.
This is a campaign close to my home and my heart, and I am so happy to be able to share my beautiful, strong, vibrant Mom with you, all of the challenges as well as the great rewards… and now that you know her, please call her Rita!
This is one of my favorite photos of all time… heading to take family photos on the day of my daughter Jane's wedding this past July 14th, Rita in all of her Fashionista-Rita splendor, including the high heels that I had dared to question!
Gotta love her spirit!
I am a proud, loving caregiver.
Do you have a Caregiver Story to share?
Please stop by often during the month of November for more information, resources, and updates on the topic of Caregiving.

I am a Caregiver. November is NATIONAL FAMILY CAREGIVERS MONTH.
was last modified:
July 18th, 2017
by