Celebrate Halloween with Rice Krispies' Spooky Surprise and Giveaway!
When I was a little girl my mother would make me and my sister Rice Krispie treats ALL the time. As a matter of fact, she would pop one in my lunch and also (as a special treat!) bring them to my softball games and swim meets as snacks for me and my friends. It's one of those things from childhood that you just love and remember.
As a mom of my own now, I love that I'm continuing the Rice Krispie Treat tradition with my own sons. I love that I'm creating memories with my guys that will last a lifetime, just like it has for me. It's a treat (literally) for everyone.
Kellogg Company sent me an awesome Halloween Treat in the mail for me and my guys – a Rice Krispies Surprise Pumpkin Treats Kit! I had been telling my sons that it was coming, and they literally checked the mail everything day until it arrived! They were so excited to do a fun and yummy Rice Krispies Halloween recipe!
Here are some photos from creating our Kellogg's Rice Krispies Surprise Pumpkin Treats:
Recipe displayed easy for us to see!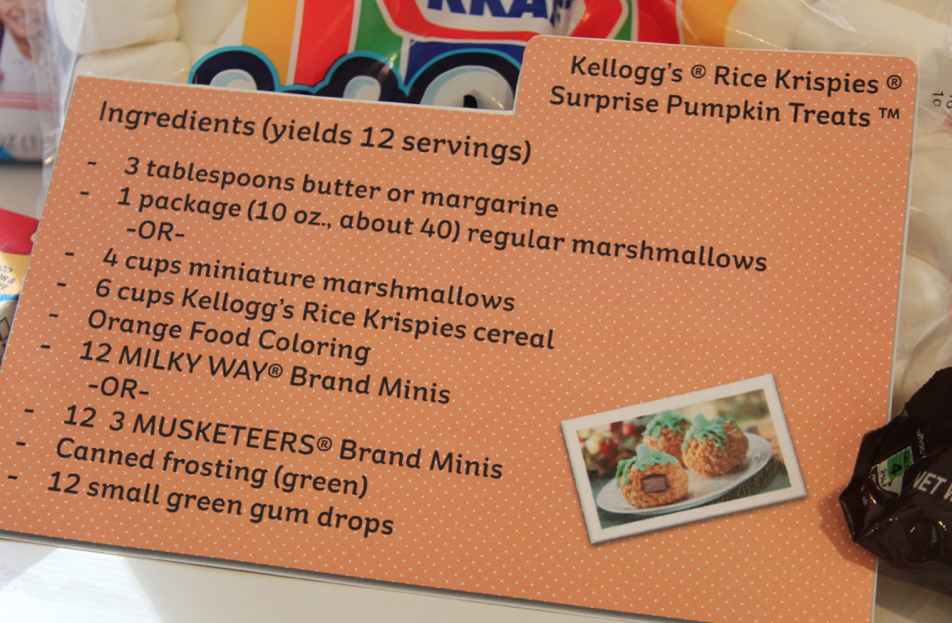 Melting the delish marshmellows!
Getting the dye ready to make orange!
Mixing begins!
Orange time!
Add the Rice Krispies!
Stir it up!! The BOYS FAVE!!
Spray down a 1/2 cup measuring cup to scoop out…
Start scooping them out…
Add chocolate surprise in the middle!
Butter your hands and round into pumpkin balls!
Add a green stem (I used a marshmellow that I dyed green because my sons LOVE marshmellows!)
VIOLA!!
Delicious and adorable Halloween treats for you and your family!
Many recipes can be modified to fit a gluten-free lifestyle. Kellogg's Rice Krispies Gluten Free cereal offers the great taste people have come to expect from the Rice Krispies brand.
I love that Rice Krispie Treats can be made with so much laughter and joy and fun!
GIVEAWAY:
I'm giving away a Rice Krispies® Surprise Pumpkin Treats™ Kit!!
How can you enter?
– Tweet your kids' Halloween costumes
OR
– Comment on my post

This is limited to U.S. residents.
Disclaimer: "Kellogg Company® has provided me with a Kellogg's Rice Krispies® Surprise Pumpkin Treats™ Kit to conduct a reader giveaway. However, my opinions about the product are entirely my own and I have not been paid to publish positive sentiments toward Kellogg Company or its products."
Domestic Diaries: Celebrate Halloween with Rice Krispies' Spooky Surprise and Giveaway!
was last modified:
October 17th, 2012
by