*Mile-8 Adventures, continued…
My last 15 weeks have been filled with planned runs, generally 3 times per week of anywhere from 3 – 6 miles each.
Then there have been 15 graduated L-O-N-G Monday runs that are supposed to be Sunday runs… but I like going out on Monday mornings when there are less people, less bicycles, less traffic.  I'm "retired", so I can make these adjustments.  I like this.
Then there are the MILE-8 Adventures on those LONG Monday runs that began happening, or, at least, I began noticing.
All of this running has been in preparation for Marine Corps Marathon with Runner's World Challenge.
The fourth-largest marathon in the United States, the Marine Corps Marathon has a course that gives runners the opportunity to see many of the most majestic and historic landmarks of our nation's capital and pay tribute to members of the armed forces.  I will be running in memory of Lance Cpl. Dimitrios Gavriel (please take a moment and read his story of heroism), a family friend and best friend of my son-in-law Matthew and daughter Audrey, college classmates and their Best Man.  Best Man, indeed.
Today's Monday LONG run was an 8-miler, and what a magnificent morning it was.  I had Dimi on my mind as I began my journey, remembering that the last time I saw him before his deployment was on a magnificent day, much like today, at a little restaurant right here in my little town… and we all sat outside, laughed and ate and drank beers and knew, knew he'd be coming home.
Dimi would come home, but to his grief-stricken family and friends… and buried at Arlington National Cemetery in Arlington, Virginia – Sec 60 Site 8079.
I ran randomly today, first under the brilliant Autumn-colored trees into my local park… and headed directly into the wind blowing off the bay.  I've learned during my Marine Corps Marathon training that I like… no, LOVE, running into the wind.  It's such an awakening, alive feeling to be running right into the wind, feeling the power of nature and the standing up to it, too…
[youtube]http://www.youtube.com/watch?v=qyrMBjJeCJg[/youtube]
After Endomondo called out 2 Miles, we lost touch for some unknown reason.  I knew I had run more than 3 miles when I checked my cell phone to learn that I was already on Mile 4.  OK.  It was kind of nice to be just running, knowing that my miles, my splits, my map, my data and all that good stuff was right there on my cell phone, just not being called out at every mile.
I ran and ran and ran, thinking of the Marathon next Sunday; thinking of Dimi and the day after Audrey & Matt's wedding when at their post-wedding picnic, Dimi waded out to a huge rock in the same bay I was running along today and cast his fishing line and just fished (I wish I could put my hands on these precious photos… I'll ask Audrey); thinking of this beautiful day and thinking of my Dad, and both of my grandfathers, and my uncles… all of whom had served in our great country's armed forces.
I ran and ran and ran, circling outside the park and then back inside again, up a gradual incline that made my legs feel that they were, indeed, still there.
I didn't know how many miles I had run, but figured about 7… when I pulled out my cell phone again and checked my data. The sun was shining so brightly that I had to stop to shade my phone with my hand to see.
That's when I heard the flap, flap, flapping in the wind.
And I looked up.
To see this…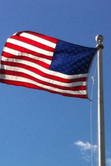 I couldn't get enough of it.
And you guessed it.
MILE-8.
I think this last Monday LONG run will forever be my favorite… as I try to honor those heroes who have given the ultimate sacrifice for all of us.  I hope I am worthy to even put myself in the same sentence with the word Marine… Dimi Gavriel, in particular; as I feel the freedom of something as simple as running in the wind, an awakening, alive feeling.  Freedom.
Next Sunday, I'll see you at MILE-8 of the real deal… Marine Corps Marathon.
Yes, I do hope I'm worthy to run in the same wind as these heroes.
*****************************************************************************************************************************
*My other Mile-8 Long Run Adventures:
Cormorant and Little Girl
Ah. My last MILE-8 Adventure with Marine Corps Marathon training L-O-N-G run and thoughts of a Marine Hero…
was last modified:
August 1st, 2017
by