What is it with me and "Mile-8" on my long training runs?
Seriously, I can't make this stuff up.
Two weeks ago, during a 15-mile L-O-N-G Monday training run with Runner's World Challenge for the Marine Corps Marathon, I had a "Mile-8″experience with a local police officer offering a little levity to a "Ma'am"… that would be me.
Last week, during a 12-mile L-O-N-G Monday training run, I had a "Mile-8" experience with an older gentleman offering a little advice to a "Young Lady"… that would be me.
(Hey, at close to 60 – October 6th – and the reason I'm taking the "Runner's World Challenge", you can call me anything during a long run!)
These random "Mile-8" experiences had me wondering what this week's L-O-N-G run would bring.
I headed out on my 16-miler early this morning, paced by my daughter Jane, who is the perfect pacer for me.  Jane has experience with marathon training and has run Boston as a qualifier.  Twice.  She keeps me slow and steady at the beginning of a long run at just the right pace for me, in the low to middle 11's.  Left on my own, I go out too fast and… well, get advice from strangers!
Anyway, Jane paced me for 5 miles up a couple of nice-graded hills and down a couple of nice, nice hills.  Ahhhh.  At one point, there was enough on-coming traffic that I moved behind Jane for safety.  It was a wonderful perspective back there because I not only copied Jane's gait, but I was almost hypnotized into doing so while watching her pony-tail dance…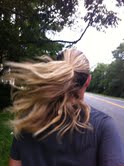 (Yes, I did snap photos of this beautiful distraction.  And yes, Janie asked me what I was doing back there with my cell phone camera.)
At "Mile-5", Jane felt confident that I could be left to my own devices… that would be pacing myself with the help of my ubiquitous new best friend and running partner Endomondo.
I felt good enough to challenge myself to a couple of main road hills that I may have been avoiding seemed challenging.  I figured I'd go 3 miles out, 3 miles back, for a total of 11 miles all together… and then run the final 5 through my beautiful local park for a grand total of the specified 16 training miles today.
I felt very good up the first hill.  I felt very good up the long, graded hill.  Endomondo was calling out my miles and my splits and I was happy to be pacing exactly at the pace Janie had set for me.
At mile 7.3 or so, I heard a car slow down behind me and a woman's voice calling, "You go, girl!"  Nice.  A very good friend of mine…  and her smile was wonderful.
Then at "Mile-8", to the dot, I heard another car slow w.a.y. down behind me.
I heard a man's voice.  A beautiful voice.  A friendly voice.  A voice I know.  Not calling "Ma'am" or "Young Lady"… but "HONEY"!
My husband, Barry. My biggest fan!
I thought he was already at work, but seems he had some stuff to take care of closer to home and just happened to bump into his HONEY on the main road at… you guessed it.  MILE-8!
(Yes, Barry was probably wondering what I'm doing with those 8 fingers, but I'm sure he'll be reading this post!  And no, I can't make up this "Mile-8" stuff.)
I turned around just about then, ran up the hill I had just descended with lots of confidence and headed onward for the last 5 miles in the park, unable to NOT snap a couple of photos as I ran on this lovely morning…
Pardon the tilt of this photo of a freighter in the bay.  I was at a very, very windy Mile 15 here…
All in all, it was a great L-O-N-G training run on a beautiful day… with lots of family help and a wonderful "Mile-8" Honey of a surprise.
So…
Ma'am.
Young Lady.
Honey. 
I'm very interested to see who shows up at Mile-8 on next Monday's 18-miler and what he/she calls me!
I can't make up this "Mile-8" stuff!
was last modified:
August 1st, 2017
by