Beauty Alert: Best Fall Nail Polish Colors for Moms
I'm totally into painting my nails!
Manicures are the ONE thing I try to treat myself with every 2 weeks.
I love experimenting with new colors each season. With each new season comes more and more fabulous colors.
Everyone's been asking about the Best Fall Nail Polish Colors for 2012, so I wanted to dish about my FAVE 10 colors for the new season!
1. I always love finding a gorgeous PINK for Fall because of Breast Cancer Awareness month. It's just a wonderful color to wear proud in support!
essie's – we are in it together
a shimmering, iridescent pink

2. I just think this shade EXUDES COOL.
butter London's Gobsmacked Nail Lacquer
A heavily pigmented charcoal grey glitter nail lacquer with a slightly textured finish. This shade is unlike anything we've seen before – a legend in the making!

3. I love a good dose of color! Such a gorgeous addition to your Fall wardrobe!
OPI's Schnapp's Out of It!

4. I also love a good practical and gorgeous metallic color. I am addicted to this silver one from essie.
essie's No Place Like Chrome

5. Lime green jeans were all the rage this spring, here's a FAB way to bring it into the Fall!
butter London's Trustafarian Nail Lacquer
A golden holographic finish gives this delightful sage green nail lacquer a surprising and sophisticated edge.

6. If you like GOLD and YELLOW, you'll love the wild and boldness of this color! MELLOW YELLOW! 🙂
OPI's Don't Talk Bach to Me!

7. OK, you need a classic color in your Fall collection and this is IT!
butter London's Shag Nail Lacquer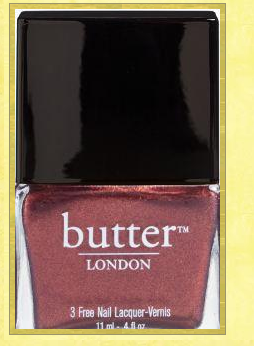 A high-shine, warm orange-burgandy metallic nail lacquer. Reminiscent of fallen Autumn leaves. Sigh.
8. Green Green Green… if you don't want to go with a black or a dark blue/purple/blue, TRY this gorgeous and luxurious color!
essie's stylenomics
a wealthy, rich and opulent dark green

9. This is such a PICK ME UP pretty color! I really love this one because it just makes me happy. 🙂
essie's recessionista
a smart, intelligent and savvy brick red

10. Gray is still in. It's elegant. It's classic. It's sophisticated. It's eye-catching. And it's VERSATILE as can be!
Nein! Nein! Nein! OK Fine!

Beauty Alert: Best Fall Nail Polish Colors for Moms
was last modified:
July 18th, 2017
by